Travis Barker's One Demand About Filming His Proposal To Kourtney Kardashian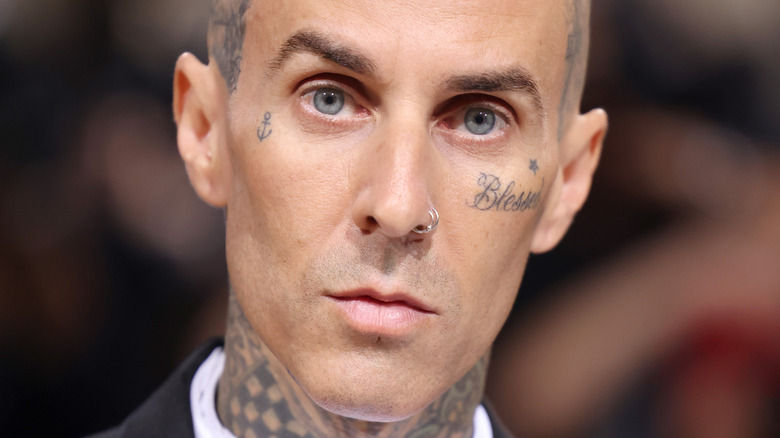 John Shearer/Getty Images
Kourtney Kardashian and Travis Barker's whirlwind romance was heavily featured on the first season of Hulu's "The Kardashians." The reality series — which follows a similar structure as "Keeping Up with the Kardashians" — chronicles the personal and financial adventures of the famed siblings.
Before the premiere of the Hulu show, Kardashian sat down with Variety to discuss why certain parts of her relationship with the Blink 182 drummer were kept private. "I definitely hold my relationship really close. It's so sacred to me, and I am very protective of it," the Poosh founder exclaimed. "There is a lot of us on there, and we've had such a good time doing it because we have such a good time when we're together. But I definitely want to protect it as much as I can." Kardashian explained that while Barker does not have reservations about appearing on the show, it's "not his thing." Now, Barker is speaking out about his highly publicized relationship — and he has revealed one demand he had during the filming process.
Travis Barker did not want to see any cameras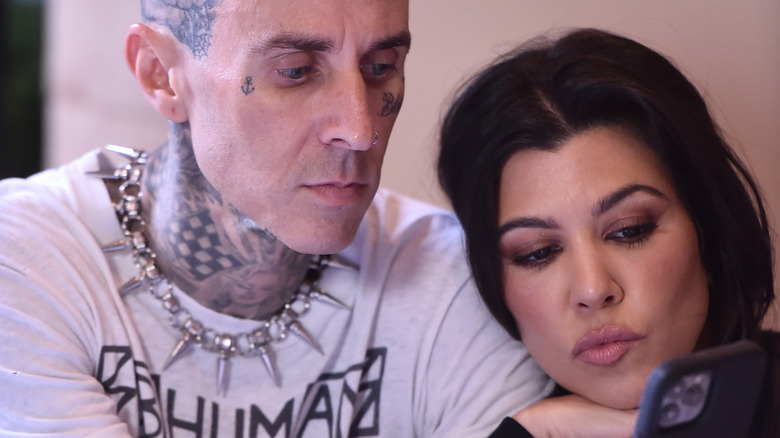 Alberto E. Rodriguez/Getty Images
Fans expected to see Travis Barker and Kourtney Kardashian's engagement during the first season of "The Kardashians," as the show's cameras were rolling during the big moment, according to TMZ. However, Barker ensured that the camera equipment was not visible to himself or Kardashian during the special event.
In a recent interview with GQ, the Bling 182 band member revealed he agreed to Kris Jenner's request to film their engagement only if the cameras were out of sight. "I can't see one camera, and Kourtney cannot see one camera," Barker insisted. He went on to reveal that the moments captured for the show were filmed with small GoPro cameras, which were placed in the surrounding foliage. Barker's desire to maintain some intimacy makes sense, as the rock star previously starred in his own reality show, "Meet the Barkers," but had an unpleasant experience. "There were cameras placed throughout my house. There were people living at my house," he told GQ. "It was insane, y'know. And it wasn't really for me, at that level — it was too much."