LSU Gymnast Olivia Dunne Shades Her New York Times Drama On TikTok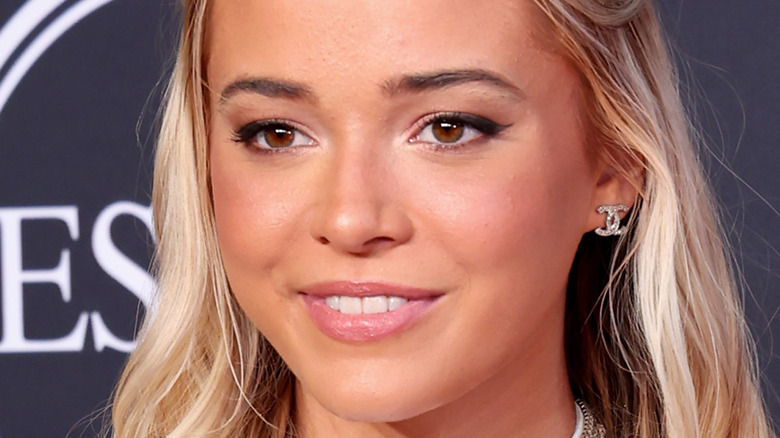 Leon Bennett/Getty Images
Olivia Dunne is one of Louisiana State University's star gymnasts who has already made a name for herself by the age of 20, per The U.S. Sun. The college athlete rose to fame through her various social media platforms and has become a millionaire through endorsements and deals, thanks to the Name, Image, and Likeness rule change NCAA made last year. Dunne's first huge deal after NCAA relaxed its guidelines was a six-figure deal with the popular athletic brand Vuori, per Forbes. "Fashion has always been a huge passion of mine ... I love expressing myself through my style and I fell in love with Vuori because I thought their clothes looked and felt amazing," she told the publication.
Dunne, who boasts over two million followers on Instagram and over six million on TikTok, regularly flaunts her unique style and many different athletic looks on her social media. However, the gymnast was highlighted by the New York Times in their November 8 article, which sparked a major debate about women's sports. The piece's subtitle reads, "Female college athletes are making millions thanks to their large social media followings. But some who have fought for equity in women's sports worry that their brand building is regressive." In the article, Stanford University basketball coach Tara VanDerVeer called it "a step back." Elsewhere, the piece said that such deals "reward[s] traditional feminine desirability over athletic excellence." Many readers slammed the piece, and Dunne also clapped back at the New York Times.
Olivia Dunne's Christmas list does not include being in the New York Times
Olivia Dunne is firing back at the New York Times in her own humorous way. Following the article, Dunne clapped back with an Instagram story of herself in a black leotard and wrote, "@nytimes is this too much?" (via The Blast). A week later, Dunne again shaded the New York Times with another TikTok of her wearing her LSU Tigers leotard and mouthing the words, "If you don't like me that's fine. But, you know, watch your mouth." She captioned the video with, "only taking steps forward." Fans supported the athlete with comments, "Livvy > NY Times," and "I only read the Livvy Times." Another wrote, "That article was a joke. They can't stand the success, keep going love."
However, it looks as if the gymnast is not over the drama, shading the publication yet again in another cheeky video. On November 17, Dunne shared a TikTok video of her supposed "Christmas wishlist," which included "Be on NY Times," "Sugardaddy," "More friends," and a "PS5." Dunne then mouthed the words, "Oh my God!" and shook her head. She captioned the video with, "I'd rather a lump of coal." A fan responded with, "hahha lmao you're so real for this." Another wrote, "You are gorgeous. Do you and drown out the negative people. People always find someone or something to hate on." Although it looks as if Dunne is doing fine defending herself, others have also stood up for the college star athlete.
Paige Spiranac is sticking up for Olivia Dunne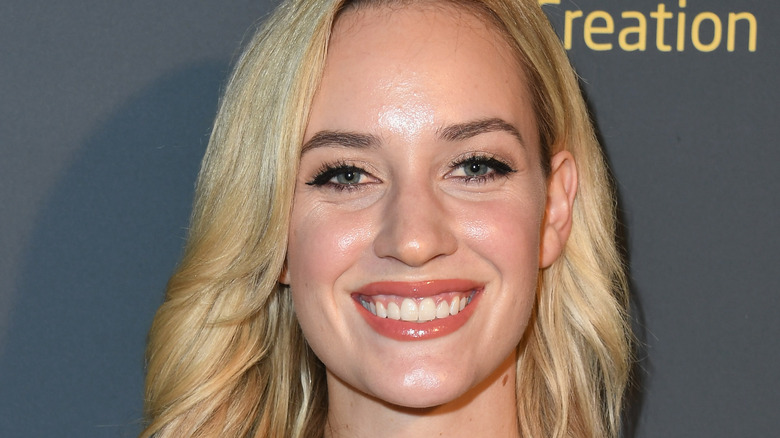 Jon Kopaloff/Getty Images
Days after the New York Times article, professional golfer Paige Spiranac came to Olivia Dunne's defense. On Twitter, she wrote, "I'm so sick of women belittling accomplishments of other women because it's done differently than they would. @livvydunne is getting hate for making 2 million a year. She's built a successful business (at 20) all while being a student-athlete. That's badass." Sports betting expert Kelly In Vegas responded, "Imagine if women focused on their own aspirations/careers what they could accomplish. Everyone is so worried about what others are doing that they forget to focus on the only one that matters."
Spiranac then tweeted a video of herself again addressing the controversial article. "There's been a ton of discussion around female athletes showing off their bodies. People are saying, 'Stop oversexualizing yourself, you're taking women back. No one's going to take you seriously.' And I think that is a big stinking pile of s***." Spirinac pointed out that the "highest-paid female athletes in the world" are Naomi Osaka, Serena and Venus Williams, and Simone Biles, all of whom have all posed for Sports Illustrated Swimsuit. She then shared a series of pictures of male athletes who have also posed shirtless.
Outkick also backed Dunne. The outlet tweeted, "A New York Time columnist is upset that Olivia Dunne is getting that back while being a college athlete," they tweeted. In the replies, a user said, "Wait, I thought 'sex sells' was empowering women now."