What Larry Bird Is Up To Today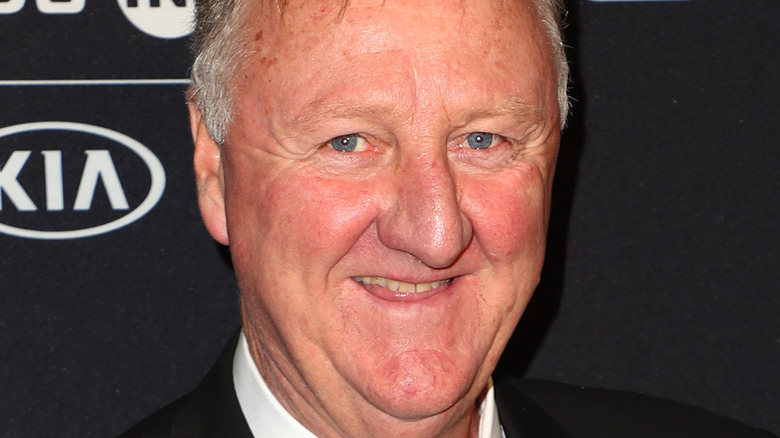 Joe Scarnici/Getty Images
We haven't forgotten about basketball superstar Larry Bird. The Boston Celtics legend is considered one of the greatest shooters in NBA history. He even won a gold medal at the 1992 Barcelona Olympics while playing on the "Dream Team" alongside Michael Jordan, Earvin 'Magic' Johnson, Charles Barkley, Scottie Pippen, and more, according to the official website of the Olympics. The win solidified a connection between the players, but Bird and Johnson have a lasting friendship that has stood out from the rest.
Bird announced his retirement from the NBA on August 18, 1992, according to CNN, because of pain caused by a compressed nerve. In 1991 and 1993, Bird had back surgery, but it didn't prove successful in reducing his back pain, according to ESPN. And so, Bird became history when the Celtics retired his number, 33, in February 1993. Because of this pain, Bird was never able to make a comeback in his field.
In 2015, he spoke on the "Dan Patrick Show," and they discussed a hypothetical showdown between himself and Jordan. Bird played along, but he wasn't into it. "I'm 40 pounds more than I was when I played," he said. "I'm broken down; I really don't care like I used to. I have a fight in me, but it's not the fight I once had. But it'd be a pretty close game."
He and Magic Johnson can't get away from their own legends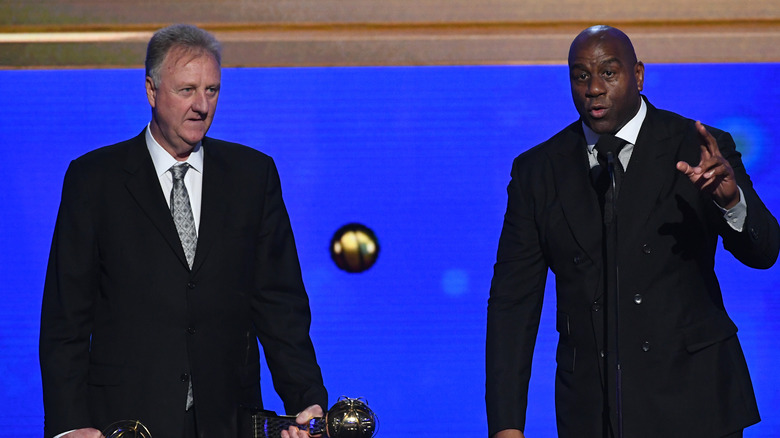 Kevin Winter/Getty Images
Larry Bird doesn't love being in the spotlight, which is tough for someone who's so venerated. The New York Times reported in 1998 that Bird was reluctant to attend his installment in the Naismith Memorial Basketball Hall of Fame. "Everywhere I go, people ask me about my playing days," Bird said. "It seems like it's getting worse, not better. Once this is over, I think I can close the book on my career and look forward."
But basketball was always there. He became the president of basketball operations for the Indiana Pacers, per CNN, from 2003 to 2012 and from 2013 to 2017. In 2010, HBO made the documentary "Magic & Bird: A Courtship of Rivals," about Bird and Earvin "Magic" Johnson. And in 2012, the play "Magic/Bird" hit Broadway, where it captured a special moment that was true to life. 
Bird and Johnson had a rivalry until 1995, when they were shooting a Converse commercial together. Bird's mother had the two men over for lunch to end the rivalry, per a later publication by the Times. "We ate quickly and sat around talking," Bird said. "Not about how you hit that shot, but how you grew up, where you work out, stuff about fathers."
Johnson admitted that it was Bird's mom who solidified their friendship. "His mother almost made us talk to each other," Johnson admitted. "A great mother senses things. She reminded me of my mother. I felt like a little boy in there."
Larry Bird has had bad luck in real estate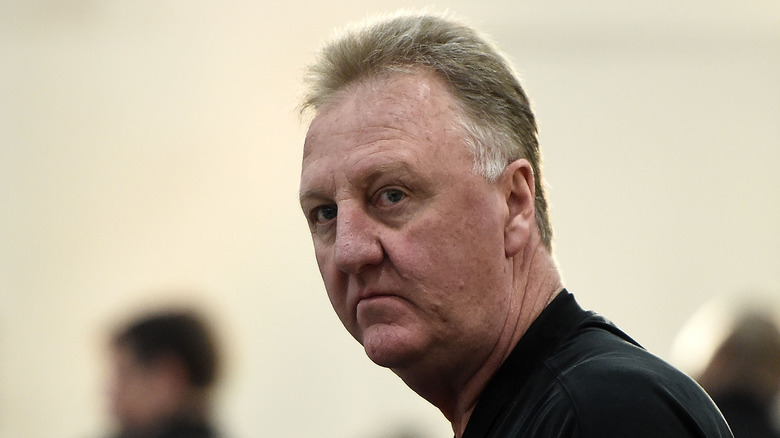 Stacy Revere/Getty Images
Larry Bird was a Boston legend when he was playing for the Celtics, and he was all about that town. "I was all over that place," Bird said of Boston, according to Boston.com. "I was everywhere. You were liable to see me anywhere in Boston ... I liked running around the parks. I used to go play tennis. I used to run in some 5-mile races. I was everywhere."
But after retiring, Bird set his sights on other areas. In 2019, IndyStar reported that Bird and his wife, Dinah Mattingly, had been trying to sell their home in Naples, Florida. The 6,007-square-foot home was listed at $5 million; in 2013, he dropped the price by $200,000 and eventually took it off the market since it didn't sell. Real estate agent Laura Musall said this showed that Bird wasn't desperate to sell the home; he could have lowered the price even more, and it would have gone. Meanwhile, he listed their home in Indianapolis for $2.35 million after paying $3.3 million for it, so it hasn't been a lucrative experience for him in real estate. Good thing he had better luck on the court!