Big Sean And Jhené Aiko Announce The Arrival Of Their Son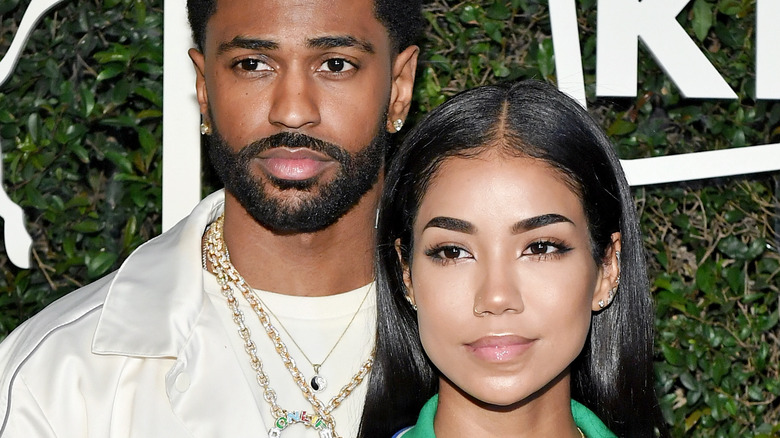 Neilson Barnard/Getty Images
Love has found a way for music power couple Big Sean and Jhené Aiko, despite a rollercoaster journey. She told BBC Radio 1Xtra (via The Boombox), that they first met up in 2012 when they worked on two singles together. Their friendship soon formed the foundation of their relationship, with Big Sean even supporting Aiko through her brother's death. She told Billboard in 2017, "We were forced to really, really get to know each other on a friendship level, you know what I mean? And to the point where he was even at my brother's funeral. We talk to each other on a friendship level throughout all of my relationships." It sounds as if Big Sean and Aiko's connection was solid even before they became romantically involved.
While the start of their relationship has never been confirmed, Aiko got a tattoo of Big Sean a week after her divorce was finalized, per People. By then, they had already released an album together as Twenty88, and had even shared a chaste kiss on stage. Fast forward a few years, and the couple revealed that they were expanding their family.  People confirmed the news, with a rep stating, "The couple is overjoyed and looks forward to this next chapter." While Aiko already has a 14-year-old daughter, Namiko Love, with her former partner, Big Sean was looking forward to becoming a father for the first time. 
Big Sean and Jhené Aiko welcome Noah
Big Sean and Jhené Aiko welcomed their son, Noah, on November 8. The couple has been enjoying their time with their infant before announcing the news on November 18, ten days later. "After 24 hours of Labor, A Lunar Eclipse, with rain from the beginning of labor til he was born, he's here safe and sound. Happy, Healthy and everything we could ever ask for and more. Any and everything for you Son," the proud dad wrote in an Instagram post. Aiko also took to Instagram to celebrate the birth of their newborn, Noah Hasani — whom she referred to as their "Baby Yoda." 
In one of Big Sean's Instagram photos, he cradles his son close to his naked chest and kisses him. Father and son enjoy a seemingly tender moment. Hip-hop fans may recall that he released a song called "Deep Reverence" in 2020 (via WHAS11). The lyrics read, "Should be a billionaire based on the time off I'm not taking. Probably why the s**t around me get crazy and we lost the baby." Now it seems as if the moment has come full circle and Big Sean is embracing new life after so much heartache. And if anyone's wondering what Big Sean is up to, he told TMZ what his future plans entail. "I'm definitely taking some time for it to just be us," he said. "You can't really put a time limit on it. You got to feel it out," he added.