What Really Happened Between Elsa Pataky And Adrien Brody?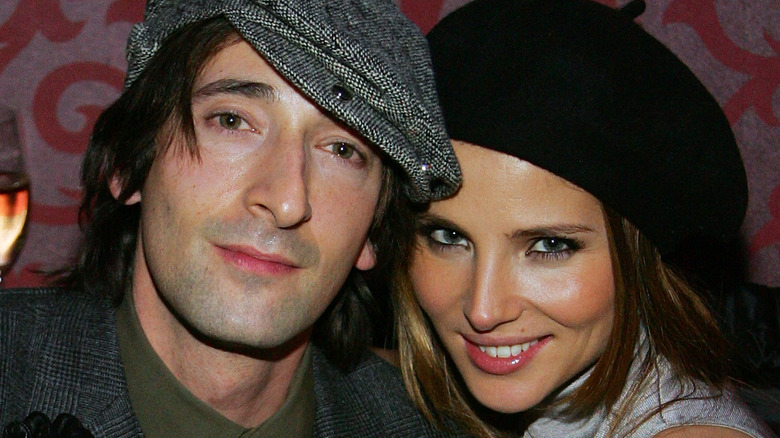 Ethan Miller/Getty Images
Adrien Brody made history in 2003 when he took home the Academy Award for best actor at age 29, becoming the youngest actor to win in that category for his moving performance in "The Pianist." And while his portrayal of a Polish pianist struggling to survive in the Warsaw ghetto during Nazi occupation may have caught the attention of Hollywood, it was the impromptu, no-holds-barred kiss he planted on Halle Berry upon ascending the stage that really stole the show.
While Berry and Brody aren't — and never have been — a romantic item, the move was unusual as Brody has, for the most part, kept his personal life out of the spotlight. The Daily Mail reports the actor recently went red carpet official with Georgina Chapman while attending the premiere of HBO's "Winning Time: The Rise of the Lakers Dynasty." Brody and Chapman have been spotted together only a handful of times, despite the outlet noting that the two have been an item for two years, making their romance something of a mystery.
In the years between that ill-suited Oscars smooch and his flame with Chapman, Brody went full Tom-Cruise-jumping-on-Oprah's-couch for a different leading lady — Elsa Pataky. The romance between the two was so fervid that Brody reportedly went as far as to buy Pataky her very own castle. Here's what happened between the two. 
Adrien Brody and Elsa Pataky had a heated romance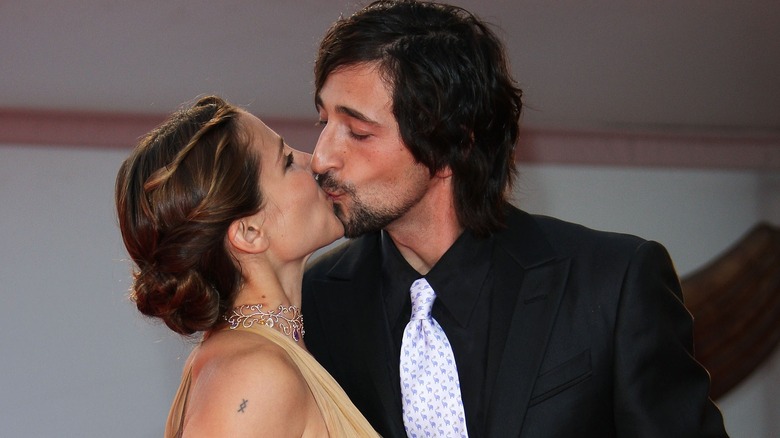 Franco Origlia/Getty Images
From 2006 to 2009, "Grand Budapest Hotel" star Adrien Brody was in a relationship with Spanish actor Elsa Pataky. Brody recalled that he was immediately taken by the actor, whom he met via their mutual voice-dialect coach. "The first time I saw her, I was completely spellbound. I told Elsa later that I was so uncomfortable because she was so beautiful and so lovely and sweet," he told Hello Magazine (via Lainey Gossip) in an exclusive interview that featured an elaborate photoshoot. In the interview, Brody reportedly squeezed Pataky's hand and mused, "Do you remember when we were at a party in Cannes, and a woman sitting behind us told us, 'Thank you for making me believe in love again'?" 
In case you doubted his passion, Brody reportedly purchased Pataky a castle without telling her beforehand as a gift for her birthday in 2007. The fortress was heavily featured in the couple's exclusive photoshoot, where the two posed in their bathtub, atop horses, and on the sprawling lawn of their new home. For Pataky, the whirlwind romance looks to have been too much, too soon. A source close to the couple explained to Star Magazine (via Celebitchy) that she needed some breathing room. Brody decided to let her go with the hope she'd come back, but instead, she was spotted kissing "Unfaithful" star Olivier Martinez (who went on to marry — you guessed it — Halle Berry).
Elsa Pataky moved on quickly to another famous actor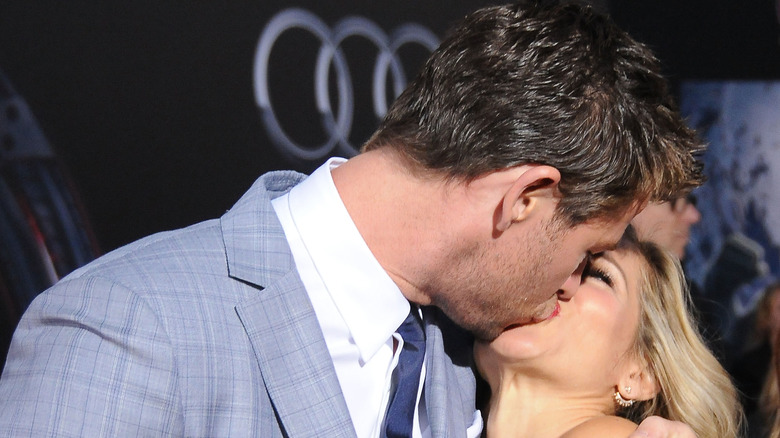 Barry King/Getty Images
While rumors suggest Adrien Brody and Elsa Pataky were secretly engaged, the couple has never confirmed nor denied their intentions to marry. A source close to the couple revealed to Star Magazine (via Celebitchy) that Brody was heartbroken when Pataky flew the coop, but she didn't stay with her French hunk Olivier Martinez for long. 
According to the Daily Mail, only a year after she left Brody, Pataky met, dated, and married "Thor" hunk Chris Hemsworth. The two have been happily married since and share three children. Brody decided to keep the castle, with its renovation being the focal point of his 2015 documentary "Stone Barn Castle."
Speaking to HuffPost, the actor acknowledged how the castle's restoration was personally meaningful to him. "Life sometimes does not happen the way we expect it to [...] and there are obstacles to overcome," he admitted. "My life has been enriched by all these beautiful people who have been in my life. Therefore, sharing my own good fortune of these experiences is a beautiful thing. So I have to overlook certain aspects of it. I've got nothing to hide."