Things About The OJ Simpson Trial That Don't Add Up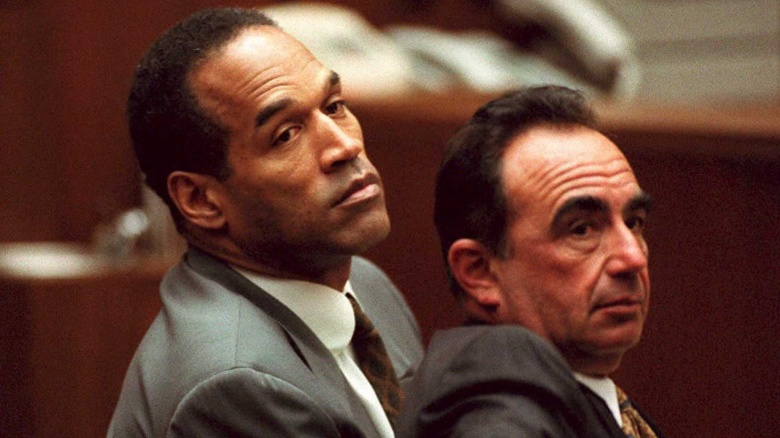 Getty Images
With the popularity of The People v. O.J. Simpson: American Crime Story, the "trial of the century" has been gaining steam 20 years after its conclusion. Two decades later, a lot of the facts still don't make sense. The glove didn't fit, and neither did these other weird things about the O.J. Simpson trial.
The maybe-murder weapon is still missing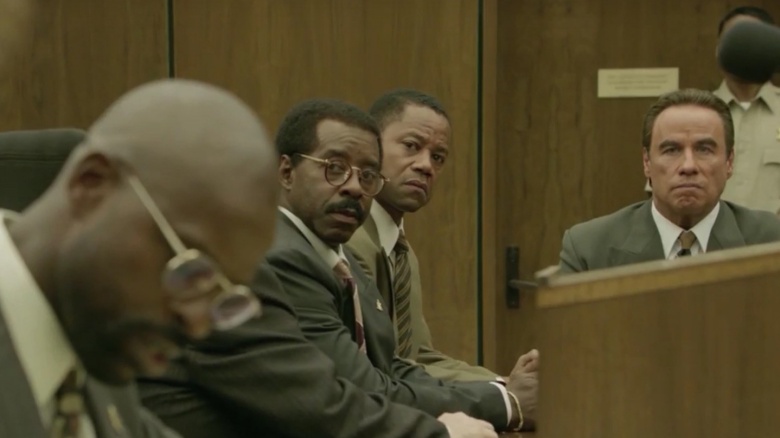 TMZ reports that the alleged murder weapon may have been recovered 20 years after the crime. A construction worker found a bloodstained knife buried on O.J. Simpson's property "years ago" when the house was being demolished. The construction worker handed it off to an off-duty police officer nearby. The officer, instead of turning it over, reportedly kept it in his home, telling a pal that he planned on getting it framed—and that the frame would be engraved with the departmental record number of the murder case.
The cop's pal snitched, and authorities eventually forced the officer to hand it over. Law enforcement sources told TMZ that the weapon is a folding buck knife. Reuters reports that forensic investigators from LAPD's Robbery Homicide Division are testing the knife for hair and other DNA evidence, and "that authorities logged the case into a computer system outside the official case file in order to keep it under wraps." Here's to hoping they find something worthwhile.
Robert Kardashian may or may not have hid evidence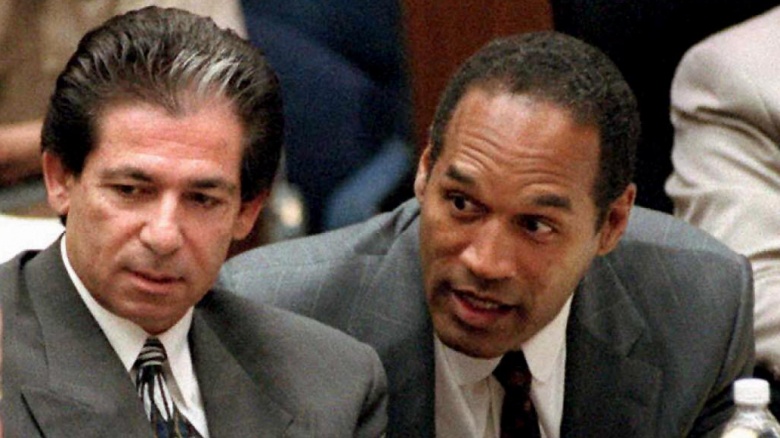 Getty Images
In 2014, Ron Goldman's father, Fred Goldman, told The Daily Mail that Robert Kardashian (Kim, Khloe, Kourtney, and Rob's father), who was seen carrying a suitcase out of Simpson's home the night of the murders, hid crucial evidence from the case. "That evidence would have convicted 'the killer,'" Fred said. The still-grieving father refuses to say O.J. Simpson's name to this day.
O.J. Simpson may not have been suicidal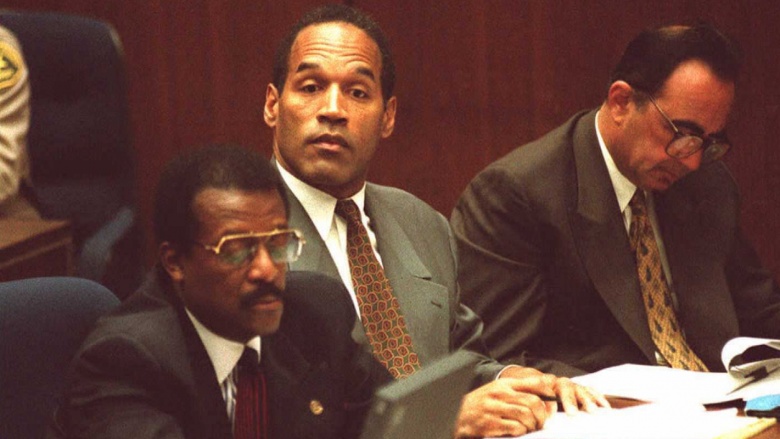 Getty Images
"I have nothing to do with Nicole's murder," Simpson wrote in his alleged suicide note (via Huffington Post). "I loved her. Always had, and always will. If we had a problem, it's because I loved her so much."
To members of the press, O.J. requested, "Please, please, please leave my children in peace. Their lives will be tough enough...Don't feel sorry for me," the note ended. Though Simpson's lawyers Robert Kardashian and Robert Shapiro claimed he was suicidal at the time of their writing, O.J. reportedly denied this years later.
Everything inside O.J.'s Bronco was sketchy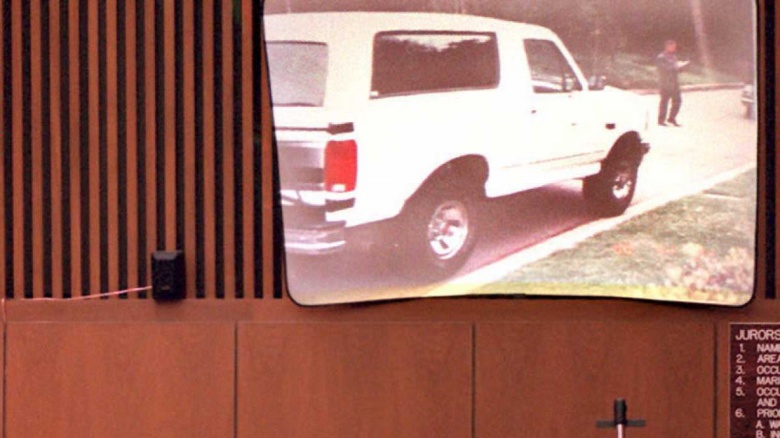 Getty Images
Despite maintaining his innocence and being acquitted of both murders, the contents of Simpson's white Ford Bronco were awfully suspicious. Inside the vehicle, police allegedly found Simpson's passport, a fake mustache, a gun, $8,000 in cash, and family photos...as well as blood. Sterling Archer would be proud.
A serial killer confessed to the murders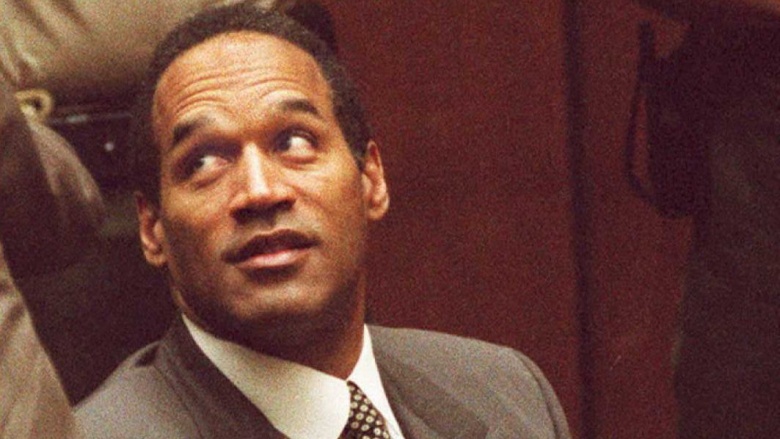 Getty Images
A month after Simpson's acquittal, convicted serial killer Glen Rogers confessed to the murders of Goldman and Nicole Brown Simpson. Rogers gave a detailed account of how he killed them and told friends and family before the murders that he'd been hanging around Goldman. Rogers even detailed the kind of knife he supposedly used in the slayings, a description that matched forensic studies of the case.
However, Assistant District Attorney Pat Dixon, who prosecuted Rogers for murders in the 1990s, told CNN, "Rogers is on death row in Florida and California. If he's close to execution in Florida, he may be hoping that California would bring him back, which would postpone the execution."
O.J. Simpson's alibi kept changing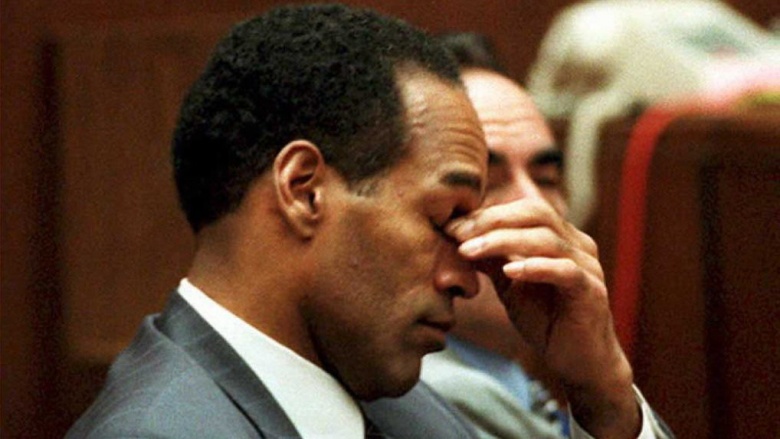 Getty Images
CNN reports that Simpson's initial alibi was that he was asleep at the time of the murders. Later, his defense claimed that he was hitting golf balls outside his home. Simpson's "Dream Team" also claimed that a neighbor's housekeeper saw his car parked outside his own home at the time of the murders. The housekeeper later admitted during cross-examinations that she wasn't entirely sure if it was, in fact, Simpson's white Ford Bronco. This is because Simpson's good friend and former teammate, Al Cowlings, also had the same make and model—a white Bronco.
The DNA evidence was mishandled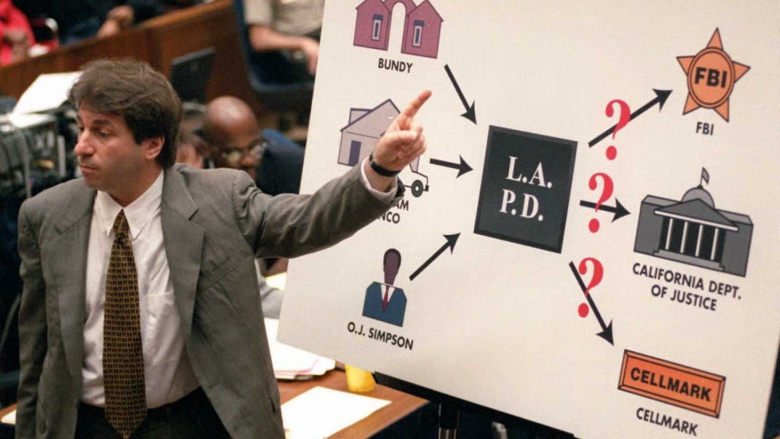 Getty Images
The Simpson trial was one of the first publicized cases to use DNA evidence. As a result, the DNA evidence may not have been handled properly, and it wasn't found credible to the jury. The killer's blood found at the crime scene matched Simpson's, and Simpson had fresh cuts on his left hand the day after the murders. Blood was also found in Simpson's Bronco, as well as in several places in Simpson's home, including the foyer, driveway, a pair of socks, and his master bedroom. Even Robert Kardashian admitted that the blood evidence was "a thorn in his side" in terms of doubting Simpson's innocence.
However, DNA expert Barry Scheck—who founded the Innocence Project, which uses DNA evidence to exonerate the falsely accused—says the poor handling of DNA evidence may have given juror pause in convicting Simpson. The crime scene's DNA samples were left in a hot truck for hours, which would lead to contamination and spoilage. There was another glove issue as well. The person handling the DNA samples didn't change gloves between handling each piece of evidence, leading to potential cross-contamination.
The glove may have actually fit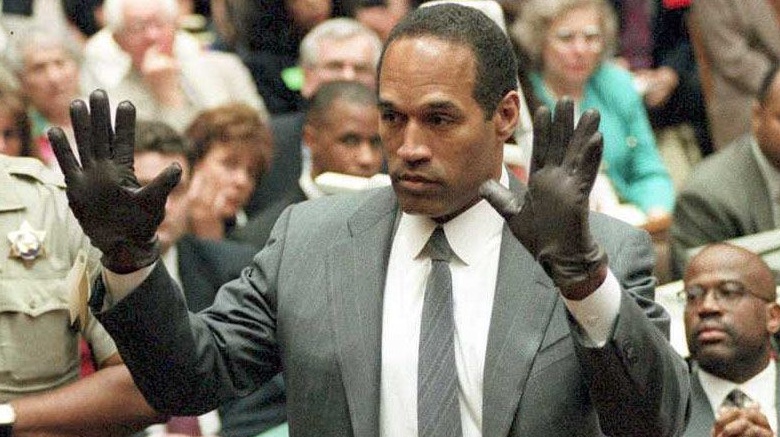 Getty Images
Prosecutors found blood evidence matching both O.J. Simpson and the murder victims on an Ars Light leather glove, size XL, found at the scene, as well as a long blond hair—similar to Nicole Brown Simpson's—inside of it. A matching glove was found at Simpson's home. The Mirror reports that the prosecution didn't want Simpson to try on the gloves for two reasons: they'd been drenched in blood as well as frozen and defrosted numerous times before he tried them on in court. O.J.'s hands were also allegedly swollen due to him not taking his arthritis medication, which may have factored into the gloves not fitting. There's always room for a second season of The People v. O.J. Simpson: American Crime Story, right?