Backpack Kid Dishes About Katy Perry, Future Music Career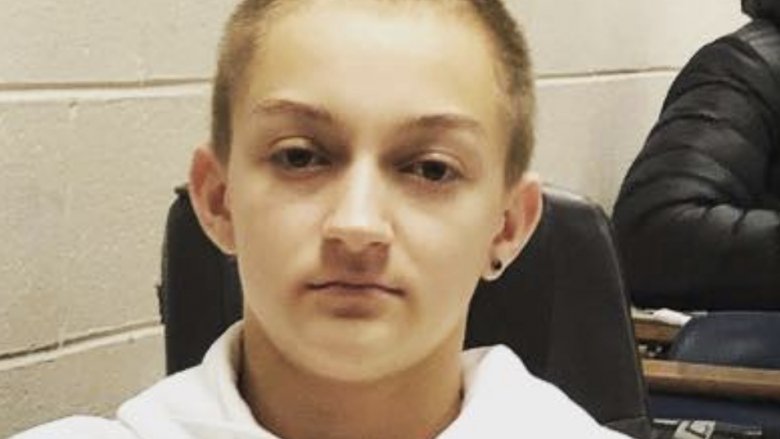 Instagram
While most 16-year-olds work weekends to earn video game money, Russell Horning is building an empire based on busting moves and breaking in backpacks.
Speaking with Nicki Swift in an exclusive phone interview, Horning opened up about his launch into Internet superstardom — which all began with a chance connection forged by none other than singer Katy Perry. "She said she was scrolling throughout [sic] Instagram and she found my page," the teenager explained, recalling his first encounter with the pop music icon. "She emailed us and said, 'Hey, you're pretty cool. I want you to come on stage with me during Saturday Night Live.'"
Of course, Horning, who'd already snagged a social media following for posting fun dancing videos on Instagram, took Perry up on her offer. In May 2017, he appeared on the SNL sound stage, donning what would become his trademark accessory — a Sprayground backpack. Swinging his arms back and forth and swaying his hips, Horning maintained a stoic expression as he debuted his signature move, which he calls "flossing," on late-night TV. And, seemingly overnight, he became known as "Backpack Kid."
"It was pretty fun," Horning admitted, describing his time on the popular sketch comedy show. "It's not everyday that you go on nationalized [sic] TV with one of the biggest celebrities in the country."
But Horning's success has continued on past his brief performance on SNL. After appearing in Perry's star-studded, basketball-themed music video for "Swish Swish," Horning's social media presence only grew — leading to new dancing gigs, sponsorship opportunities, and even a music career. On Feb. 14, 2018, Horning dropped a music video for his first single "2 LITT," which he recorded with the help of SoundCloud artist Swag Hollywood.
"We took a long time on it and we hope that music will ... be something that I enjoy in the future," said Horning, who dreams of becoming a rapper. Clearly proud of his new track and its reception, he added, "And it's gotten over a 100k [views] in a week!"
The song "2 LITT" won't be his only foray into the music industry, however. Horning also revealed that he and Swag Hollywood "are making a lot of music that will be released in the future."
Though Horning enjoys making music, he's uncertain about what the future holds for him — at least, when it comes to school. "I do believe that education is very important for everybody that is young. And they should always finish ... high school is a must," he said. "College? If I do do college, it will probably be an online school. But if I'm doing really good ... then I may or may not go to college." Noting that he doesn't "like school that much," Horning explained that he'd prefer to get an education from snagging hands-on experience rather than study music at a university.
Horning's future is full of possibilities. Explaining how his dancing is "meant to be comedy," he revealed that he'd love to get involved in a "comedy movie or TV show," stating, "I think I'd do pretty good at acting."
For now, Horning has his hands full as he balances school with a career as an influencer (At the time of this writing, he boasts over 1.6 million Instagram followers). Horning told Nicki Swift that he's in the process of securing a collaboration with Sprayground Backpacks — a company whose backpacks he exclusively wears. He'll also be performing with the Harlem Globetrotters sometime in the near future. "That's going to be crazy," he said, regarding his upcoming appearance. Horning, who's performed at basketball games before — including at a Sacramento Kings game in November 2017 — added that he hopes to lock down more gigs on the court in the future, as he believes he goes "well with the family-friendliness of the NBA."
So with his lofty dreams of NBA performances, will Horning debut any new moves in addition to flossing? Anything's possible, but Horning seems to doubt that he'll adopt another signature dance style. "I tried making other moves in the past, but making more moves just isn't what it's supposed to be, so ... Flossing is the one that really got big so I'm just gonna stick with it."
What's more surprising than his decision to focus on flossing, however, is the news that the celeb who helped make him famous doesn't even follow him on Instagram. That's right — Katy Perry, who'd previously told the world to "check him out" on social media, doesn't even subscribe to his account.
"No, I don't think she does," Horning revealed. And while that news might be devastating for any other teenager, Horning is more than okay with Perry's choice to keep her feed Backpack Kid-free. "She's done so much for me that I don't really need a follow from her. I mean, if she does, yeah, that'd be very much appreciated, but I appreciate everything that she's already done for me," he said.
Sounds like Russell Horning doesn't only have some serious comedy chops — he's also got a pretty good head on his shoulders too.