What Happened To Brigitte Bardot?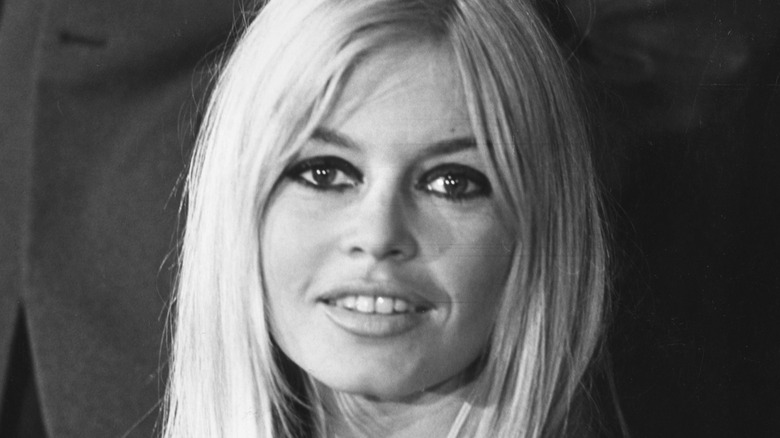 Len Trievnor/Getty Images
It was a little goat that ended Brigitte Bardot's career. She was at the top of her game, a sex symbol around the world, shooting film after film when one day, out of the blue, Bardot retired from acting, modeling and her career in singing. In a rare interview with Vogue Hommes, republished by Vogue in 2015, Bardot explained why she retired. "I quit the films when I was 38 because I'd had it up to here, so I have no desire to go back at the age of 77," she said. 
Bardot explained that she was filming in Périgord, France, when a lady passed by walking a little goat. Bardot went over to pet it and the woman explained that she was going to roast the goat for a celebration. Bardot, always an animal lover, bought the goat from the woman. "I put it in my trailer and, that evening, I went back to my 5-star hotel in Sarlat with my little goat," Bardot recalled. "If they hadn't let me in, I would have slept outside with her."
Bardot said that claiming the goat came at a crossroads in her life. She said she was beginning to grow weary of acting and she was getting older. "Was that how I was going to grow old in the cinema?" she asked. "Just as I was starting to feel that I really wanted to throw it all up, along comes that little goat." With that, Bardot was done with fame.
Bardot says that humans have hurt her deeply but animals never did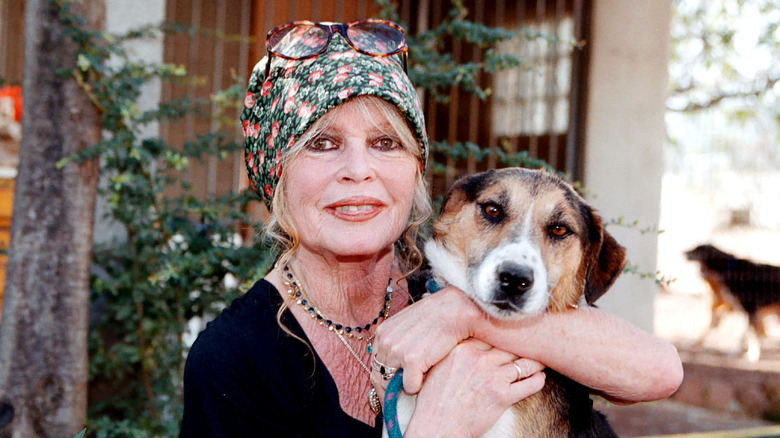 Charly Hel/prestige/Getty Images
Brigitte Bardot dropped acting on the spot and turned her attention –- and international clout -– to animal rights. She founded the "Fondation Brigitte Bardot" to protect wild and domestic animals in France and abroad. Bardot spoke with Vogue Hommes about her true passion in life. "I've always loved and protected animals. When I was little, I wanted to live on a farm," she said.
Bardot also spoke about the nature of her focus and attention. "When I decide to do something, I try to do it as well as I can," Bardot said. "I go to great lengths. It was the same thing when I stopped everything to devote myself to animal welfare: I threw myself heart and soul into it, without knowing a thing about it, without even knowing how I was going to go about it." She spoke with fondness about her devotion to animal rights. "It's fantastic, what I've been able to do with the Foundation."
Bardot had one child but struggled with traditional motherhood. Newsweek notes that Bardot revealed in her 1996 memoir "Initials B.B." she underwent two illegal abortions when she was young. When she became pregnant at 25 with her second husband, Jacques Charrier, his parents insisted she give birth. She said she would have "preferred to give birth to a little dog." Her in-laws raised her son and she had minimal contact with him.
Brigitte Bardot wanted nothing to do with celebrity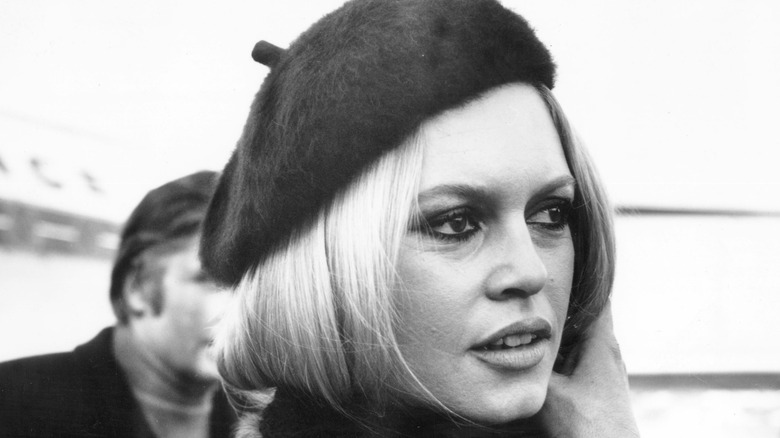 Stroud/Getty Images
Bardot has also made a number of stunningly racist public statements over the years. As of 2021, Bardot had received six fines for "inciting racial hatred," Vanity Fair reports. Bardot called the inhabitants of the French island Reunion, "aboriginals who have kept the genes of savages" for what she deemed barbaric treatment of animals, according to NBC News. In 2006, she wrote a letter claiming that Muslims were "destroying our country by imposing their ways," per the BBC. Bardot was fined $23,000 for this particular outrage.
When Bardot decided she was done with the spotlight, she packed up her things and moved to Saint Tropez, to a property she calls La Madrague. Bardot has become something of a recluse since and spoke about her private life in her memoir, "Tears of Battle: An Animal Rights Memoir." She wrote, "My selective disposition prevents me from receiving any more than a few people to my home at La Madrague. The majority of my exchanges with my peers are done through letters ... Physical distance suits me quite well these days, even in the context of a great friendship."
Bardot was married four times in her life and admitted to having over 100 lovers, both men and women, per the Daily Mail. Her fourth and final husband, Bernard d'Ormale, lives with her at La Madrague.