What Candace Cameron Bure And Jodie's Sweetin's Relationship Is Really Like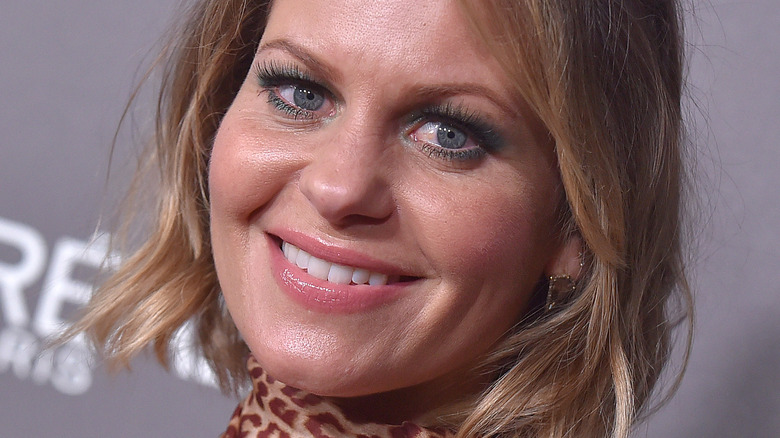 DFree/Shutterstock
With any family, there are plenty of ups and downs — whether it be on-screen or in real life. And for on-screen siblings Candace Cameron Bure and Jodie Sweetin, that couldn't be more true. 
Bure and Sweetin both came to fame in 1987 for their roles as the Tanner sisters on ABC's "Full House." The show followed Danny Tanner (Bob Saget) as he began to live his life as a newly-widowed father working to raise three daughters: DJ, Stephanie, and Michelle (Candace Cameron Bure, Jodie Sweetin, and Mary-Kate and Ashley Olsen respectively.) To help him, Danny enlists his brother-in-law, Jesse, and best friend Joey (John Stamos and Dave Coulier) to help him through this new chapter, per IMDb. As one could imagine, it wasn't always smooth sailing for the Tanner family. But at the end of the day, no matter what differences the family faced, they always came together for a hug — Danny's preferred method of affection.
For Bure and Sweetin, that was also true of their off-screen friendship, up until recently. While the two played close-knit sisters on-screen, the pair have only grown apart as they've gotten older. And, as Bure's social media backlash and Sweetin's wedding have demonstrated, fans cannot help but wonder what the Tanner sisters' relationship is really like today.
Candace Cameron Bure and Jodie Sweetin no longer see eye to eye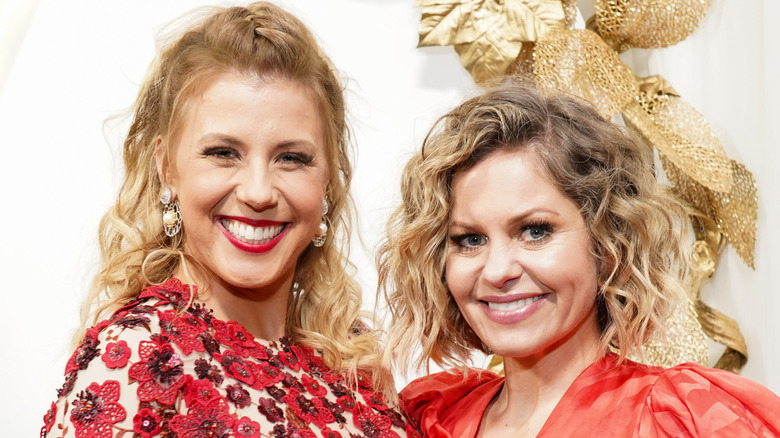 Rachel Luna/Getty Images
While Candace Cameron Bure and Jodie Sweetin may play on-screen sisters, when the two are off-screen, they don't always see eye to eye. Especially in light of recent events, the two have found themselves in disagreement with one another's opinions more often than not. 
The pair's disagreement all started when Bure was asked if her new network, Great American Family, would showcase LGBTQ+ couples in their holiday movies. To that, Bure simply said no, according to The Wall Street Journal. Not only that, but Bure said the network would continue to focus on "traditional marriages" in its films, per NBC News. Shortly after the statements, Bure came under fire from fans and fellow celebrities. 
One person adding to the backlash following Bure's comments included her on-screen sister, Sweetin. After JoJo Siwa posted her thoughts about Bure's comments, which included them being "rude and hurtful," Sweetin quickly commented, "You know I love you," alongside multiple heart emoji. While Sweetin was posting in support of Siwa, many fans also saw the comment as Sweetin standing in opposition to Bure. 
Candance Cameron Bure and Jodie Sweetin's relationship fizzled as they got older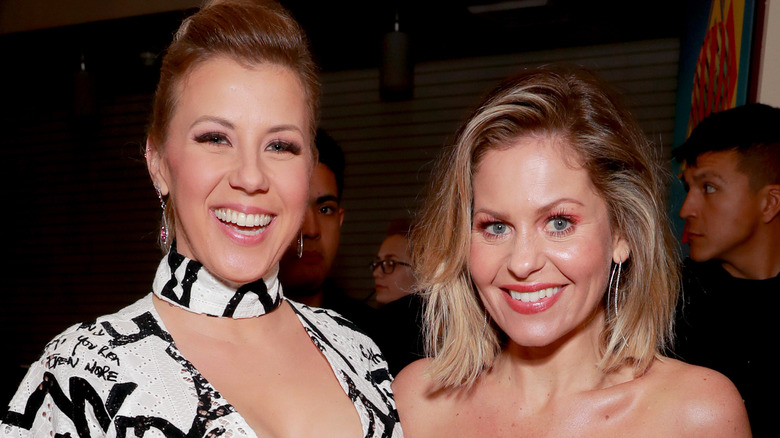 Rich Fury/kca2019/Getty Images
While on "Full House" the Tanner sisters were taught that family comes above everything, it seems like Candace Cameron Bure and Jodie Sweetin no longer follow that rule. Instead, despite playing on-screen sisters, it seems like these two have grown more distant over the years — with Bure's recent comments being the final straw.
Before growing apart, Bure and Sweetin saw each other as best friends as they traveled the world together. Back in 2017, the two stepped out of their roles as the Tanner sisters to film the show "My Best Friend's Japanese Wedding," per IMDb. Not only that, but as the two traveled around, both Bure and Sweetin snapped selfies with each other to let everyone know who their best friend was. "Yay! Got to see my she-wolf sister Candace Cameron Bure tonight. Always fun to have family nearby. It was just what I needed tonight," Sweetin posted on Instagram. With Bure reposting the photo, she added, "First night in Vancouver and I'm back with my baby sis!!! Whoo Hoo for family."
But since then, the two have seemingly gone their separate ways. Most recently, Bure attended Sweetin's wedding, though she wasn't a bridesmaid or part of the wedding party at all. With that, and with Sweetin shading Bure's recent comments, it seems fans have realized that all good things must come to an end — including everyone's favorite friendship.