Did Barron Trump Have A Nanny While He Lived In The White House?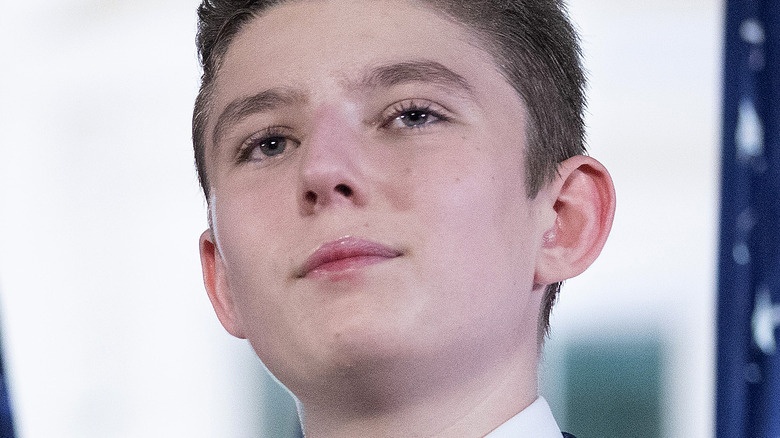 Chip Somodevilla/Getty Images
In mid-2017, Barron Trump became the first boy to move into the White House since John F. Kennedy was president, Today noted. At 11 years old, the life of the youngest of former President Donald Trump's children had his life turned upside down. To make the process less disruptive, his mother, Melania Trump, opted to delay Barron's move to Washington, D.C., allowing him to finish out the school year in New York. "The campaign has been difficult for Barron, and she is really hoping to keep disruption to a minimum," a source told the New York Post. 
While a move is always stressful for a young kid, Barron's life wasn't all that bad. As a resident of the White House, he had ready access to a private bowling alley and movie theater, according to Today. But not all was rainbows and sunshine. During his years as a first kid, Barron entered adolescence, which is hard on its own. But living it out in the public eye certainly didn't make it easier. Barron was often criticized for his choice of clothes, including by conservative site the Daily Caller and a then-"Saturday Night Life" writer, The New York Times reported.
Anticipating the difficulties he would encounter, Melania tried to keep Barron away from the spotlight. She also kept her public role to a minimum, often opting to be a mother before a first lady, The New York Times noted. Melania certainly made Barron her priority. But did she do it alone?
Melania Trump takes pride in being a present mother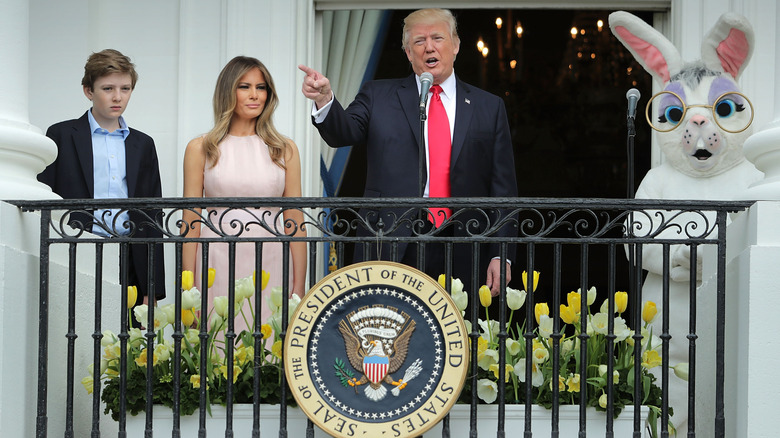 Chip Somodevilla/Getty Images
Melania and Donald Trump are proud of their parenting skills. A little more than a year before moving into the White House, Donald claimed he and his wife needed no extra help to raise Barron. "If you have too much help, you don't get to know your children," he told People in 2015. While he admitted they had staff to take care of cleaning, Donald denied using a nanny. "We keep [domestic help] down to a minimum," he contended. 
Melania said her preferred child-rearing method allowed for little delegation. "I like to be hands-on. I think it's very important. Barron is 9 years old. He needs somebody as a parent there, so I am with him all the time," she told the magazine, explaining she needed to be the present parent figure, as Donald traveled frequently for work. Not long after, however, the New York Post reported the Trumps did use a nanny (via Page Six). And Donald confirmed it. "Yes, there is a young woman, someone who works with Barron," he said.
In 2006, when Barron was still an infant, Melania admitted she had a nanny named Clare Hollywood. "In one way, we still need to have a life," she told The Palm Beach Post. But, even back then, she emphasized her preference for being as involved as possible. "If [an event] is not important, I prefer to give the baby a bath and put him in bed."
Donald Trump isn't as involved as Melania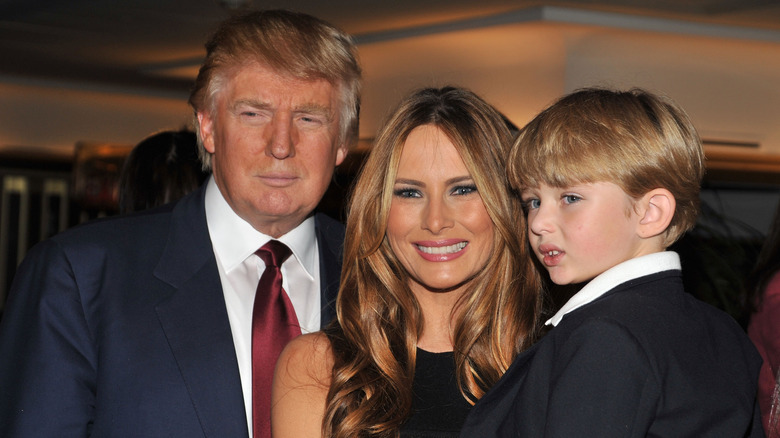 Andrew H. Walker/Getty Images
Regardless of whether she used the help of a nanny, Melania Trump seems to be an involved parent. "She is really devoted to Barron," a source told the New York Post in late 2016, noting the former first lady was often spotted picking up her son from school. The biggest hint that she spent most of her time with her son is, perhaps, reflected in his bilingualism. According to Lingalot, Barron is fluent in his mother's native language, Slovenian.
In fact, Barron spoke English with an accent when he was little, which was heard in a clip shared during a 2010 interview with CNN's Larry King. "He spends most of the time with me," she answered when King inquired. Donald Trump was unbothered by it. "I think it's great," he told King. "Anything he does is OK with me." But Barron seems to have spent a lot less time with his father. 
Despite considering himself a "good father," Donald doesn't believe in being present day in and day out. "I'll supply funds and she'll take care of the kids," he said in a 2005 interview with Howard Stern (via People). "It's not like I'm gonna be walking the kids down Central Park." Because he had so little time with his father, Barron tried to soak it up as much as he could. "Barron loves to be one-on-one with Dad because normally he's almost always all the time with me," Melania told People.