Why Prince William And Catherine Had A Red Carpet At Their Wedding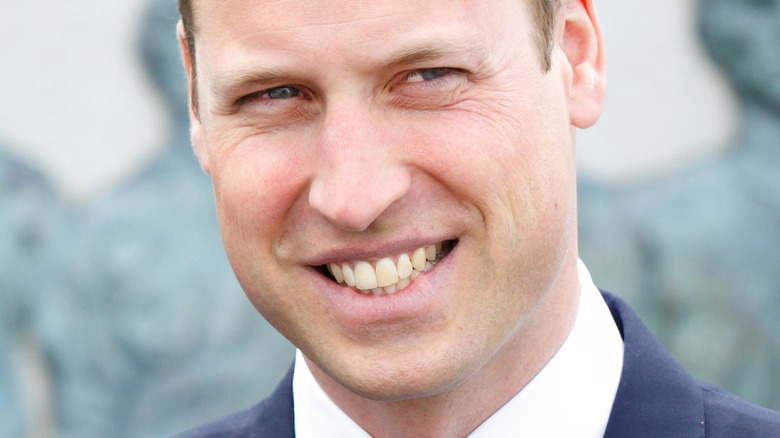 Max Mumby/indigo/Getty Images
Prince William and Kate Middleton's wedding was unlike any other. The two met in college in 2001, and although their relationship didn't start romantically, it didn't take long for them to connect (via People). Their relationship faced media scrutiny that at one point caused the couple to break up, but it didn't last long. By 2010 the two announced that they were engaged, and it was the following year the couple had a grand royal wedding.
The wedding marked a pivotal event in British history because Prince William will one day ascend to the throne. Having a royal wedding requires a lot of work as there are a lot of traditions the couple must follow (via Apartment Therapy). One fairly obvious tradition is asking the king or queen permission to be married; this is because of the Royal Marriages Act of 1772. In Prince William and Kate's case, they had to ask the late Queen Elizabeth II, which she granted (via ABC News). Another royal tradition is for some couples to marry at Westminster Abbey and while not all royals get married at that specific location, it is one of the many cathedrals that are rooted in the tradition.
It can be hard to keep up with all the traditions at a royal wedding because there are so many. What royalists may not know is how far into the details the royal family goes on the couple's special day. Even down to the carpet they walk on.
The red carpet signifies an heir to the throne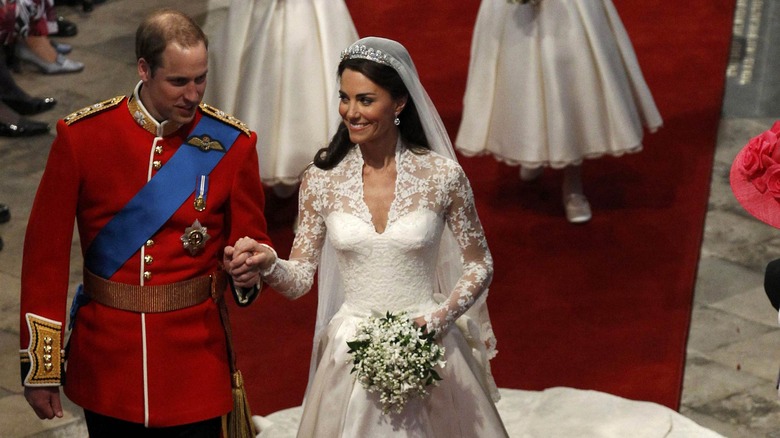 Suzanne Plunkett-WPA Pool/Getty Images
The preparation that goes into a royal wedding is intense and detailed. Even when it comes down to details like what carpet the couple walks on to tie the knot. Only certain royals get to walk down a red carpet. The reason is that the color red signifies an heir to the throne, as Hello! notes. As many may know, Prince William was the firstborn child of King Charles and the late Princess Diana (via Britannica). Because he was the firstborn, he automatically became heir to the throne. As heir to the throne, there are certain things bestowed to you — including a red carpet.
According to Hello!, William's father also walked down a red carpet when he married Princess Diana. And even further back, the late Queen Elizabeth II also walked down a red carpet. The tradition of only heirs walking down a red carpet continued in 2011 when Prince William married Kate Middleton. While only heirs can walk down a red carpet, there are other options for other royals to walk down on.
Blue carpets signify fidelity and loyalty (via Hello!). In 2018, Princess Eugenie married Jack Brooksbank walking on a blue carpet. Princess Eugenie wasn't the only royal to choose blue, Prince Andrew and Princess Anne both chose the navy color. As for Prince William's brother, Prince Harry and Meghan Markle opted out of using a carpet and instead showed the lovely floors of St. George's Chapel.
Prince William didn't watch Kate Middleton come down the red aisle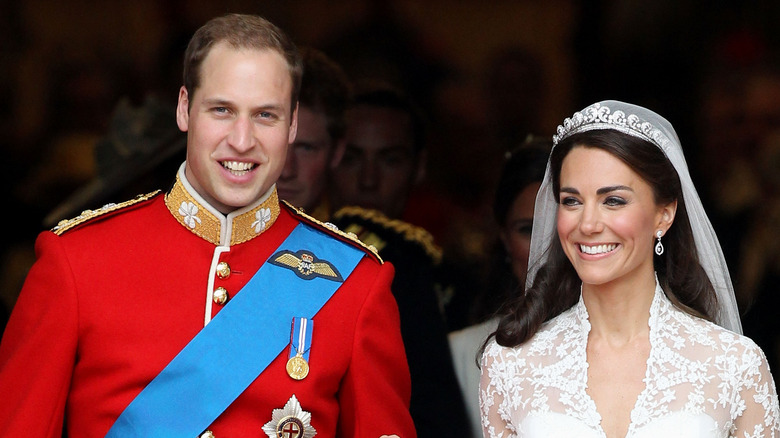 Chris Jackson/Getty Images
Everyone had their eyes on Kate Middleton as she walked down the red carpet to marry Prince William in 2011. Watching her gracefully make her way down the aisle in her beautiful gown. However, there was one set of eyes that wasn't watching her, and surprisingly it was none other than Prince William (via Hello!).
Just like the red carpet, the reason Prince William didn't watch the bride walk down was rooted in tradition. The large church had a four-minute walk to get to the altar, and as Kate made that walk, Prince William never turned around (via Marie Claire). This was because it is customary in British culture for the groom to be the last person to see the bride. So, Prince William kept his back to the bride as she walked down the red carpet aisle.
It wasn't until Kate was by his side that the groom got a look at the bride's beautiful dress. Per Marie Claire, when Kate finally reached William's side, he made a comment about how "beautiful" she looked. The prince even made a joke to Kate's father, Michael. He shared (via Hello!), "We're supposed to have just a small family affair," poking fun at the hundreds of guests in attendance and the millions watching. Still, traditions continue to hold strong, especially when it comes to a royal wedding.