Jimmy Kimmel Exposed James Corden's Rudeness To Employees Long Before His Scandal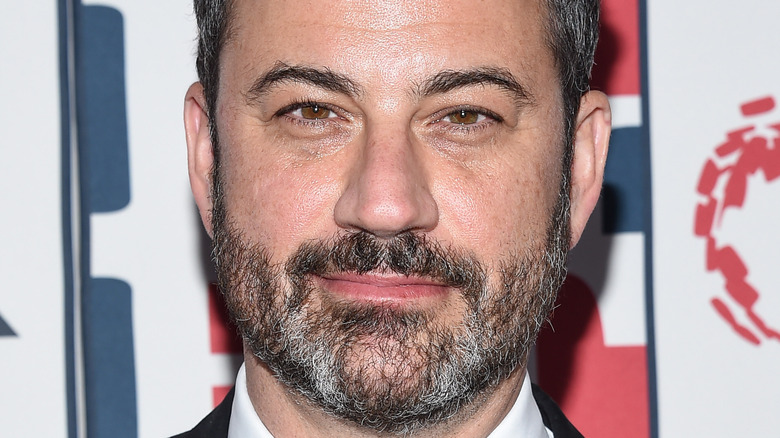 DFree/Shutterstock
On "The Late Late Show with James Corden," James Corden comes across as a happy-go-lucky guy. With segments like Carpool Karaoke, the host makes people smile and laugh at his show. The same cannot be said for his personality in real life.
There have been several occasions where people outed the shady side of Corden. In 2022, Keith McNally, a restaurant owner in New York, banned Corden from returning to his restaurant after he was rude to waitstaff (via Us Weekly). McNally reported that his wait staff accidentally gave Corden's wife a bit of egg white on an omelet, which his wife requested not to have. McNally shared, "That's when James Corden began yelling like crazy to the server: 'You can't do your job! You can't do your job! Maybe I should go into the kitchen and cook the omelet myself."
Corden spoke on "The Late Late Show" about the incident and how he had to send the food back several times. He shared, "As her meal came wrong to the table a third time, in the heat of the moment, I made a sarcastic, rude comment about making it myself." The talk show host sincerely apologized for the comment and expressed gratitude to the servers there. Corden revealed that he and the owner reconciled and cleared the air. However, this isn't the first time the host has been criticized for being rude; another late-night host previously exposed Corden for his less-than-ideal behavior.
Jimmy Kimmel calls out James Corden for not knowing employees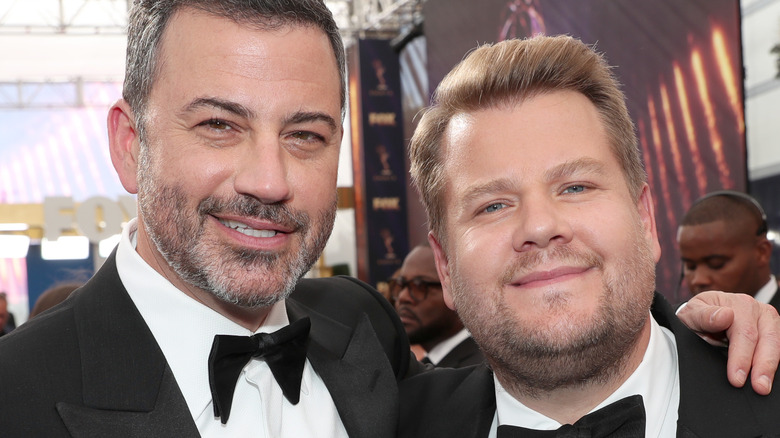 Rich Polk/Getty Images
James Corden is known for having some hilarious segments on his tv show, including "Spill Your Guts or Fill Your Guts." During this segment, Corden and a fellow celebrity go head-to-head asking each other juicy questions. Should they choose not to answer the question, they eat questionable food. Well, on one show, Corden got exposed by Jimmy Kimmel for not knowing some of his employees.
In the 2016 "Spill Your Guts or Fill Your Guts" segment, Kimmel gave Corden a fish smoothie should he not answer the question. Kimmel asked Corden, "Name two of the cameramen in this room." Now, having a big show as Corden has, he is sure to have employed plenty of individuals. However, the cameramen are with Corden each show, so many believed he should have known their names. Corden didn't answer the question and instead took the punishment. Corden laughed about the situation, but many could not believe the host couldn't even name two of the cameramen.
In another "Audience Q&A: Names" segment that aired a year after his time with Kimmel, Corden still couldn't remember his cameramen's names. An audience member asked Corden what the name of one of his cameramen was, and Corden replied, "Well, that's easy. That's Sebastian." The cameraman replied, "No, it's Brian." This segment seemed to be a joke, but it still seems unclear whether Corden knows the names of some of his employees.
James Corden has had a long history of being rude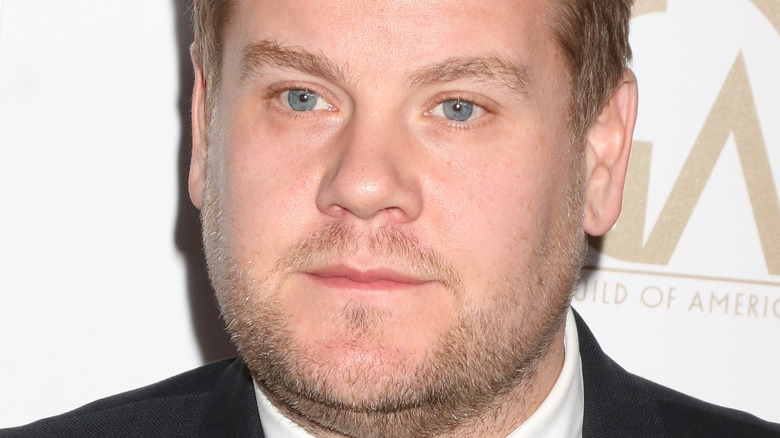 Kathy Hutchins/Shutterstock
Jimmy Kimmel's outing of James Corden for not knowing employees' names was not the first time he was exposed for having rude behavior. In fact, a former "Jimmy Kimmel Live!" writer shared her terrible experience with Corden (via Newsweek).
Jack Allison, the former employee, alleged that Corden attended a Writers Guild of America meeting and asked for his writer's wages to be lowered. The talk show host hoped this would allow him to hire writing assistants (via Newsweek). This request came off as selfish on Corden's part because of how successful his late-night show has been. Corden denied the allegations on Twitter and shared that everything Allison said was "completely untrue." Regardless of what happened, the story helped to cement the idea that Corden had a terrible attitude.
Even some fellow celebrities can't stand the talk show host. Rob Brydon, who starred alongside Corden in the British TV show "Gavin & Stacey," called out the talk show host's behavior in 2019 (via Lad Bible). Brydon shared, "He [Corden] was burning the candle at both ends and becoming ratty and irritable." The actor decided to take Corden out to lunch to call out this behavior, and despite what people may think, it went over well. Corden took his advice as sincere and understood where he was coming from. Unfortunately, it seems as though Corden may be back to his old ways after several incidents of the talk show behaving rudely.