Here's What Emily Ratajkowski Really Looks Like Without Makeup
DFree/Shutterstock
Emily Ratajkowski skyrocketed to fame when she appeared in Robin Thicke's scandalous and controversial "Blurred Lines" music video in 2013. Since then, the supermodel has also made a name for herself as an actor, author, businesswoman, and most recently, as a podcast host. Ratajkowski talked about venturing out in a 2022 piece for Harper's Bazaar, revealing, "I think the biggest obstacle of my career has been transitioning and doing things that people didn't really expect. But I think you just have to forge ahead and do what you're going to do and be who you are."
Despite tackling various professional pursuits, Ratajkowski's modeling career hasn't come to an end by any means. In September 2022, she strutted down the runway for Versace, looking edgy in a matching leather jacket and mini skirt. She also frequently poses in photos for her own swimwear line, Inamorata Woman. On top of that, she's a Partner and Creative Director for Loops Beauty.
An established model, Ratajkowski has had no shortage of glamorous shoots. As shown in Allure, she's also been known to experiment with bold makeup looks on the red carpet — everything from classic red lipstick to a copper cat eye. But what does Ratajkowski look like with her face stripped down?
Emily Ratajkowski enjoys doing her own makeup
Although it's rare to see Emily Ratajkowski sans cosmetics, she still has been spotted with little to no makeup. In 2017, the Daily Mail shared a photo of Ratajkowski out and about in Los Angeles. Though she embraced a minimal amount of makeup, she still looked radiant.
This wasn't the only time the "Gone Girl" star appeared makeup-free. In a video for Vogue, she walked fans through her go-to date night look. Of course, Ratajkowski started off the tutorial without makeup — and she looked absolutely gorgeous! She showed off her natural beauty, remarking that she had gotten tan. As she applied foundation, she shared that she's a huge fan of makeup. In fact, she revealed, "I do my own makeup for carpets a lot." She added that she likes to keep it light in the summertime, particularly during the day. However, she added, "When I'm getting photographed or doing a carpet or even just taking a selfie, I'll go a little bit more crazy."
As evidenced from her Instagram page, Ratajkowski clearly enjoys doing her own makeup. In 2019, she uploaded a selfie, captioning it, "Did my own makeup." It looked like she put on some nude lip gloss, eyeliner, and highlighter. The results were stunning!
Emily Ratajkowski likes to keep her beauty routine simple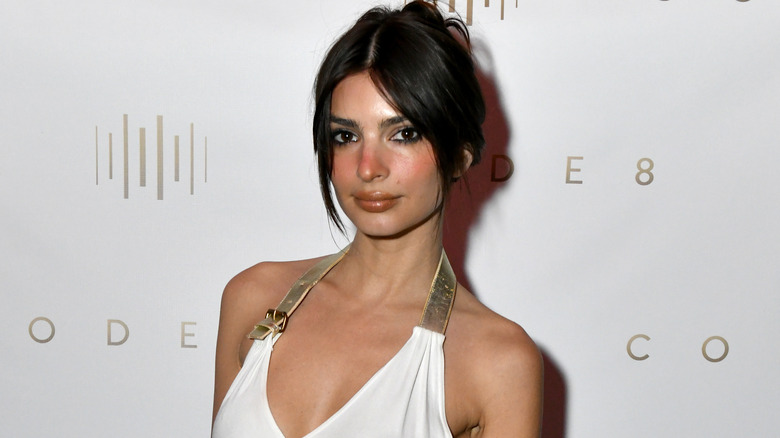 Craig Barritt/Getty Images
So, what are Emily Ratajkowski's best-kept beauty secrets? In a 2013 video for Into The Gloss, Ratajkowski described her makeup routine. The model opts for a less-is-more approach when it comes to makeup. She shared, "Beauty-wise, I like to keep it simple. I really like to have just five things that I use all the time, and I swear by, and work for me." One of the star's secrets? She likes to use lipstick on her cheeks! "It mimics the texture of your skin, which is what's really nice about it," she revealed. Talk about being resourceful!
Ratajkowski reiterated her preference for a simple makeup routine in a 2015 piece for The New York Times. She said, "I have really big features, so a little makeup goes a long way. I would hate to look like a clown." While she keeps things light with a skin tint during the day, she'll draw on a cat eye if she wants to look more glammed up. However, there's one trend that Ratajkowski is not hopping on. Adding definition to her cheeks is a no-go for the supermodel. "I'm not big on contouring. My features are really out there already," she revealed.
Whether she's flaunting a full face or ditching the products altogether, Ratajkowski is strikingly beautiful!