The Shady Way Jennifer Love Hewitt Dumped Carson Daly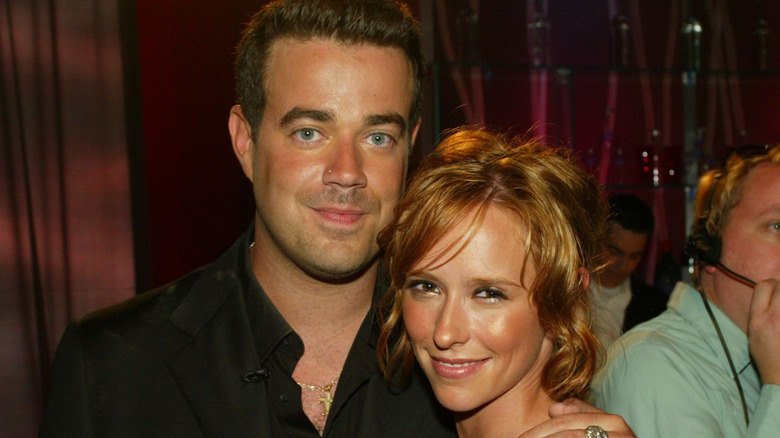 Kevin Winter/Getty Images
Remember when Jennifer Love Hewitt dated Carson Daly? While many people may have forgotten the "I Know What You Did Last Summer" actor and "The Voice" coach were an item, they very much were — only things ended in a pretty explosive way. This forgotten celebrity romance happened some decades ago, as the two started dating in the late 1990s after crossing paths a few times before that. And this wasn't some flash in the pan under the radar fling either. Oh no. In fact, Love Hewitt told Rolling Stone in May 1999 that she and the DJ were close to celebrating a big milestone. "I think we deserve a huge round of applause. I think we've done a really good job — it's been almost a year now," she shared.
The two young lovebirds seemed pretty happy too and appeared at a number of events together, including getting cozy at the 1998 MTV Video Music Awards, looking pretty loved up at the 1999 MTV Movie Awards, and he was even her date to the "I Know What You Did Last Summer" movie premiere. Seriously, who knew!?
But, while they seemed like the epitome of young love for a few months, this one went on with a major bang.
Carson Daly found out Jennifer Love Hewitt dumped him via the media
Yeah, it sounds like Jennifer Love Hewitt and Carson Daly's split wasn't exactly the most amicable, talked through split ever, as he claimed he found out they were officially over because she told the media. Ouch. "I woke up to Howard Stern telling me my relationship with [Jennifer] was over. Then I heard Steve Kmetko on E! say, 'Just off the Associated Press: Jennifer Love Hewitt and Carson Daly have officially broken up,'" he told People of the split in 2000 (via E! News). Daly admitted he then called his now ex and told her he wished they could have spoken about it properly rather than her sharing the news with her publicist, who then told the world before he knew. Making things even more awkward? Daly had even gotten a tattoo for her!
But how did things really end between the former love birds? Well, they seemed to be kind of on good terms three years later at Daly's roast, "MTV Bash: Carson Daly." Love Hewitt playfully roasted her ex on stage and even claimed he was the one who dumped her as she read out a fake love letter she joked he'd sent to her. Love Hewitt did end on a nice note though, telling Daly, "Having you in my life was very important to me and being your girlfriend was truly one of the best things I've ever had the honor to do." Aww!
What Carson Daly said about Jennifer Love Hewitt's pregnancy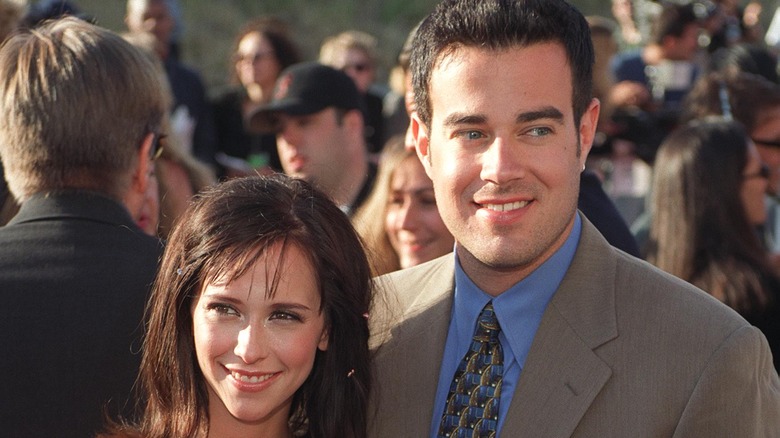 Dan Callister/Getty Images
It seems like both Jennifer Love Hewitt and Carson Daly were able to be grown-ups about the whole awkward breakup situation, and the two kept things professional. Well, pretty much. In 2005, Love Hewitt appeared on Daly's TV talk show, "Last Call with Carson Daly," and the two chatted about their one-time romance — though the MTV star couldn't help but bring up the odd way things imploded. "It ended a little weird, I got to be honest," he told her, to which Love Hewitt agreed but claimed how it ended wasn't important.
After that interview, the two had nothing but praise for one another. In 2013, Love Hewitt announced her engagement to Brian Hallisay and revealed they were expecting their first child together, to which Daly (who was engaged to his now wife, Siri Pinter) told Us Weekly, "I wish her the best. I wish her healthy motherhood too... I wish them nothing but the best."
Love Hewitt returned that sweet sentiment in 2018 when she proved there was seemingly no bad blood between her and her former boyfriend. The actor involved her ex in a throwback moment on Instagram as she shared a photo showing Daly embracing her from behind while they walked the red carpet together at the 1998 VMAs red carpet. "Wow that was a long time ago," she wrote in the caption, though she didn't tag her ex on the snap.