How Lisa Rinna Felt About Fired Days Of Our Lives Co-Star Robert Kelker-Kelly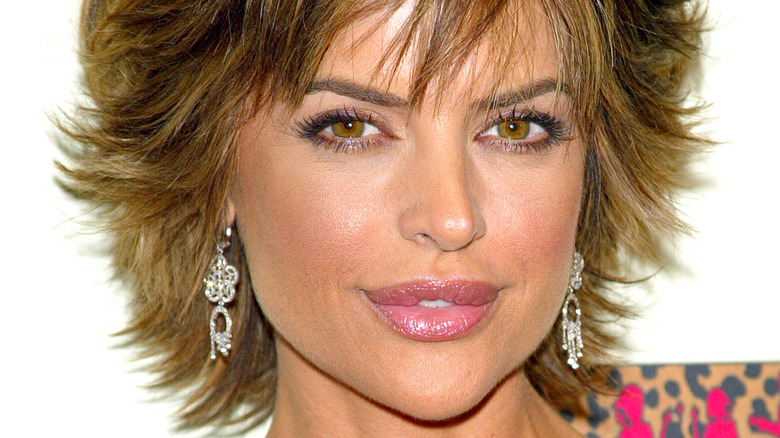 DFree/Shutterstock
Many fans may know Lisa Rinna as the star of "The Real Housewives of Beverly Hills." However, the actress was once one of the soap opera world's most beloved leading ladies. Rinna originated the role of Billie Reed on "Days of Our Lives" in 1992. Billie came to Salem to find her brother, Austin Reed, and was revealed to have a very messy past. The presumed dead daughter of Kate Roberts, Billie reunited with her mother and the rest of her family as her history as a stripper, porn star, and addict was slowly revealed to viewers, per Soaps.
Billie's struggle with addiction is what ultimately led her to Bo Brady. Although actor Peter Reckell is known for the role of Bo on "Days of Our Lives," at the time Reckell had opted to leave the sudser and he was recast with actor Robert Kelker-Kelly, per Soap Central. Kelker-Kelly's Bo shared many scenes with Rinna as the two grew into one of daytime's hottest TV couples.
Of course, Billie cleaned up her life, found a new career, and even fell deeply in love with Bo. The two seemed to be one of the show's favorite couples, that is until the love of Bo's life, Hope Brady (Kristian Alfonso) returned after being presumed dead, via Soaps in Depth. Things went downhill from there, and Bo and Hope eventually reunited leaving Billie out in the cold. Although Bo and Billie seemed like a perfect couple on-screen, things were much different off-screen.
Lisa Rinna claims that she hated her former co-star
In 2015, Lisa Rinna and her fellow former "Days of Our Lives" co-star Eileen Davidson were seen dishing about their time on the soap during an episode of "The Real Housewives of Beverly Hills." During the scene, the two women opened up about dealing with co-stars that they couldn't stand. Although Davidson didn't reveal anyone by name, Rinna was much more open about her dislike for her former leading man, Robert Kelker-Kelly, per Daytime Confidential.
"I hated Robert Kelker-Kelly; hated him with a passion!" Rinna stated boldly to Bravo TV. "He hated me with a passion. There's a secret for ya!" she added. Meanwhile, Rinna went on to explain that despite her dislike for the actor, the two made it work on screen and it worked rather well. "We were a volatile combination, and it looked like love and sexual chemistry on camera, so that was some darn good acting right there," the actress revealed.
It appears that Rinna was right. In 1995, she and Kelker-Kelly won the Soap Opera Digest Award for the Hottest Soap Couple, reports Soaps, even though they couldn't stand each other in real life.
Lisa Rinna is still close with the Days of Our Lives cast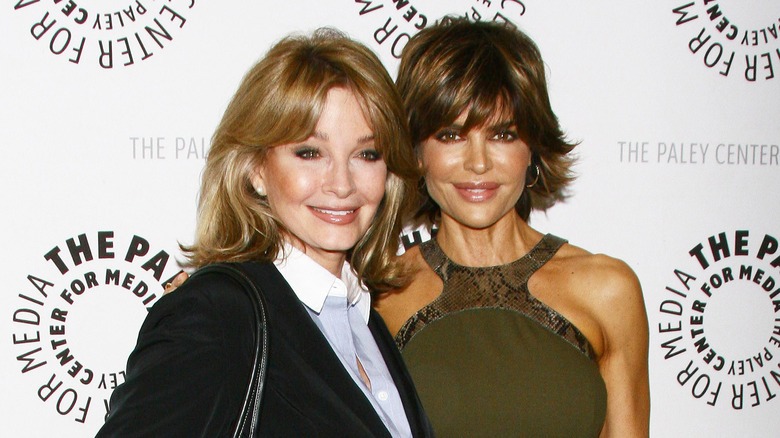 Tommaso Boddi/Getty Images
While Lisa Rinna may have had bad blood with Robert Kelker-Kelly back in the 90s, the actress has a soft spot for the rest of her "Days of Our Lives" family. Rinna has returned to reprise her role as Billie Reed over the years and recently appeared on the show's Peacock spin-off series "Beyond Salem" in 2021. "I hold a special place in my heart for Billie Reed, and I love her probably — I'm closer to her than any character I've ever played, and it's always fun to go back and revisit her," Rinna told Today of her role on "Beyond Salem."
Meanwhile, Rinna's co-star Deidre Hall (Marlena Evans), also revealed that the reunion was one for the books. "Our director had to begin every direction with, 'Shut up! You can catch up with each other later, but now I need you to do these things,'" Hall told E! Online. "We were just hungry for news about each other, so we just ended up gabbing too much."
Rinna has moved on to reality television, Kelker-Kelly joined the cast of "Port Charles" in 1997 as Stavros Cassadine. He later brought the character over to "General Hospital" in 2001. He's gone on to teach acting and he is a pilot, per Soaps. While Rinna and Kelker-Kelly's feud is decades in the past, it's still shocking to think that they hated each other the entire time they worked together.