How College Gymnast Olivia Dunne's Career Exploded On Social Media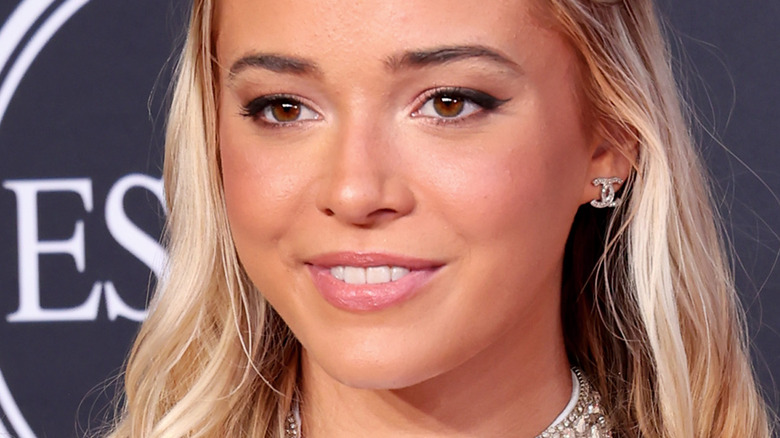 Leon Bennett/Getty Images
Olivia Dunne has capitalized on the riches that social media has to offer. The Louisiana State University gymnast has blown up on TikTok and Instagram, thanks to shrewd branding and maximizing her following. A large part of her success came because the National Collegiate Athletic Association (NCAA) restructured their Name, Image and Likeness policy as of June 2021 to allow college athletes to make a profit off themselves. "This is an important day for college athletes since they all are now able to take advantage of name, image and likeness opportunities," NCAA President Mark Emmert explained.
Dunne has done just this, getting sponsored content from brands as big as Forever 21 (note her Barbie campaign with the fast fashion brand) and the climate neutral apparel line Vuori Clothing. It means streams of revenue coming from several sources, but Dunne hasn't climbed to the top without hitting a little controversy along the way.
Did sex appeal play a role?
As Olivia Dunne continues to gain followers and clout thanks to her TikTok and Instagram presence, certain media outlets have pushed back against this. The New York Times published a piece on Dunne on November 8, 2022 that was critical of Dunne's sex appeal. "Scroll through the social media posts from female college athletes across the United States and you will find that a significant through line on many of the women's accounts is the well-trod and well-proven notion that sexiness sells," Kurt Streeter wrote.
Tara VanDerveer, a basketball coach at Stanford University, told the New York Times that female athletes playing into sex appeal was regressive. "I guess sometimes we have this swinging pendulum, where we maybe take two steps forward, and then we take a step back," she said.
A day after the article came out, Dunne jumped on her Instagram stories with a photo of herself and asked, "Is this too much?" while tagging the Times in the post (via the New York Post). She shaded the newspaper again on TikTok, when she posted a Christmas wish list that included the line, "Be on NY Times." Dunne then shook her head in the background and mouthed the word "No."
Olivia Dunne says many female athletes don't have futures after college
Just how much does Olivia Dunne make off of her social media accounts? In the same contentious article in The New York Times, Dunne was vague about her earnings. "Seven figures," she told the New York Times. "That is something I'm proud of. Especially since I'm a woman in college sports." Dunne rightly added, "There are no professional leagues for most women's sports after college." If there was ever a fear of exploitation, Dunne doesn't see it. "It's just about showing as much or as little as you want," she said.
Dunne's exposure on TikTok and Instagram has also catapulted her career as a gymnast, thanks to her frequent posts about routines and competitions. It also meant attention from major reps. In August 2021, the New York Post notes Dunne signed with WME Sports, a major athletics agency that also represents athletes like Novak Djokovic and Serena Williams. So, for the millionaire athlete with millions of online followers, Dunne seems to be taking the right steps.