Taylor Swift Sent Katy Perry A Sweet Gift When She Became A Mom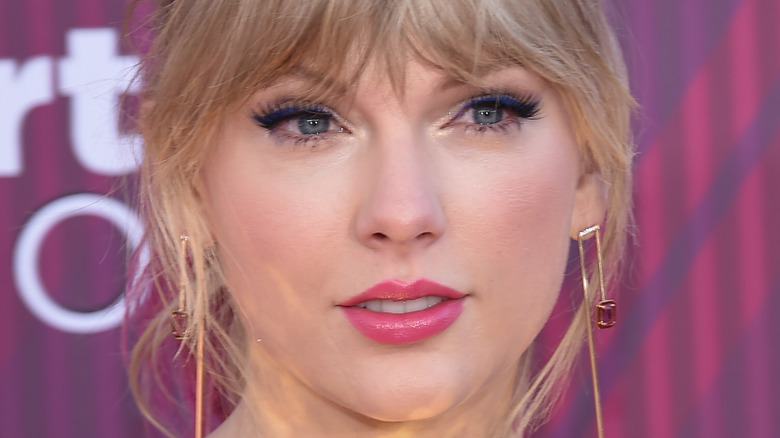 DFree/Shutterstock
Taylor Swift is not only an incredible singer, but she is also a great gift-giver. Even though she is one of the biggest celebrities in the world, Swift has carved out time to send presents to some of her dedicated fans (via Billboard). The benevolence doesn't stop there for Swift, as she has also famously bestowed gifts to her celebrity friends (via Billboard).
"Modern Family" star, Jesse Tyler Ferguson, talked on "The Ellen Degeneres Show" about receiving one of Swift's famous gifts. He shared, "She sent a big care package, and it's the nicest baby clothes I've ever seen." Ferguson joked how his son, Beckett, was a little bigger than Swift may have expected, but they continue to stuff him in the clothes because it's what "Taylor Swift got you." Ferguson isn't the only famous friend who has gotten something from Swift; the "All Too Well" singer even gifted Katy Perry a nice little present.
As fans may know, Swift and Perry previously had a years-long feud. In 2019, Swift told BBC Radio 1 that she and Perry had been on "good terms" for quite some time (via Entertainment Tonight). Swift talked about the reconciliation, "When we saw each other, it was just very clear to the both of us that everything was different, that we had grown up, and that we had grown past allowing ourselves to be pitted against each other." The two clearly moved on, as Swift gave a thoughtful surprise to Perry when she officially became a mom.
Taylor Swift gave Katy Perry a sentimental gift
Katy Perry showed off her baby bump in a surprising pregnancy reveal in 2020 when she released her music video for "Never Worn White." A couple of months after the video was released, the "Teenage Dream" singer revealed via Instagram that she and her husband, Orlando Bloom, had welcomed a daughter, Daisy Bloom. Celebrities flocked to the comments to congratulate the pop singer, but Taylor Swift took it one step further.
Swifties know the pop singer is big on surprising people by hand-making gifts for them; one time, she sent a handmade card to a fan for her wedding (via StyleMePretty). So, of course, when it came to gifting one of her famous friends a gift, Swift stepped up her game. Coming off their reconciliation, Swift decided to give Perry and her newborn a sentimental present that would last a lifetime.
Perry shared the gift on her Instagram. Perry captioned the post, "Miss [Daisy Dove] adores her hand embroidered blankie from miss @taylorswift," she continued, "hope it's one she drags around for years till it becomes an unrecognizable shred that she keeps in her pocket as a teenager." The satin pink blanket had an embroidered flower with stars and the words "Baby Bloom" written on it. Swift never commented publicly about the blanket. However, Swift wrote a sweet note to the new parents revealing that, when she was younger, she had a similar meaningful blanket.
Here's a look at Taylor Swift and Katy Perry road to friendship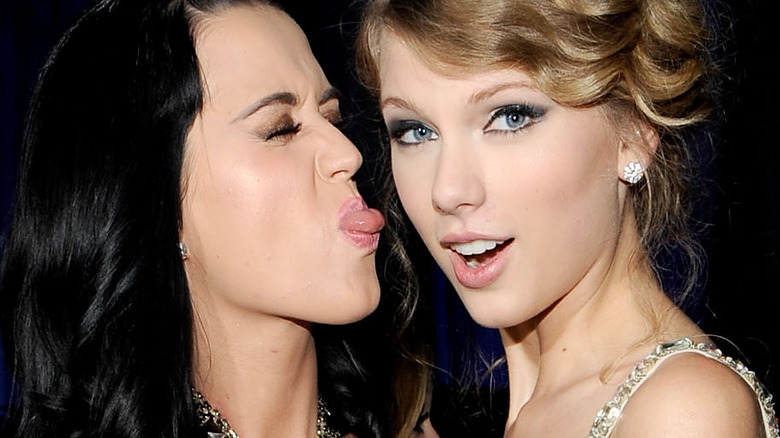 Larry Busacca/Getty Images
It took a long time for Taylor Swift and Katy Perry to become friends. Before all the gift-giving, the two were in a well-known feud. In 2014, Swift spoke about the feud with Rolling Stone. Without naming Perry, Swift shared, "She basically tried to sabotage an entire arena tour. She tried to hire a bunch of people out from under me." Swift continued to say she wasn't a "confrontational" person and would now have to avoid the star.
From then on, the two continued to take subtle jabs at one another in music videos and lyrics (via Entertainment Weekly). Perry talked about how she was open to reconciling with Swift during her 2017 segment of "Carpool Karaoke" on "The Late Late Show with James Corden." According to Entertainment Weekly, one year after her appearance on the show, Perry extended a literal olive branch to Swift. The gesture worked because, in 2019, both Swift and Perry embraced one another in the music video for "You Need to Calm Down."
Perry was the first to address the rekindled friendship. During an appearance on "The Ellen DeGeneres Show," Perry shared, "We made amends, and I am all about redemption and forgiveness, and for setting an example for those younger people that it can be cool to ask for forgiveness." So, from feuds to baby gifts, fans are happy to see that the two pop stars are now getting along.