One Of Rihanna's Biggest Hits Almost Went To Eminem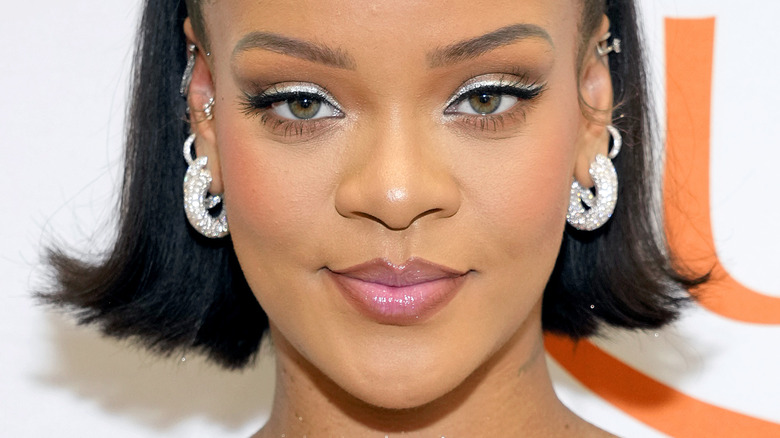 Kevin Mazur/Getty Images
Some of your favorite songs may not have been sung by the artist that you know by now. In fact, plenty of songs get passed around from artist to artist before the final version is released. Rihanna has become one of the most famous artists in the world and has had several hits under her belt. However, she was one of the many artists considered for one of her biggest songs.
Rihanna got into the entertainment industry at a young age (via Planet Radio). At just 17 years old, the artist got her first major hit with her song "Pon De Replay." As the years went on, Rihanna quickly found herself labeled as an icon for this generation with mega hits that included "We Found Love" and "Work." Because of this, it would be a surprise to many that one of Rihanna's well-known hits almost went to someone else.
What comes as an even greater shock is who the song almost went to. Famous rapper Eminem, who has almost the complete opposite style of Rihanna, almost nabbed one of her biggest hits. Nowadays, producers would love for Rihanna to be the singer on a song they created, but, in 2012, they were considering other big-name artists. While the song eventually found its way to Rihanna, it did have an interesting journey before getting there.
Diamonds almost went to Eminem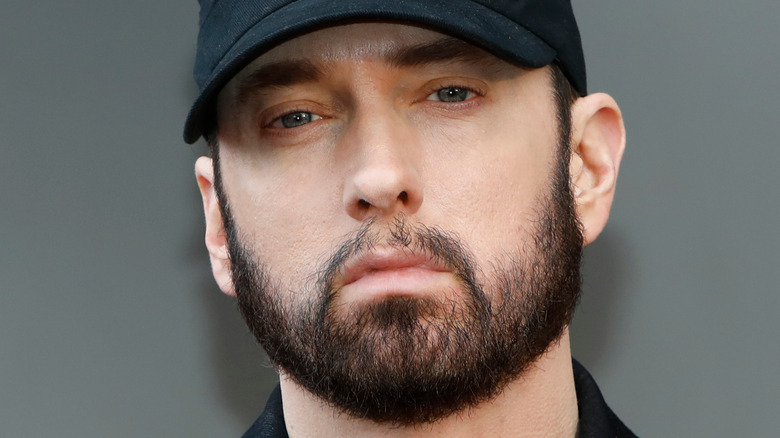 Kathy Hutchins/Shutterstock
In 2012, Rihanna released one of her most popular songs that became a staple in her discography. "Diamonds" topped the Billboard Hot 100 chart and had fans singing and dancing at the top of their lungs. While many can only picture the Barbados native singing the song, that wasn't always the case.
Benny Blanco, who produced the song, actually had several other people in mind for the song. In an interview with Apple Music's Zane Lowe, the famous producer admitted that he intended for the song to go to either Kanye "Ye" West or Lana Del Rey. Blanco shared that his fellow producer Stargate told him they should give the song to Rihanna. Blanco was hesitant. In fact, he was so unsure that he also submitted the song to another rapper — Eminem.
The producer shared, "I remember, at the same time, giving a beat CD like a month earlier to Paul Rosenberg to give to Eminem. And apparently, Eminem had done a song to it, too." Blanco had no idea that the rapper even made a song to the beat, but had no hard feelings about it going back to Rihanna. "First of all, the second she cut the song, [I realized my collaborators] were completely right. I was like, 'This is the best song I've ever done,'" he admitted.
Eminem and Rihanna collaborated before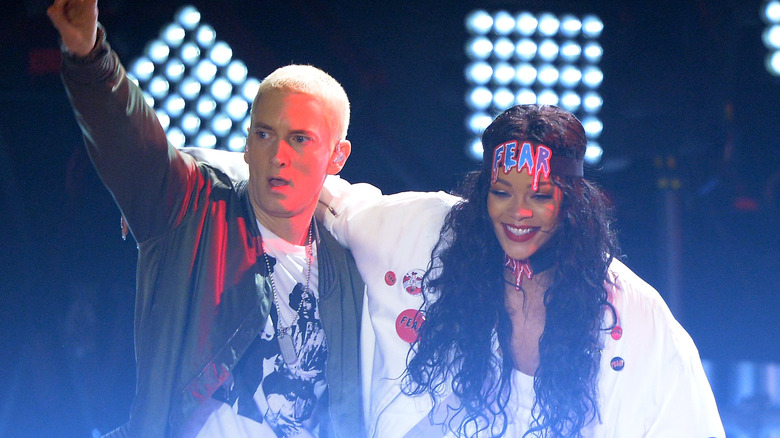 Kevork Djansezian/Getty Images
Even though Eminem didn't land the song "Diamonds", he already had a huge hit under his belt — one that featured Rihanna herself. 
In 2010, the two artists joined forces to create the hit song "Love The Way You Lie" (via DJ Booth). According to Song Facts, it was Eminem that contacted Rihanna to feature on the song. Rihanna shared, "[Eminem and his team] reached out to us directly, and they just said, 'We have this song, and we just think Rihanna would be perfect to sing it," the singer revealed. She agreed to listen to the track because she loved Eminem and eventually agreed to sing the song. Rihanna has to be glad that she joined the song because it topped the Billboard charts and went on to be nominated for several Grammy awards.
Both artists surely enjoyed the accolades that came with the song, but for Rihanna, it was the meaning behind it that really made the project special. The Barbados singer was referring to the underlying message the song has about toxic and abusive relationships. She went on to share, "It's something that, you know, [Eminem and I] have both experienced, you know, on different sides, different ends of the table. It was just authentic. It was real."