What Really Happened Between Lupita Nyong'o And Jared Leto?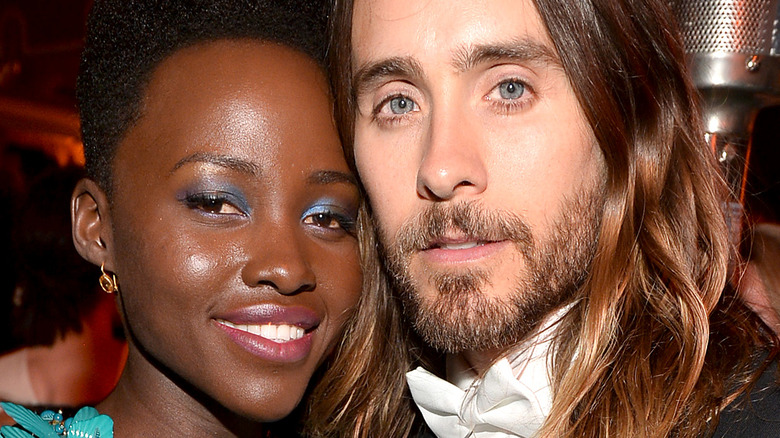 Alberto E. Rodriguez/Getty Images
Lupita Nyong'o's rise to fame came in 2013 when she starred as Patsey in Steve McQueen's critically acclaimed biopic, "12 Years a Slave." The role earned Nyong'o a permanent place in the spotlight after winning an Oscar for best supporting actress. Since then, Nyong'o has had a successful career in acting, starring in blockbuster films like "Us," the "Star Wars" sequel trilogy, and the "Black Panther" film franchise. 
She's also joined the ranks of Hollywood's elite — constantly rubbing elbows with the likes of Oprah and Brad Pitt — and was named one of Africa's 50 Most Powerful Women by Forbes magazine. Speaking with Elle about her A-list status, the Kenyan-Mexican actor said, "I know being an African woman on a Hollywood platform is not something you see every day, and I feel how special that is and I respect it. And I signed up for it. I wouldn't trade it."
Despite being a household name for years, Nyong'o has managed to keep much of her personal life away from the public eye. She has kept a tight lip about her romantic relationships, but has been linked to a few famous folks throughout the years, including Jared Leto, who famously referred to Nyong'o as his "future ex-wife" at the Independent Spirit Awards back in 2014. "I'm thinking about you, baby," he told Nyong'o while accepting his trophy for best supporting actor, per Us Weekly. But was the truth behind those dating rumors? Were Nyong'o and Leto really an item? Here's what we know about their rumored affair.
Lupita Nyong'o joked about her rumored romance with Jared Leto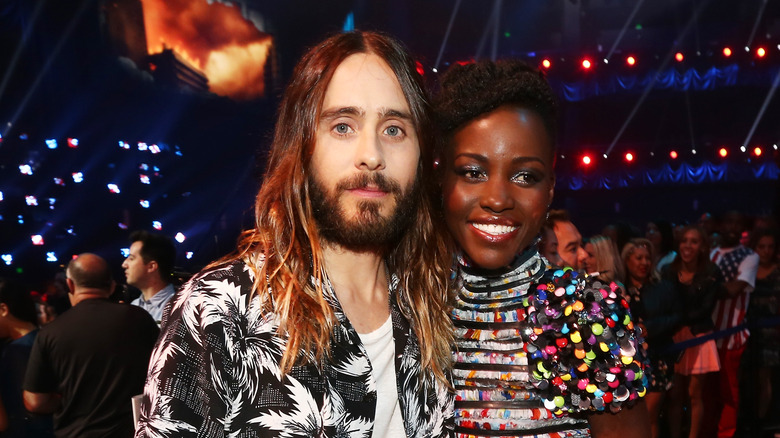 Christopher Polk/Getty Images
Lupita Nyong'o and Jared Leto first sparked dating rumors after they were spotted together on numerous occasions during awards season in 2014. Both actors won the best supporting categories at the 86th Academy Awards that year — Nyong'o for her performance in "12 Years a Slave," and Leto his role as Rayon in the 2013 hit film "Dallas Buyers Club." 
In February 2014, a month before the Oscars, Nyong'o and Leto were seen cozying up at the Crosby Street Hotel in New York City while out on what appears to be a date. "They were huddled at a corner table together, looking very close," an eyewitness said of the two. However, when asked about Leto during an appearance on "The Ellen Show" weeks later, Nyong'o only laughed and poked fun at the romance rumors. "Ah, but I thought Miley Cyrus broke us up," she said, referencing another tabloid gossip linking Leto with Cyrus. "That was the last thing I heard." 
"It's crazy, cause when I read these rumors, they're so detailed that even I start to question whether they're true or not," she added. "I know I've believed them in the past and now I guess I can't believe anything." At the time, Leto himself kept mum about the rumors, but did speak to OK! Magazine about sharing a "special" bond with Nyong'o. "We were both nominated for Academy Awards and that makes it a very special thing," he told the publication. "You share a class right? It's like the class of 2014."
Lupita Nyong'o seemingly confirmed rumors she dated Jared Leto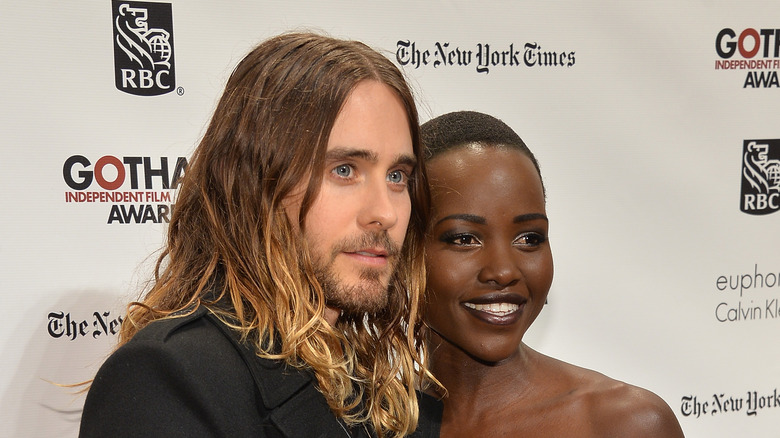 Theo Wargo/Getty Images
Despite initially denying their romantic connection, Lupita Nyong'o confirmed that she might have dated Jared Leto (after all) in a new interview with The Hollywood Reporter this October. While discussing her new film "Black Panther: Wakanda Forever," Nyong'o — in a rare moment — talked about her personal life and her supposed romance with the 30 Seconds to Mars singer. "Why have I kept it private? Because I want some things just to be for me, and I want my work to be louder than my love, that's it," said Nyong'o, who has also been linked to Michael B. Jordan and Janelle Monáe in recent years. "And I honestly hate the idea of having to publicly withstand my exes. I don't need their faces in my face." 
Back in 2019, the "Us" star also opened up about her special relationship with Leto in her cover story for Net-a-Porter's digital magazine Porter Edit, where she shared the lessons she's learned since making it big in Hollywood. While enumerating celebrities who have played a special part in her journey, Nyong'o said, "Jared Leto, he's still on speed dial, because we were on that [Oscar campaign] journey together and he's so embracing of me." She then admitted that she developed an "intimacy" with the "Morbius" star despite the two never being an official couple. "There was an intimacy that grew from that, that goes beyond the dating rumors, beyond all that," said Nyong'o.