Why Robert De Niro's Parents Divorced When He Was Only 2 Years Old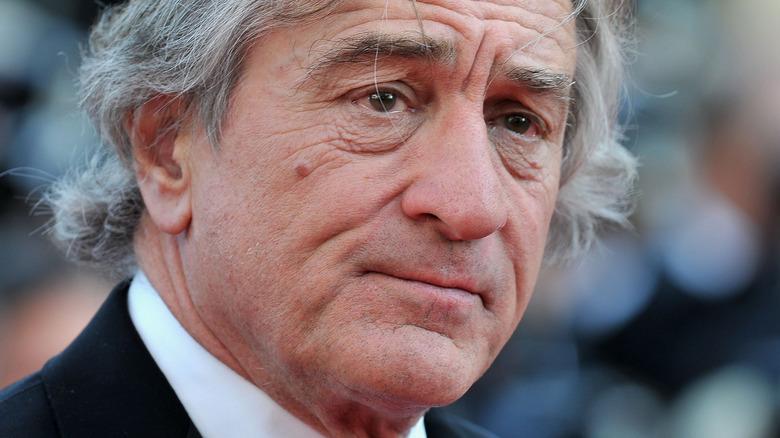 Pascal Le Segretain/Getty Images
Robert De Niro's childhood in New York City was marked by solitude. The only child of Robert De Niro Sr. and Virginia Admiral, De Niro Jr. learned independence rather young. "He was never coddled," a friend of the family told Vanity Fair in a 1987 profile. The young De Niro was always shy. But at 10 years old, he found a safe haven in theater class at public school in Greenwich Village. At 16, De Niro dropped out of high school to pursue acting.
He certainly had the right background to find solace in the arts. De Niro's parents were both artists who met while taking classes from celebrated painter Hans Hofmann, according to the Miami Art Festival website. De Niro was largely raised by his mother, as Admiral and De Niro Sr. divorced when their son was only 2, Vanity Fair noted. De Niro's father was involved, though the two weren't exactly close as the divorce early in De Niro's life put some distance between father and son. "We were not the type of father and son who played baseball together, as you can surmise," De Niro told Out in 2016. "But we had a connection."
Instead, according to Vanity Fair, De Niro Jr. and his dad bonded over watching movies together. While they didn't have a typical father-son relationship, they still got to spend some time together as Admiral understood De Niro Sr.'s reason for wanting to end the marriage.
Robert De Niro Sr. opened up about his sexuality
Virginia Admiral and Robert De Niro Sr. divorced in the mid-1940s when he came out as gay, The Guardian reported. The issue was never discussed in Robert De Niro's home. He told Out, "My mother didn't want to talk about things in general." And he and his father, having limited time with each other, never developed the bond necessary for De Niro Sr. to open up about private affairs. The times were also of no help. De Niro Jr. added, "He probably was [conflicted], being from that generation, especially from a small town upstate."
De Niro didn't fully understand what his father went through until he came across diaries following his death in 1993. "It was sad for me to read. He had his demons ... I was sorry," he told The Guardian. From the notebooks, De Niro also learned that the hostility his father faced over his sexuality affected his mental health. "If God doesn't want me to be homosexual (about which I have so much guilt), he will find a woman whom I will love and who will love me," De Niro Sr. wrote in a passage.
De Niro Sr., however, understood his sexuality wasn't the issue. "I really don't want my homosexuality to be cured," he wrote. Learning about the extent of his father's suffering inspired De Niro to see him in a different light. "I wish we had spoken about it much more," he told Out.
If you or someone you know needs help with mental health, please contact the Crisis Text Line by texting HOME to 741741, call the National Alliance on Mental Illness helpline at 1-800-950-NAMI (6264), or visit the National Institute of Mental Health website.
Robert De Niro produced a documentary in his father's honor
Stephen Lovekin/Getty Images
His father's notebooks left Robert De Niro longing for another chance to connect with the late artist. They also urged him to act. In 2014, De Niro released "Remembering the Artist: Robert De Niro, Sr.," an HBO documentary that delves into his father's work as an abstract expressionist painter, IndieWire reported. De Niro found the journals in his old man's SoHo studio, which De Niro decided to keep as is. "It was the only way to keep his being, his existence alive," De Niro told Out. 
De Niro also learned that sexuality wasn't the only aspect of his father's life that he struggled with. De Niro Sr. longed for professional recognition. Though he mingled with the likes of Peggy Guggenheim, he often struggled to make ends meet, according to The Guardian. In his later years, De Niro Sr. lived in Paris while dealing with cancer and his mental health struggles, a situation De Niro regrets having been unable to prevent, Out noted. 
As someone who found lots of prestige in his own career, De Niro's submersion in his father's psyche inspired him to muse about the meaning of fame and professional success. "Part of recognition is luck," he told the New York Times. "You have no control over those things." With the doc, De Niro hoped to bring his father's art to the forefront. "It was my responsibility to make a documentary about him," he told Out.