Who Is Michael Vick's Wife, Kijafa Vick?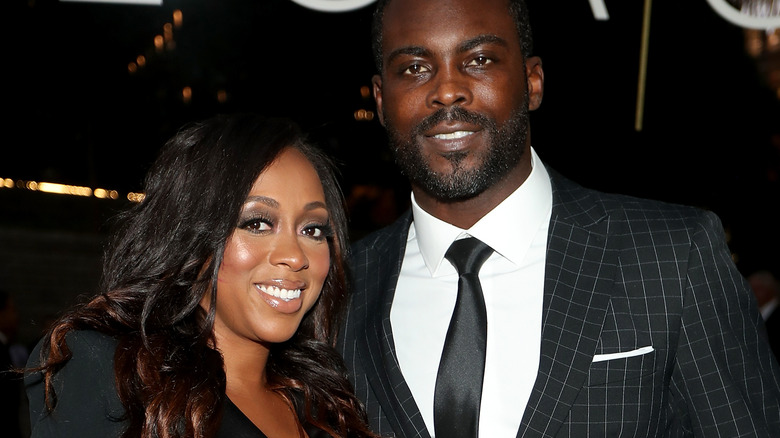 Cassidy Sparrow/Getty Images
Let Michael Vick's wife, Kijafa Frink Vick, tell you something about loyalty. The entrepreneur has had her man's back, through fame, dire financial straits, and even a prison stint, and she is still rooting for him. Thankfully, her steadfast loyalty has paid off; Kijafa and Michael both have overcome much to achieve personal and professional success. The former NFL football player has been tapped to appear in a documentary about how the Black quarterback has transformed in the United States, per Variety. He said, "I'm excited to be a part of this project because as a kid, I just wanted to have a shot at playing in the National Football League. Never in my wildest dreams did I think I would be the first African American quarterback drafted #1. I know that was a big step for us in society." Of course, Kijafa will sit alongside her husband as one of the docuseries' executive producers. After all, nobody knows his story better than she does.
Kijafa and Michael were also side-by-side when they renewed their vows on their tenth wedding anniversary, per Side Action. The WAG wore a lacy white wedding dress on the day of their vow renewal and had their four children by her side. The gown was a romantic, curve-hugging dream and Kijafa looked amazing. She knows something about dresses, as her career is all about making women feel good about themselves even if they're down and out.
Kijafa chases her own success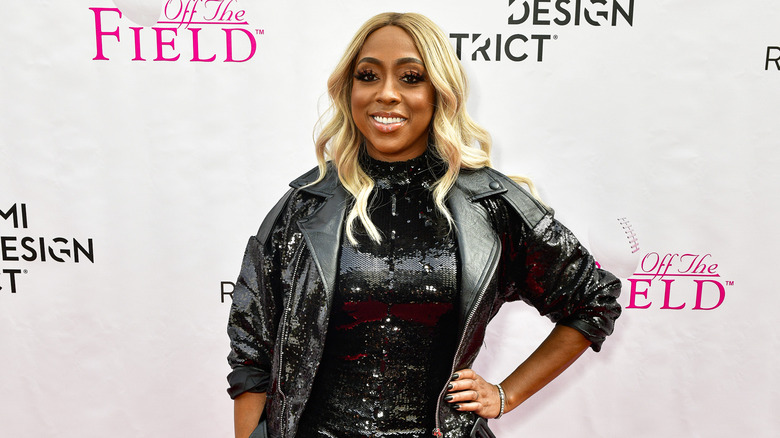 Eugene Gologursky/Getty Images
Kijafa Vick realized early on in her relationship with NFL star Michael Vick that she needed to be able to provide for herself and her kids. In 2011, she told TT Torrez, "When he went to prison, I had to begin to find myself and stop living behind him and his light and go out and do my own thing." Kijafa added, "I wanted my daughters to know that you don't necessarily have to depend on a man to take care of you ... that's why I finished school, I went to Hampton University, and I made sure I finished because I wanted to make sure I had a life outside of Mike's life."
Kijafa brought home the bacon as an executive producer for the shows "Baller Wives" and "The Michael Vick Project," per IMDb. In addition, she's also found her niche in the retail industry. Per Black Enterprise, Kijafa co-owns PNK Elephant, a clothing brand, with her partner, Blair Sandlain. Her bio on I Am Athlete reveals that Kijafa founded the PNK Dress Foundation where she redistributes previously-worn prom dresses to those who may not be able to buy their own. As she told WAGs Redefined, she didn't need to take on another role outside her home life. She said, "I wanted to have something of my own– to call my own."
Kijafa Vick is a wife and mother first
Kijafa Vick and her husband have three children together: Jada, London, and Michael Jr. Michael Vick also have a son, Mitez, from a previous relationship, per USA Today High School Sports. Like most doting moms, Kijafa often posts pics of her family on social media and sometimes shares her affection for them on public platforms. She told Ocean Drive, "Being a mother is a challenging job, but it is also the most fulfilling position God could appoint to a woman. Motherhood has taught me to raise my kids to be kind and socially aware, especially in today's culture." Kijafa knows that the challenges modern-day mothers face differs from the ones previous generations faced.
Luckily, it seems as if Michael has her back too. In an interview with WAGS Redefined, Kijafa further praised Michael saying, "Mike is an amazing father ... I can go away for a week and he's putting together outfits and sending me pictures." It appears as if Michael may be catching tips from his wife who seems to have it all together. As Kijafa puts it, "I am most proud of being an all-around woman." This girl has had her family's back, as well as her own, from the very beginning.