The Rumor About Jessica Simpson That Turned Out To Be True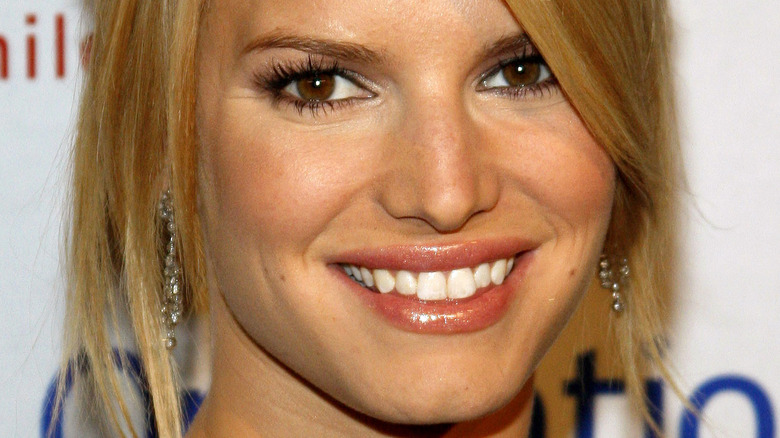 Tinseltown/Shutterstock
Ahh, the 2000s. It was all about MTV, the rise of Britney Spears, and, naturally, velour tracksuits. We were also hooked on reality TV, with the likes of "Newlyweds: Nick and Jessica" keeping us gripped by giving us a peak into the newlywed life of 98 Degrees singer Nick Lachey and his popstar wife, Jessica Simpson. The show gave us some of the most notable pop culture moments of the 2000s (chicken or fish, anyone?) and the popularity of the MTV hit meant there was a new rumor about Simpson in the headlines pretty much every single week.
Of course, Simpson and Lachey eventually announced they'd called it quits in November 2005 — which meant the dating rumors hit fever pitch. One person Simpson was linked to at the time? None other than her "Employee of the Month" co-star Dane Cook, who was forced to deny getting close to her. "It's very funny because every week it's like a different person in the cast [Simpson is] being paired up [with]. It was the director... it was our producer," he said on Las Vegas radio station Mix 94.1 (via Celebitchy). "Jessica is adorable... but there are no sparks between me and uh, Special K. We are not a couple... Yes I have a girl, but no I'm not with Jessica."
Of course, Simpson wasn't the only one of her co-stars she was linked to around the time of her split with Lachey... only one actually turned out to be true.
The Jessica Simpson and Johnny Knoxville affair rumors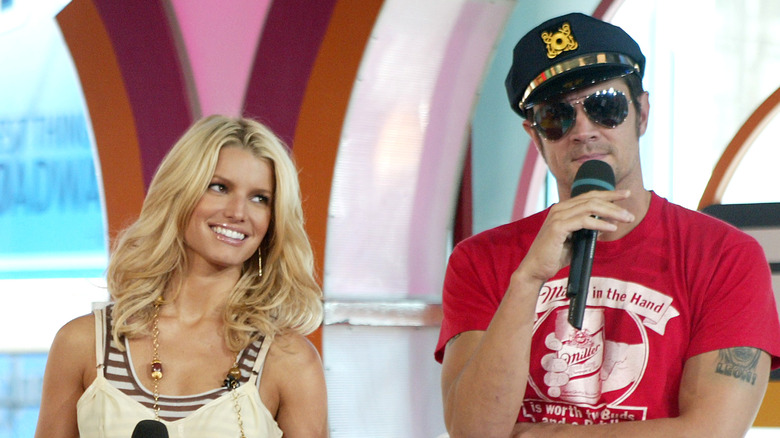 Peter Kramer/Getty Images
Around the time a married Jessica Simpson was filming the 2005 remake of "The Dukes of Hazzard," there were plenty of rumblings something may have going on with her co-star, Johnny Knoxville. Knoxville was married to Melanie Lynn Clapp at the time, but the rumor mill hit such a fever pitch he was forced to deny the affair allegations on multiple occasions. 
"It's obviously not true," he told Tampa Bay Times in August 2005 when asked about the Simpson cheating allegations. "I've got a daughter and a wife and she's got a husband and it affects the families involved. Luckily, my wife and I have a dialogue. We talk about it," he added. Knoxville also denied the affair rumors to GQ, stating, "It's not true. Jessica and I are just friends. She's a great girl and all that, but all the rumors — I just kind of take it in stride. But it's kind of hurtful to the families that are involved."
But it wasn't over there. The "Jackass" star was then severely grilled on "The Howard Stern Show" the following month, and even did a lie detector test where he was asked several personal questions about his relationship with his co-star. The test claimed he was truthful about not having slept with Simpson, but it suggested he may have lied about kissing her.
Jessica Simpson admitted to an 'emotional affair' with Johnny Knoxville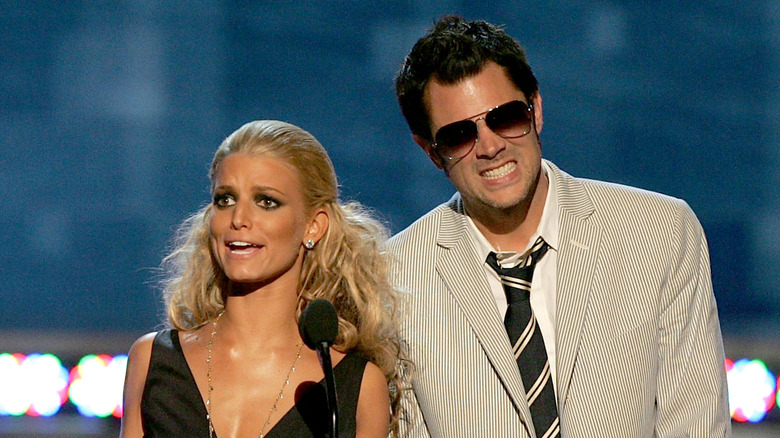 Kevin Winter/Getty Images
Fast-forward to 2020 when the affair rumors of yesteryear between Jessica Simpson and Johnny Knoxville 15 years earlier were all but forgotten — only for Simpson to make the bombshell confession it was all actually kind of true. Simpson got extremely candid about that time in her life in her book, "Open Book," confessing she got too close with Knoxville while they were both married to other people, calling it, in her own words, an "emotional affair."
"I could share my deepest authentic thoughts with him... He actually liked that I was smart and embraced my vulnerabilities. He believed in me and made me feel I could do anything," she explained in the memoir, but made it clear they never did anything physical — not that that made anything better in her eyes. "I had placed such an emphasis on sex by not having it before marriage. After I actually had sex, I understood that the emotional part was what mattered," she shared, admitting she thought what she did was worse than a physical affair.
As for what Nick Lachey made of the confession? We may never know. Lachey admitted on "Radio Andy" in February 2021 that he hadn't read the book and didn't plan to, either. "I know what the truth is so I don't need to read it, or read someone's version of it in a story. That I know, that I lived it," he said.