What Tom Brady And Aaron Rodgers' Relationship Is Really Like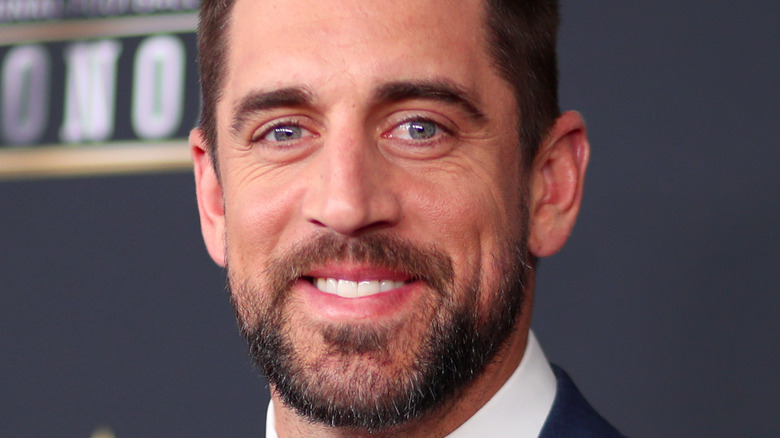 Christopher Polk/Getty Images
Aaron Rodgers and Tom Brady are probably the two best quarterbacks currently playing in the NFL. Rodgers, who has played for the Green Bay Packers for his entire career, has won an impressive four MVPs, per Britannica. He's also been selected to play in the Pro Bowl nine times and led the Packers to victory in the 2011 Super Bowl. As for Brady, he spent 20 seasons playing for Boston before switching to Tampa. He retired briefly in 2021 but rejoined the team just a few months later.
Quarterbacks are the face of their teams and are often pitted against each other. Joe Montana and John Elway famously battled it out in the 1990 Super Bowl, in which Montana obliterated Elway 55-10, per Mens Journal. Even Brady, beloved as he is, hasn't been able to keep things fully professional on the field. During his long career, Brady was routinely pitted against Peyton Manning. The two became friends, though, with Brady even attending Manning's Hall of Fame ceremony.
What about Brady and Rodgers, though? For years, fans have wondered at the relationship between the two champions. It seems inevitable that a tabloid-worthy rivalry would have formed between them by now, but according to sources, that couldn't be further from the truth.
Rodgers and Brady are friends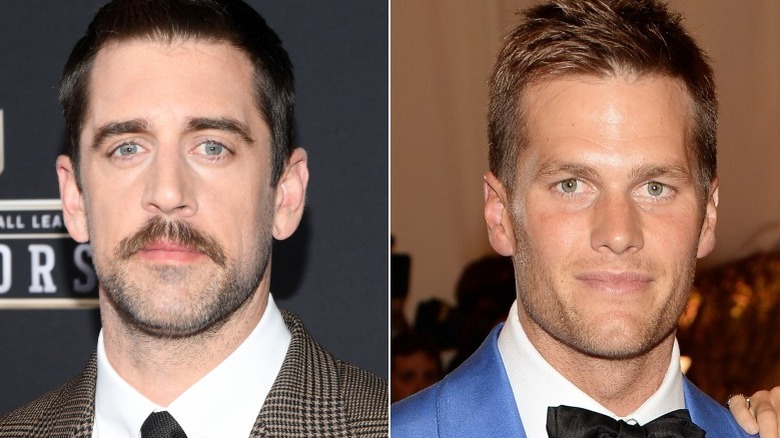 Jason Kempin & Dimitrios Kambouris/Getty
Fans may be eager for a showdown between Aaron Rodgers and Tom Brady, but apparently, the two quarterbacks couldn't be less bothered by each other. In fact, according to experts, Manning and Rodgers likely see each other as nothing more than colleagues — maybe even friends — but certainly not rivals. By their own admission, they're on good terms.
Rodgers has claimed that he and Brady keep in contact during the season, and not just about football, though he admits that's Brady's favorite subject to discuss. "It's a lot of football with Tommy," Rodgers said of their friendship, adding, "but a lot of non-football with me. So we balance each other out well." Their friendship likely formed due to their shared love of horse racing. Brady and Rodgers have both regularly bought adjoining tables at the Kentucky Derby and have also undertaken similar charitable initiatives, per USA Today. While Rodgers might prefer to leave the game on the field when they're hanging out, Brady can't help but sing his friend's praises when talking to the press. "He's an amazing player, has been for a long time," Brady said, per CNN. "I love watching him play, and he's from California, too, so I feel like we always have a little bit of a connection."
There may have been plenty for them to bond about off the field, but Rodgers and Brady have one significant – glaring – difference that they can't see eye to eye on when it comes to their careers.
They don't see eye to eye on everything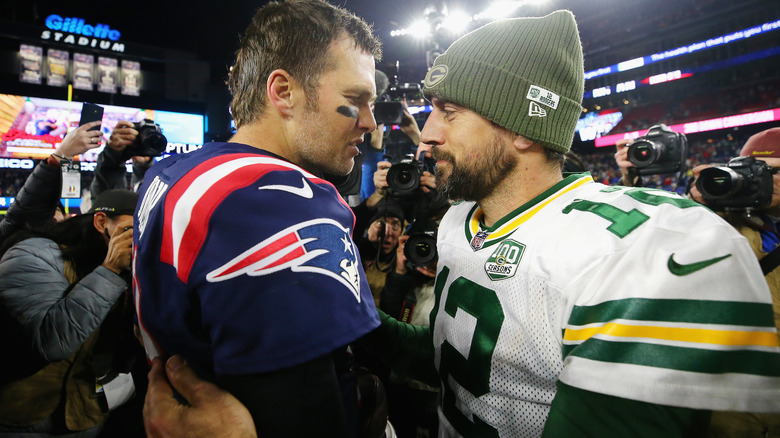 Maddie Meyer/Getty Images
Tom Brady is almost as famous for the number of games he's played as the number of games he's won. At 45, Brady is the oldest player in the NFL, per NBC. Fans had expected him to retire years before he finally did and were shocked when he returned after just a few months away. So far, it's worked out just fine for Brady, but as far as Aaron Rodgers is concerned, it simply could not be him.
"I have a lot of other interests outside the game," Rodgers said, per USA Today. "The game has been really, really good to me. I feel like I've given my all to the game. At some point, it'll be time to do something else, and I strongly believe it will be before 45." It's true that Rodgers has lots of interests outside of the game – especially within holistic health. The Super Bowl champ has spoken candidly about his belief that psychedelic mushrooms have improved his performance on the field. As for Brady, at this point, it's unclear if he'll ever walk away from the game.
"I really don't [know when I'll be done playing]," Brady said during a 2022 interview with Variety. While he has no plans to leave the league anytime soon, Brady acknowledged that his days were likely numbered. "I've realized I don't have five years left," he said. "I want to give it everything I got and see where I'm at."