Inside Riverdale Co-Stars Camila Mendes And Casey Cott's Friendship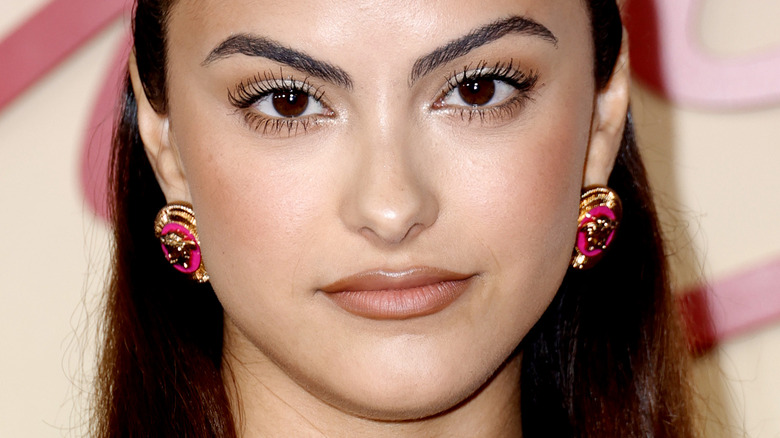 Frazer Harrison/Getty Images
"Riverdale" has become one of the most popular shows among young adults. The show is full of adventures featuring a close-knit group of teenage friends. And much like their characters, a lot of the cast members are as close in person as they are on-screen. One look at any of the cast members' social media accounts, and it won't be long before you find posts of them hanging out and having fun with one another. While everyone in the cast has a unique relationship, Camila Mendes and Casey Cott's friendship is truly one of a kind.
The show first aired back in 2017 with a core group of actors that included Mendes, Cott, Cole Sprouse, KJ Apa, Lili Reinhart, and Madelaine Petsch. Mendes plays Veronica Lodge, a Riverdale newcomer that comes off as the preppy rich girl. Cott's character is similar to Mendes' in that they are both the posh and classy type. Cott's character, Kevin Keller, struggles with coming to terms with his sexuality and ultimately befriends Veronica. In the first season, Betty Cooper (Reinhart) introduces Veronica and Kevin, and the former immediately says, "Let's be best friends."
Mendes and Cott's friendship extends way beyond fans' television screens. Even as the seasons went on and new cast members were added, the core six remained close friends, especially Mendes and Cott.
Casey Cott trusts Camila Mendes to get him out of a sticky situation
Being best friends means going on crazy adventures and making memories that last a lifetime. Camila Mendes and Casey Cott have a lot of memories to choose from. The actors surely had fun times on the set of "Riverdale," but it's the times after work that are even more memorable.
From karaoke nights to Coachella to red carpet events, Mendes and Cott have been spotted hanging out on numerous occasions. In 2017, Cott posted a photo of himself, Mendes, KJ Apa, and Lili Reinhart in the desert ready to jam out to some music at Coachella. In interviews, Cott has gushed about Mendes. TV Guide asked Cott who he would trust on the cast to get him out of prison. Cott shared, "Cami," adding, "If it was a good friend, Cami would be like, 'We'll get you out, it's all good.'"
Mendes has also shared several posts of Cott on social media. Per J-14, Mendes shared a series of birthday posts for Cott in 2018. In one Instagram Story, Mendes posted a throwback photo of the two from the pilot of "Riverdale." Mendes' next story showed them cuddling up on a couch with the caption, "smash cut to about 2 ½ years later and you're one of my closest friends." It's clear that the pair's friendship has aged like fine wine.
The pair's relationship never went beyond a friendship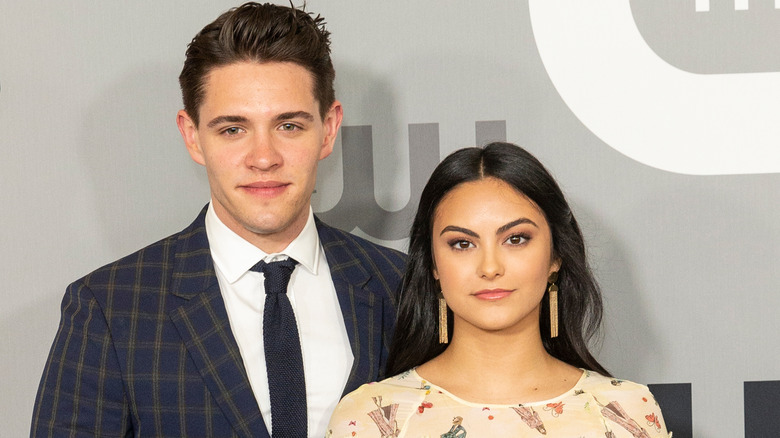 lev radin/Shutterstock
When actors work alongside one another for a long period they can develop feelings for one another — whether it's hatred or love. And when fans pick up on a close relationship between actors, they often want nothing more than for the two to get together. Camila Mendes and Casey Cott's friendship goes back to the first season of "Riverdale" in 2017. As much as fans may have wanted them to be something more, things seemingly never went beyond a friendship.
Instead, the two supported one another as they pursued different relationships. When Mendes had a relationship with fellow co-star, Charles Melton, Cott was by her side ... literally. In 2018, E! News reported a sighting of the couple at the movies accompanied by none other than Cott and fellow "Riverdale" co-star Lili Reinhart. Before Mendes announced the two were in a relationship, Cott did his best to divert attention away from the couple after being asked about the two. He instead joked he didn't know who the two actors were, in true BFF style.
Mendes also supported Cott's relationship in a big way. People reported that Mendes and other fellow "Riverdale" cast members were in attendance when Cott married Nichola Basara. Mendes shared a video on her Instagram Story of the couple with the caption, "Congrats to the cutest couple on earth @caseycott and @nicholabasara." Despite the fact that "Riverdale" will be coming to an end after the show's seventh season, it seems safe to say that Mendes and Cott's relationship will last long after the cameras stop rolling.