A Look Inside LeBron James And Drake's Relationship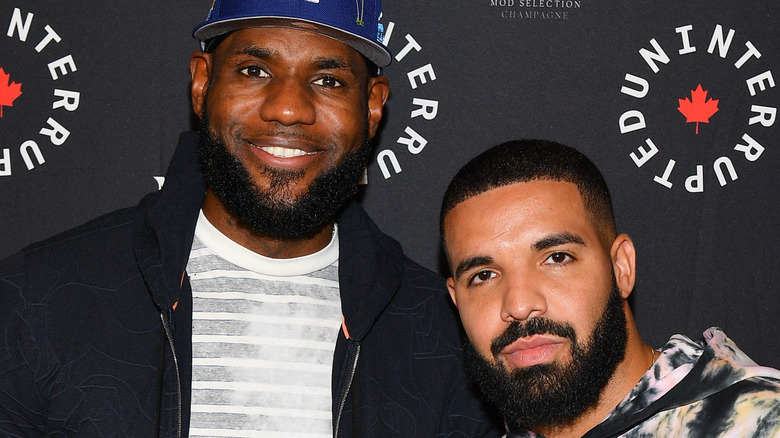 George Pimentel/Getty Images
Over the years, Drake and LeBron James have shown they have an undeniable connection. The "Scorpion" artist has seemingly shouted out the NBA star whenever the opportunity arose, such as in his 2013 track "5 AM in Toronto." "I'm on my King James s***, I'm tryna win here again," Drake rapped. After James surpassed a memorable career milestone with 30,000 career points in 2018, Drake commemorated the occasion by penning a song. "Seems like every time we look up, you're setting another milestone or breaking another record and I always tell you that you're one of the most inspirational people in my life," he said in a video posted to Uninterrupted's Twitter account.
The relationship between Drake and King James started to take shape when the former Cleveland Cavaliers great attended the release party for Drake's "So Far Gone" mixtape in 2009. "With Bron, for me, it was just kind of ascending at similar times," Drake said while drawing parallels between their careers, in an interview between himself, James, and Chris Bosh for Uninterrupted in 2017. 
When the 2009 mixtape dropped, Drizzy was still making a name for himself, so having the NBA All-Star in attendance meant a lot. "A decade ago you came to my release party at 6 Degrees and made me the biggest artist in the city off your presence alone," Drake wrote on Instagram in 2019 in honor of the project's 10-year anniversary, per Complex. Since then, the rapper and hooper have only become closer.
Why their friendship grew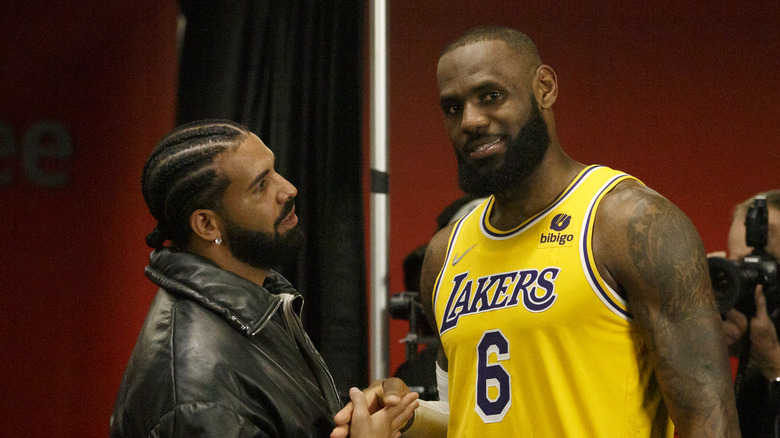 Cole Burston/Getty Images
The friendship between Drake and LeBron James dates back so far that they used to text each other on BlackBerry Messenger. "Tonight is your night," Drake encouraged James before a 2011 game, per Yahoo! Sports. According to James, his relationship with the "Worst Behavior" rapper transcended celebrity status, as they have constantly supported each other. "What we have is real family," he told Yahoo. "It's not just because we are successful at what we do. We really care about one another on a day-to-day basis."
Drake has continued to show love to his friend over the years. In 2011, he attended the premiere party for the NBA forward's animated series, "The LeBrons." The rapper also made sure to be on hand to celebrate LBJ's 2013 championship with the Miami Heat. The OVO honcho has also shown support for James' family, attending Bronny James' high school basketball game.
James has appreciated the camaraderie. The Los Angeles Lakers star spoke about their friendship on a 2018 episode of HBO's "The Shop" that featured Drake as a guest. "We've grown closer and closer every year, and I'm proud of who he is today," James said then, per The Orange County Register. "Not only as an artist, not only as a son but as a father," he added, as it had been revealed at the time that Drake had a son out of wedlock. As the years ticked by, the dynamic of Drake and James' relationship continued to evolve.
LeBron James and Drake have various partnerships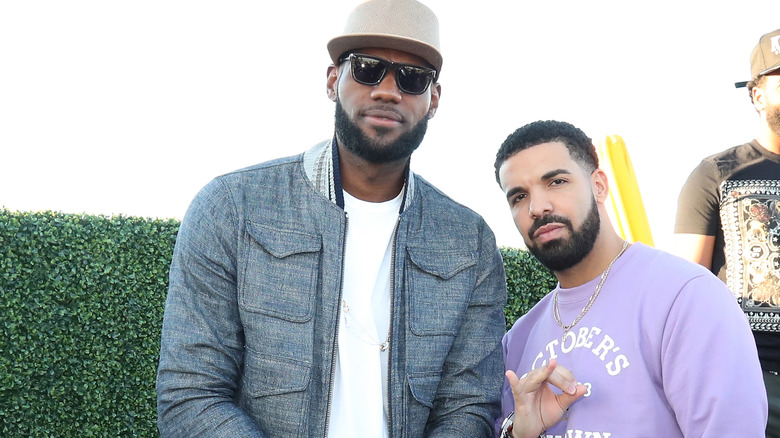 Johnny Nunez/Getty Images
After years of being seen together at different events, LeBron James hinted that a collaboration with Drake was in the works. The Akron, Ohio native uploaded a dinner snap to Instagram taken at his house with a group that included the Torontonian. "Can't even explain what's going on! #SixGodandKingMoves," James captioned the pic from August 2017. Both James and Drake went on to produce "The Carter Effect" documentary about Vince Carter's impact on Canadian basketball after playing for the Toronto Raptors. That was only the beginning of their joint ventures.
The duo teamed up in 2019 in a move to expand the sports-centric digital platform Uninterrupted, as they helped create a branch in Drake's home country of Canada, per CBC. A few years later, the scope for James and the 6 God continued to expand beyond basketball and music. In August, the celebrity pair were part of a bid to buy a portion of the famed Italian soccer team AC Milan. They were named as part of a $1.2 billion deal through a private equity firm named Main Street Advisors, per The Root.
Not long after, James and Drake worked together to produce another documentary entitled "Black Ice." The film covered the history of a former hockey league that was composed of Black players, with interviews from current Black NHL players, per The Hollywood Reporter. As evidenced by their many projects together, Drake and James will likely remain teammates for years to come.