Kyle Chrisley's Ex Alexus Whilby Doesn't Hold Back On Her Former In-Laws Todd And Julie
Kyle Chrisley's former wife, Alexus Whilby, is speaking out about Todd Chrisley and Julie Chrisley's sentencing. As you'll probably already know, the "Chrisley Knows Best" stars were officially sentenced in November after being found guilty of bank fraud and tax evasion. The judge determined that Todd will serve a 12-year prison stint, followed by 16 months probation, while his wife, Julie, will be behind bars for seven years and will face the same amount of probation, per Insider.
Shortly before the sentencing, Julie appeared on daughter Savannah Chrisley's podcast to discuss her legal situation and claimed she never intentionally meant to break the law. "I think about the situation that we're dealing with right now, and I'm thinking about I've never gone out here and hurt a soul. I have never gone out here and intentionally tried to do anything that I wasn't supposed to do, and look where I'm standing right now. How is that right?" she asked on "Unlocked with Savannah Chrisley." "I know what I've done. More important, I know what I haven't done," Julie added.
But it's not just Julie who's spoken out, as Whilby is now making her feelings about the Chrisley family's legal drama very clear.
Alexus Whilby believes the Chrisleys knew what they were doing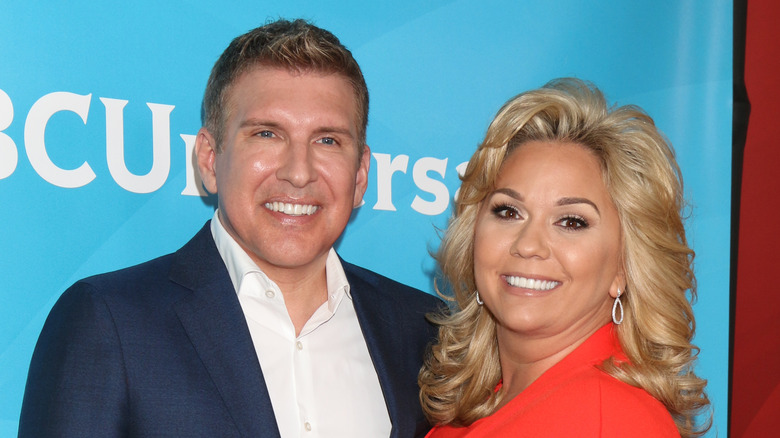 Kathy Hutchins/Shutterstock
Alexus Whilby had plenty to say about her former in-laws, Todd Chrisley and Julie Chrisley, while discussing their sentencing. Speaking to Hollywood Life, she contradicted Julie's account and claimed she believed both were aware of what they were doing. "It's actually light considering their total lack of accountability," Whilby said of the sentencing. "The jurors saw evidence proving that Todd and Julie knew it was wrong. They lied to obtain money from loans. They lied about their wealth to everyone," she added, also stating, "They're the modern-day Bonnie and Clyde." Whilby also shared her belief that the Chrisleys thought they'd be able to get away with their crimes, and admitted she'd like an apology from Todd for some of the things he said about her on camera. "I don't expect that this will ever happen," she said. "I want him to know that I forgive him in advance and that I am praying for him, Julie, and their entire family."
Whilby was married to Todd and Julie's son, Kyle Chrisley, from 2014 and 2018, though the two didn't exactly have the most stable relationship. TMZ confirmed in 2019 that Kylie and Whilby were estranged and Whilby even alleged to police that Kylie has supposedly threatened to kill her.
Per, Fox 5 Atlanta, Todd and Julie must report for their prison time by January 5, 2023.