Who Is Luke Evans' Boyfriend, Fran Tomas?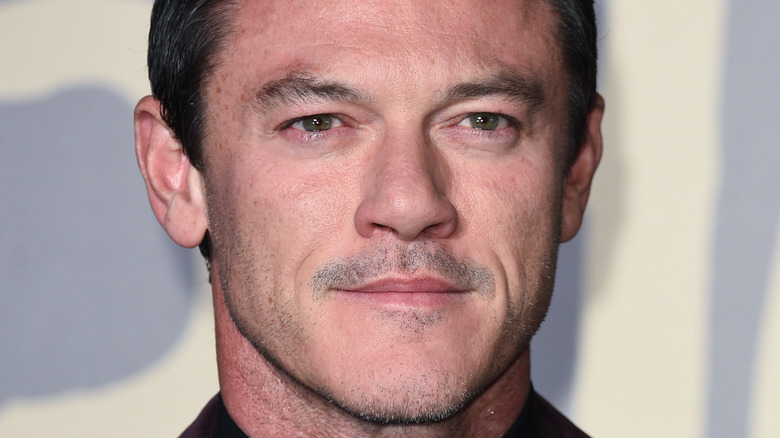 Featureflash Photo Agency/Shutterstock
The star of blockbusters such as "Fast & Furious 6," "Beauty and the Beast" and "The Hobbit" trilogy, Luke Evans has established a name for himself on his good looks, hard work, and talent alone. Often portraying an action hero or love interest, Evans has defied the norm of roles gay men can successfully play in Hollywood. As a gay man in Hollywood, he's never been secretive about his sexuality. Telling The Telegraph (via People) in November 2022 that he's lived openly since his teenage years, Evans found it odd when, around his thirties, he was "told I have to come out again like it's a big thing." According to the "Nine Perfect Strangers" star, people assuming he "went back in the closet" was "absolutely ridiculous."
Indeed, it isn't hard to find a history of Evans' last few relationships. In 2013, the "Dracula Untold" star was first linked to Spanish model Jon Kortajarena, whom he went on to date from 2014 to 2016, per Distractify. After Kortajarena, Evans also dated actor Victor Turpin and art director Rafael Olarra. Confirming his split from Olarra in January 2021, Evans' love life was relatively quiet until rumors surfaced about him and Spanish graphic designer, Fran Tomas, in May 2022, per the Daily Mail. Making their romance Instagram-official in July of that year, the couple has been steady since. 
So who is the main man in Evans' life? Here's everything we know about Tomas. 
Luke Evans' boyfriend is a buff smartie
Luke Evans' boyfriend is quite accomplished in a field vastly different from that of acting. Evans reportedly met Fran Tomas in 2021 while filming "Nine Perfect Strangers" in Australia, per The Sun. According to his LinkedIn, Tomas works as a project manager at Solvia Inmobiliaria, a Madrid-based real estate firm founded in 2001. A self-ascribed experienced professional in the construction industry, Tomas began his career as an architect and interior designer. Describing his participation in "challenging new projects in Spain, UAE and in Australia," Tomas' globetrotting career explains the crossing of his and Evans' paths.
With a notable Instagram following of 60k (as of this writing), Tomas' feed is filled with his adventures around the world. Not averse to sharing shirtless poolside shots or cozy couple's selfies with Evans, Tomas' Instagram often showcases him supporting his famous beau at press events and film premieres. As an insider close to Evans told The Sun in May 2022, Tomas and Evans seem quite a natural pairing. "They are like-minded, really get each other's sense of humor and compliment each other well," the source spilled. With paparazzi catching shots of them canoodling in Ibiza in August 2022 (per Just Jared), Tomas and Evans' flame shows no signs of slowing down.
Luke Evans wants to be an active dad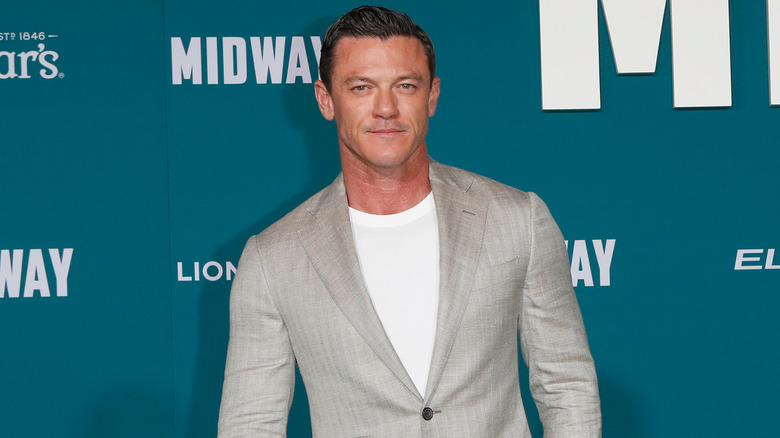 Kathy Hutchins/Shutterstock
Regardless of what the future may hold for Luke Evans and Fran Tomas, the "Pinocchio" star has expressed a desire to start a family someday. In a January 2021 interview with The Sunday Times, Evans admitted that age has made him ponder fatherhood more seriously. "There's a lot of satisfaction to passing on your experiences and rearing a strong, open-minded, kind, respectful human being who can go in the world and do something," Evans shared. In October 2022, Evans even revealed his aspiration to The Times "to have my own kids in the next five years." Granted, the Welsh actor lamented to the outlet that he missed the boat on young fatherhood. "I want to be an active dad, one that really gets involved and isn't limited in what they can do," he explained. 
Even without being a parent, Evans has already influenced young individuals around the world. Despite being out since age 16, Evans didn't have much in the way of gay role models growing up — and he wants to change that for future generations. "Nothing should dictate what you do because of your sexuality," he told Attitude magazine in 2020. Crowned that year's Attitude "Man of the Year," Evans stressed that "the young community who are dealing with so much more s***" needs that sentiment more than anyone else.