Inside Robert De Niro And Martin Scorsese's Friendship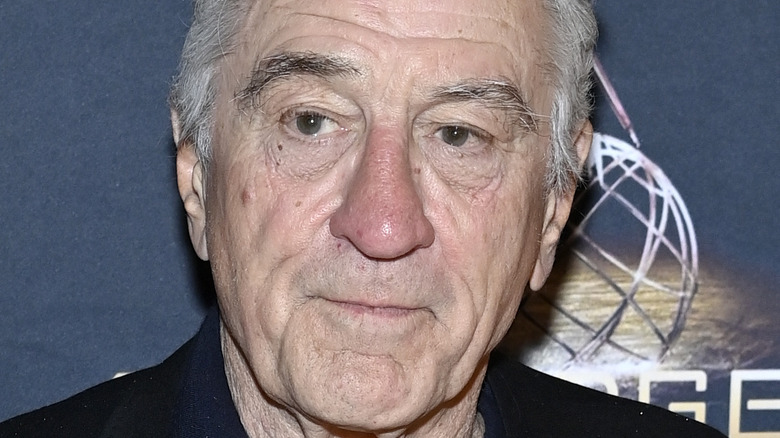 Roy Rochlin/Getty Images
Since as far back as the '70s, veteran actor Robert De Niro has been a staple in Hollywood. Through the years, De Niro has racked up multiple awards and recognitions including two Academy Awards, and a Golden Globe award. And while his stellar acting skills are undeniable, De Niro believes his success is largely luck. "In my case, it wasn't about the confidence," De Niro told Toronto Sun. "I had the confidence. There was a little bit of luck, too. Being at the right place at the right time to get an opportunity that will show what you can do — that'll help."
And much like De Niro, ace director Martin Scorsese is every bit of an icon. With classics like "Godfella," "Mean Streets" and "Taxi Driver" under his belt, it is hardly a surprise that he has enjoyed much success in Hollywood. And even though Scorsese has won only one Oscar and three Emmy's, he couldn't be less bothered. For him remaining true to the art is more important. "Cinema is devalued, demeaned, belittled from all sides, not necessarily the business side but certainly the art," Scorsese said in October 2022, per Huffpost. "Since the '80s, there's been a focus on numbers that is kind of repulsive."
So, what do De Niro and Scorsese share in common apart from their iconic status? Let's just say it's a friendship that has left many of us inspired through the years.
Robert De Niro and Martin Scorsese first worked together in the '70s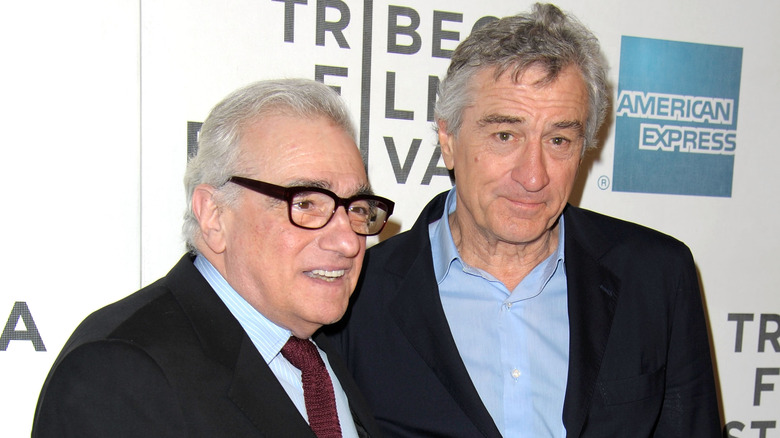 Dave Kotinsky/Getty Images
In a February 2020 interview, Martin Scorsese revealed he and Robert De Niro lost contact for many years after first meeting as teenagers. Then in the '70s, the universe brought them back to each other. Scorsese, who had at the time made his first major release was getting started with "Mean Streets" and De Niro just happened to fit into everything the ace director was looking for. "Then I planned to do Mean Streets, and he got the people, and the tone and flavor and temperature of it," Scorsese told Deadline. "He knew just how to stand, what hat to wear. He just knew it all, basically and there was complete confidence in what he was doing."
Since their first film together, De Niro and Scorsese have gone on to work on many more together including 2019's "The Irishman." With 10 Academy Awards and five Golden Globes nominations, per IMDb, there is no telling that it was well received — something De Niro was most grateful for. "Doing this film was so special for all of us no matter what happened," he told People in 2020. "The good reception is the icing on the cake."
Robert De Niro can't imagine life without his dear friend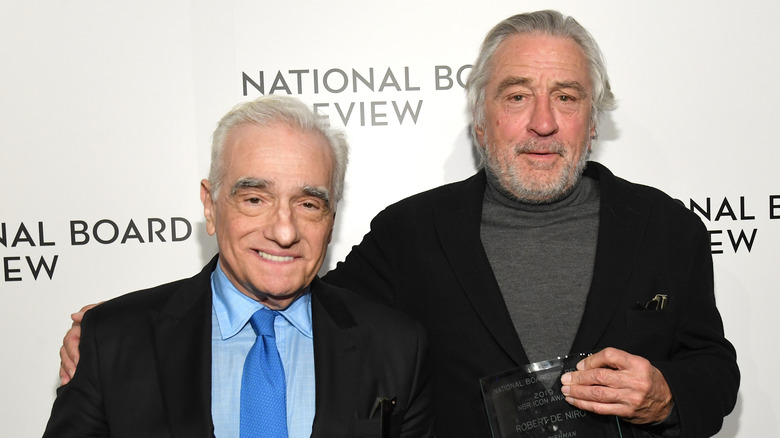 Kevin Mazur/Getty Images
Between the glitz and glamours, chaos and drama, finding a long lasting friendship in Hollywood can be quite the task. Robert De Niro knows this and couldn't be more grateful for his friend, Martin Scorsese. "I consider myself very lucky to have that long of a relationship with him," De Niro told People in 2020. "I can't imagine my life without it." And if you were wondering, Scorsese feels similarly about their legendary friendship. "I'm very happy to have found a collaborator like him," the ace director told Deadline of De Niro. "We've been very lucky over the years and also it turned out people change over 20 or 30 years. Yeah. We changed, and then came back together and I would call that a highly fortuitous situation."
Outside of their inspiring friendship however, De Niro and Scorsese share a deep admiration for each other as creatives. While Scorcese believes De Niro's acting is "exrraordinarily special, the "God Father" actor believes his friend is a great director. "Marty is very sensitive about people and actors. He takes what actors give him and uses it," he said, per People. says. "He is aware and well-informed about things and likes to read stuff. Directors have to be well-rounded in many facets of life."