The One Artist Post Malone Says He Will Not Work With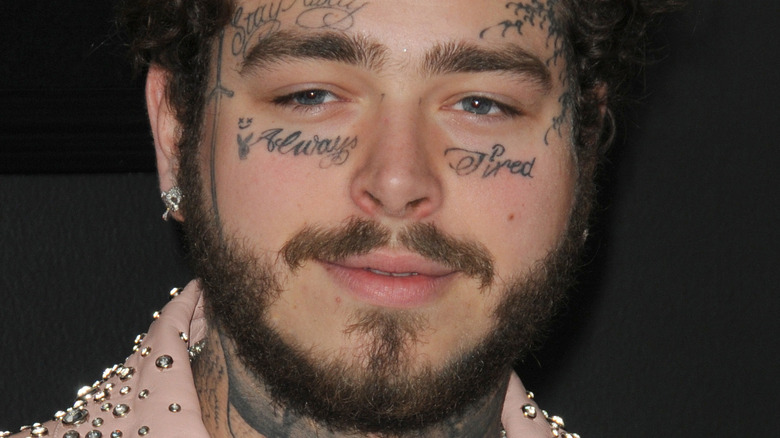 Kathy Hutchins/Shutterstock
In recent years, Post Malone has become one of music's most successful stars with some of the biggest hits that have dominated both the charts and radio. In addition to securing himself nine Grammy Award nominations, Malone has achieved four No. 1 singles and 11 top 10 hits on the US Hot 100.
Throughout his career, the "Candy Paint" hitmaker has teamed up with many high-profile names, such as Nicki Minaj, Doja Cat, and 21 Savage, to create songs that have gone on to become global smashes. In a 2018 interview with Billboard, Malone explained why he is fond of and always open to doing features. "I like collaborating because sometimes it's difficult to step out of your comfort zone and make something that you wouldn't usually make," he said. 
Malone continued, "I just think working with another artist brings a whole different perspective ... [and] a whole new group of ideas. And it kind of makes you better as an artist for having worked with talented people." Despite already bagging himself an impressive list of collabs, Malone listed Robin Pecknold from Fleet Foxes, Kanye "Ye" West, and Tim McGraw as some of the musicians he is keen to work with. During an Apple Music interview with Zane Lowe the following year, Malone discussed his song with Ozzy Osbourne and insisted he "crushed it."
For someone open to collaborating with a variety of acts from all genres, there is one name Malone isn't interested in working with.
Post Malone would not collab with 6ix9ine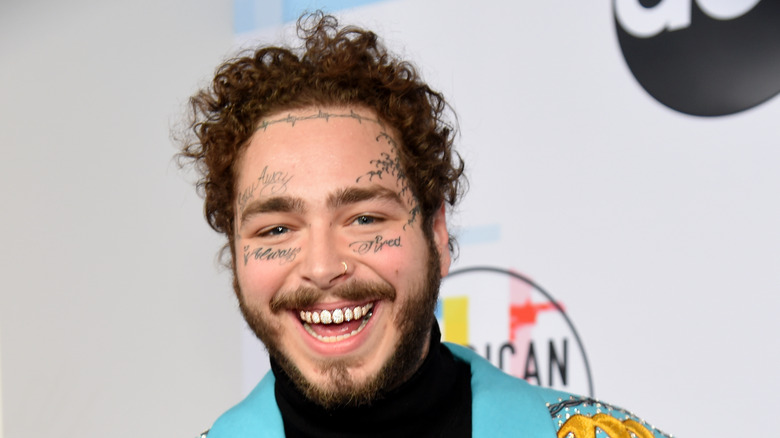 Kevin Mazur/Getty Images
Post Malone may be known for collaborations, but he isn't keen to work with everyone who has had success. During a night out in West Hollywood in February 2021, the "Die For Me" hitmaker was captured leaving a building by a number of paparazzi. Before signing a bunch of autographs for fans, he was asked on camera by The Hollywood Fix about an artist he would love to work with that he hasn't already yet. Malone responded, "I've worked with a lot of different artists... I met Robin Pecknold from Fleet Floxes today, which was one of my favorite bands since middle school and it was really cool to be able to meet him and vibe with him." When questioned whether rapper 6ix9ine is someone he would consider, Malone bluntly replied, "Would I? Chances are, no."
This isn't the first time an artist has turned down a collab with 6ix9ine. In 2021, Benny The Butcher revealed in a now-deleted tweet (via HotNewHipHop) that 6ix9ine's manager contacted him and asked whether he would be interested in doing a song with one of his acts. "What u think I said ?" he added before sharing a poll with the options "No" and "F*** No." A year prior, a fake tracklisting for 6ix9ine's album suggested that Megan Thee Stallion had done a song with him, causing fans to hope it wasn't real. Her producer, LilJuMadeDaBeat, confirmed on Twitter that it was fake.
Many artists have been down to work with 6ix9ine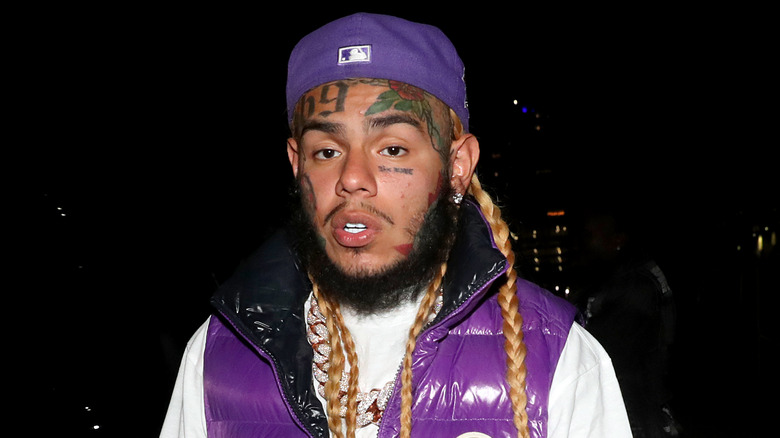 Johnny Nunez/Getty Images
While many acts aren't willing to work with 6ix9ine on a song due to his violent history, that isn't the case for everyone. Since 2018, 6ix9ine has released two studio albums – "Dummy Boy" and "TattleTales" – and one mixtape – "Day 69" – that have all entered the top 5 on the US Billboard 200. Along the way, he has teamed up with many music heavyweights that have for sure boosted his profile.
In 2018, he dropped the single "Fefe" with mogul Nicki Minaj and scored himself another collab with her in 2020 when putting out "Trollz." On the US Hot 100, "Trollz" peaked at No. 1 but fell off the charts just three weeks later. After taking some heat from fans for collaborating with 6ix9ine more than once, Minaj defended her decision in a now-deleted tweet (via Instagram) to work with him again, writing, "You don't have to defend me. I'm not afraid of internet trolls, blogs, artists. I don't jump on bandwagons. Many will never know what it feels like to have a mind of their own."
Minaj, however, isn't the only big star who has teamed up with 6ix9ine as Anuel AA, Kanye "Ye" West, and Akon, are a few of many who have done the same.