Is Chloe Fineman In A Relationship?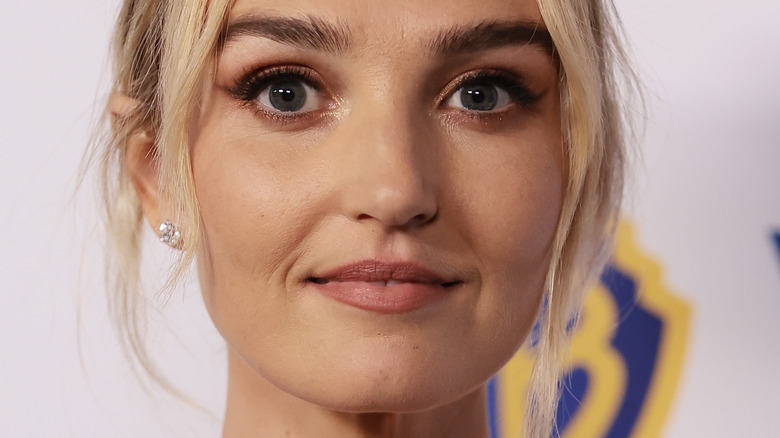 Dimitrios Kambouris/Getty Images
Maybe it's because there's a lot of room for comedic plot twists, but there have been a lot of great sketches on "Saturday Night Live" that involve weddings. For example, Leslie Jones and Kyle Mooney had a running joke of being in love with each other. In one of the recorded skits, there are wedding photos and videos. And when Jack Harlow hosted in October 2022, the rapper got married in a skit.
Sometimes, "SNL" stars will poke fun at cast members' real-life relationships. For example, ahead of the 2020 Oscars, Chloe Fineman — who is known for her impersonations — did an impression of Scarlett Johansson in "A Marriage Story" during Weekend Update. She then turned to Colin Jost and asked, "Do you feel like you're at home, Colin?" poking fun at Jost's romance with the Marvel actor.
Fineman has also admitted that she was asked about Kim Kardashian and Pete Davidson's relationship multiple times. "I met Kim," she told E! News. "I really loved her. Yeah, she was cool." Fineman added that having "eyes on the show [was] great," seemingly indicating that the romance between Kardashian and Davidson sparked some attention for "SNL" in general. All that being said, with her impressions of her fellow cast members' significant others and being asked about the high-profile romances that sprout from the show, what is Fineman's own romantic life like?
Chloe Fineman has been in a relationship for years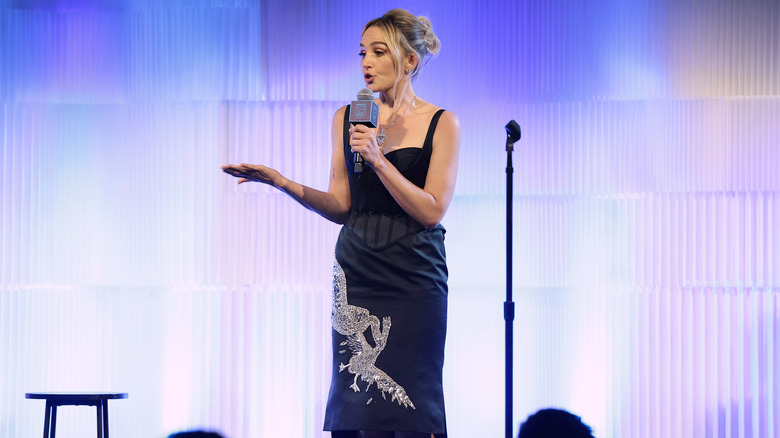 Dimitrios Kambouris/Getty Images
Although it seems that Chloe Fineman likes to keep her romantic life as private as possible, she does have a boyfriend. In September 2020, she opened up to The Washington Post about being in lockdown with him in Los Angeles. "Initially being quarantined with my boyfriend was like, 'Oh my God, are we going to kill each other?'" she said. "And then it kind of has turned into a beautiful rom-com."
In February 2022, the comedian mentioned her boyfriend in another interview, describing his distaste in his girlfriend trying out hair extensions. "My boyfriend didn't like them," she told Bustle. "He was like, 'You feel like a doll.'"
And in May 2022, the "Saturday Night Live" star hinted that her relationship may be long distance at times. She talked to New York Magazine's "The Strategist" about her favorite household things. "One of my favorite breakfasts is an English muffin, so I need a good toaster," she said. She then mentioned that she owns two toasters — a white one in New York and a red one in Los Angeles, "where her boyfriend lives." Although Fineman has a boyfriend, she actually joked about marrying her best friend during the COVID-19 pandemic.
Chloe Fineman 'married' her best friend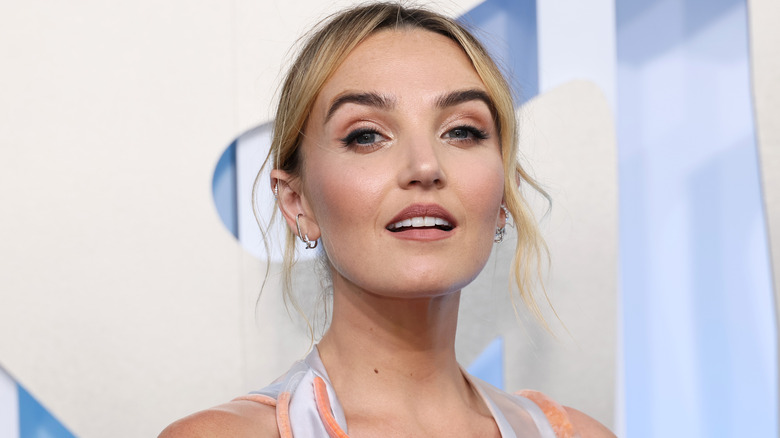 Dia Dipasupil/Getty Images
On March 22, 2020, Chloe Fineman took to Instagram to share that she was marrying her best friend Casey. "Tomorrow I [sic] gonna marry my best friend and the love of my life @shartyparty69 on Instagram live," she captioned her post. The comedian added that they were planning to have a ceremony in real life, but "everyone refused to come." The announcement confused some people, though, as they didn't know if Fineman was joking or not.
"People magazine, Glamour, and E! reached out to the publicists at 'SNL' and my manager for comment, and they were like, 'Uh, it's not real,'" Fineman told Vulture. She mentioned that her best friend is gay, and that they were just having some fun. She also added that she was living with her boyfriend. "It was purely, 'How can we get through the boredom of quarantine?'" she said.
Fineman's fellow "Saturday Night Live" cast member Colin Jost really tied the knot during the COVID-19 pandemic, marrying Scarlett Johansson. "Even though it was small and intimate, it was beautiful," the Marvel actor said on "Late Night with Seth Meyers." As of this writing, it's unclear if wedding bells are in the near future for Fineman, but given the comedian's fun-loving spirit, it doesn't seem totally outside the realm of possibility that her future nuptials could take place via Instagram Live.