Who Are Mina Starsiak Hawk's Siblings?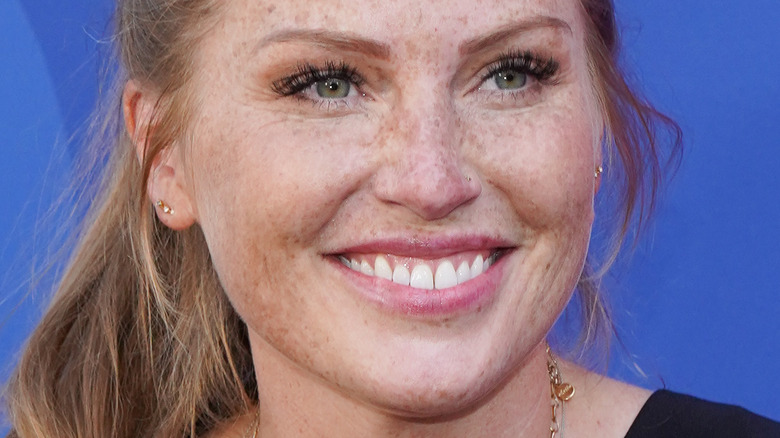 Rachel Luna/Getty Images
In March 2016, "Good Bones" premiered — a reality show that follows the life of mother-daughter duo Karen Laine and Mina Starsiak Hawk as they remodel old homes in their hometown of Indianapolis. But make no mistake, these two women are not mere flippers as fans might think. "We don't flip houses — that's not what we do," Laine told Indy Star in a 2016 interview. "We truly are rehabbing neighborhoods. If we were flipping, we wouldn't strip down to studs, install new electrical, new HVAC, new plumbing, or whatever else needs to be done. This is rehab."
Beyond the duo's stellar home rehabilitation skills, fans of "Good Bones" have also been immersed into Laine and Starsiak's rather large family. Speaking on their complicated family tree in a behind-the-scenes video, Starsiak and Laine provided a breakdown of how they all came to be. While married to her first husband, Casey Starsiak, Laine welcomed three children including Mina. Sadly, Laine's marriage to Casey ended in a divorce, with the two eventually moving on to other relationships. After Casey, Laine got married again, this time to a man called Randy with whom she welcomed a daughter, Kelsy Gray. Similarly, Casey also remarried, welcoming two sons Jess and Thadeus with his second wife Cheryl.
Going by this breakdown, Mina has a total of five siblings who remain largely unknown to "Good Bones" viewers.
William Starsiak is an osteopath
In addition to Mina Starsiak, Karen Laine and her first husband share two sons: William Starsiak and CR. Compared to the rest of their family, Mina's brothers maintain a more profile life, albeit CR is a lot more private.
Per his LinkedIn profile, in 2013, William founded Starsiak Osteopathic Clinic — a hospital where he also serves as a physician. On the clinic's website, William admits to having first developed an interest in osteopathy when he was only a high school student. "At the time I suffered from terrible chronic back pain that kept me from normal physical activity. I was so impressed with how quickly Osteopathy resolved my problem that I pursued it as a career," he added. Besides his practice as a doctor, William previously taught osteopathy to med students at Marian University.
When William is not saving lives and transferring knowledge, he seemingly enjoys spending time with his family. As seen on his Instagram page, William is married to a woman named Lisa and is a father to Samayah, his second-grader daughter. As if scrolling through his Instagram was not enough proof, William lets us know his priorities. "I love my family and have a passion for nature," his Instagram bio states.
Tad Starsiak and Kelsy Gray are in the Good Bones cast
If you're a religious fan of "Good Bones," chances are you already have an idea who Thadeus Starsiak is. Otherwise called Tad, Mina Starsiak's younger brother has made numerous appearances on the HGTV show, helping his mom and sister in their quest to rehabilitate homes. As reported by The Cinemaholic, Tad works as a Project Manager at Two Chicks and a Hammer, Karen Laine and Mina's renovation company. On the side, Tad is seemingly pursuing a career in fashion. The reality star is the founder of Love Heals, a clothing brand targeted at helping people master introspection and personal growth.
Like Tad, Mina's half-sister Kelsy Gray also plays an active role in Two Chicks and a Hammer, working as the company's Chief Business Officer. In a 2020 interview with Pop Culture, Laine revealed, "[Kelsy] is our chief business officer and she needs to get a world of credit for how long and hard she's worked because although Mina is the boss, Kelsy's the one who makes the things happen." Prior to joining the Two Chicks and a Hammer team, Gray worked as a sales associate and then a District Sales Officer at PepsiCo.