Who Is Captain Glenn Shephard's Favorite Below Deck Sailing Yacht Crew Member?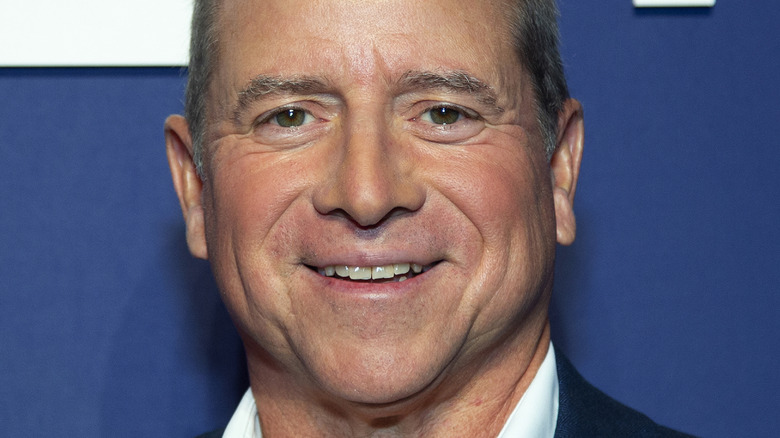 Santiago Felipe/Getty Images
Since "Below Deck Sailing Yacht" first aired in 2020, Captain Glenn Shephard has seen many crew members come and go. Season 1 started out with then-couple Paget Berry and Ciara Duggan, chief stew Jenna MacGillivray, chef Adam Glick, deckhand Parker McCown, and stews Georgia Grober and Madison Stalker.
When Season 2 came around, Shephard found himself with an entirely new crew. While "BDSY" Season 1 didn't come without its fair share of drama, Season 2 was even more explosive with a love triangle between First Mate Gary King, deckhand Sydney Zaruba, and third stew Alli Dore. Another scandal to rock the boat was the romance between Dani Soares and Jean-Luc Cerza-Lanaux that eventually led to a pregnancy with the deckhand initially denying he was the father, per Us Weekly. After the baby was born, Cerza-Lanaux finally took a paternity test, which confirmed that he was in fact Lilly Rose's father.
Cerza-Lanaux received a lot of backlash from the public, as well as his crew mates, and suffice it to say, he didn't come back to the show. However, Season 2 fan favorites Daisy Kelliher, Colin MacRae, and King returned for "BDSY" Season 3 and one of them was named Shephard's favorite cast member.
Captain Glenn has a soft spot for Colin MacRae
On a special "Watch What Happens Live with Andy Cohen" episode, all the "Below Deck" captains got together and discussed their respective franchises, per Bravo. Host Andy Cohen asked, "Who is your favorite and least favorite crew member you've had on each of your shows?" Surprisingly, Captain Glenn Shephard chose Season 1 deckhand Parker McCown as his least favorite for quitting mid-season. As for his favorite "Below Deck Sailing Yacht" crewmate? The sailing yachtie chose Colin MacRae. "Colin's such a great guy," Shephard gushed.
Perhaps Shephard is grateful for MacRae's public support after the boat crash in Season 2. The chief engineer defended the captain in a lengthy Instagram post that read, "[Shephard] has so much respect from us crew, and his management style is to give maximum freedom, but with this comes maximum responsibility. He extends this onto himself as well, and when we hit the dock on @belowdecksailing, he didn't point the finger or pass blame on anyone until we figured out what went wrong."
MacRae went on to explain that the boat malfunction was a common one and while the crash made the captain look bad, he respects Shephard for his "humility and humbleness." Fans appreciated MacRae's shout-out and were soon clamoring to see more of him on "BDSY."
Colin MacRae is also a favorite of BDSY viewers
Since "Below Deck Sailing Yacht" Season 2, Colin MacRae has been such a fan favorite that viewers can't get enough of him. As the chief engineer, MacRae is often in a room working solo and is therefore out of most of the drama. However, "BDSY" fans demanded that MacRae have more screen time, which he addressed in an Instagram video. "So I'm just having a little scroll through Instagram, and for all those people saying that they need to give me a little bit more screen time on 'Below Deck Sailing,' trust me, the show would be boring as f*** if they did that," he laughed.
Fans disagreed with MacRae and one wrote, "Colin, you are hilarious....funniest person on below deck sailing.....you def deserve more screentime. The bantor [sic] between you and gary, and marcos cracks me up." Another replied, "OMG I love you so much. I love that you are neutral but love the drama and love to gossip. The trip of you and Daisy and Gary are my favorite crew mates on any BD season ever. You guys are the best." One fan suggested, "You need your own spin-off show (minus the guests)." A show with MacRae sailing around while giving funny commentary? "BDSY" fans would be all for it!