Penelope Cruz And Javier Bardem First Met Long Before Their Romance Began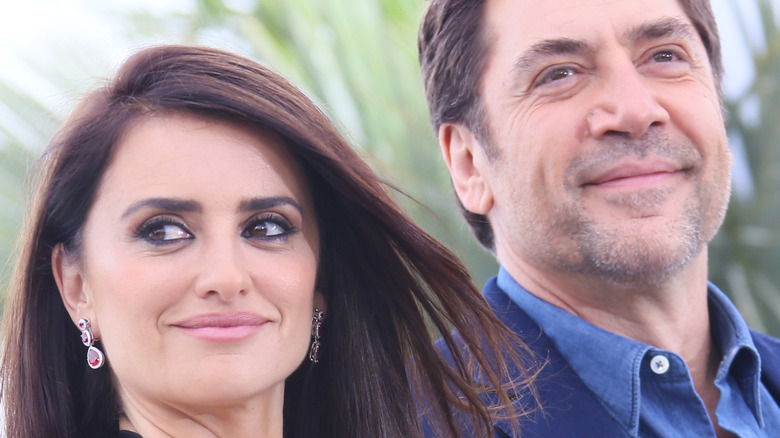 Denis Makarenko/Shutterstock
"Vicky Cristina Barcelona" co-stars Penelope Cruz and Javier Bardem have been notoriously private about their relationship and marriage, per Hello. The two Spanish actors wowed audiences in 2007 when they played the love-lorn exes Juan Antonio and Maria Elena in Woody Allen's movie-ode to strange romantic entanglements. After starring in the box office hit, the two began dating. In fact, as Bardem tells it, it all began at the wrap party. "I don't know if we were shy or trying to be too professional," he told GQ in 2017. "Anyway, it got to the very last day of filming and nothing had happened. So I thought, 'F***! We better get drunk!'"
Drinking turned to dating  and ultimately, wedding bells. So not only did that movie factor in her private life, it had a huge impact on Cruz's career. She went on to win an Oscar for Best Supporting Actress for her role. In her acceptance speech, she said, "Thank you, Bigas Luna, Fernando Trueba, for giving me my first two movies."
Luna, a Spanish director, directed Cruz in her 1992 motion picture debut, the romantic Spanish romp called "Jamón Jamón," where Cruz, who was only 16 at the time, played a young girl in love with a boy her mother finds unsuitable, so mommy-dearest hires a sexy underwear model to spirit her daughter away from her boyfriend for good, per IMDb. And it turns out that sexy underwear model was a familiar face.
Penelope Cruz and Javier Bardem worked together 18 years beffore they tied the knot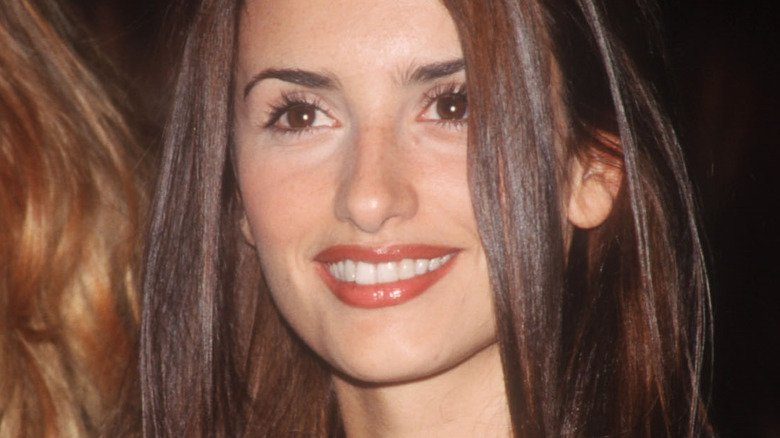 Evan Agostini/Getty Images
In 1992, a young Penelope Cruz made her Spanish cinema debut in the rom-com "Jamón Jamón," and her co-star was none other than "No Country For Old Men" star Javier Bardem. Cruz was 16 at the time and Bardem was 21, so as he tells it, that was a major boundary. Speaking with GQ, he said there was "obvious chemistry between [them]," but nothing romantic happened because "she was underage." He later joked, "One day we're going to have to show the kids — imagine! 'Mummy, Daddy, what did you do in the movies together?' 'Well, my children, you should celebrate the movie as you're here because of it!' It was a very sexy film. It still is."
In 2019, the "Skyfall" actor told Vulture that working with Cruz again was special, but they also needed to know the difference between their characters and what was real life. "You must always know when you're working on a level of recreation, outside of real life. Penélope and I, we have to protect the 'us.'" Apart from "Jamón Jamón" and "Vicky Cristina Barcelona," the pair also starred alongside each other in the Pablo Escobar biopic "Loving Pablo," and the 2018 movie "Everybody Knows" per Vogue.
Javier Bardem publicly declares his love for Penelope Cruz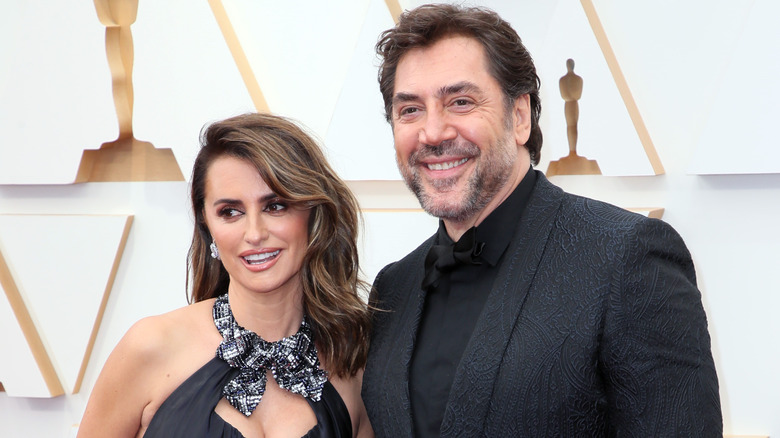 David Livingston/Getty Images
By 2010, 18 years after they had first met, Javier Bardem and Penelope Cruz were making public declarations of love, despite their reputation of being notoriously private. At the Cannes Film Festival closing ceremony that year, Bardem declared from the stage when he accepted his Best Actor award (via Hello), "I share this joy with my friend, my companion, my love: Penelope. I owe you a lot and I love you so much." According to the outlet, the "Vanilla Sky" star began to tear up.
In July of that year, the couple secretly wed in a private ceremony in the Bahamas, per Brides. Since then, they have grown their family with two children, a son named Leo and a daughter named Luna.
Fast forward to February 2022, and both of them were nominated for Oscars in the same year — which is a rare feat. Bardem was up for Best Actor for his role in "Being the Ricardos," and Cruz was nominated for Best Actress for her role in "Parallel Mothers." Bardem said at the time he "couldn't be happier to share this celebration with my talented wife, Penelope," per Us Weekly. All together now, everybody: awwww!