Inside Meghann Fahy And Billy Magnussen's Relationship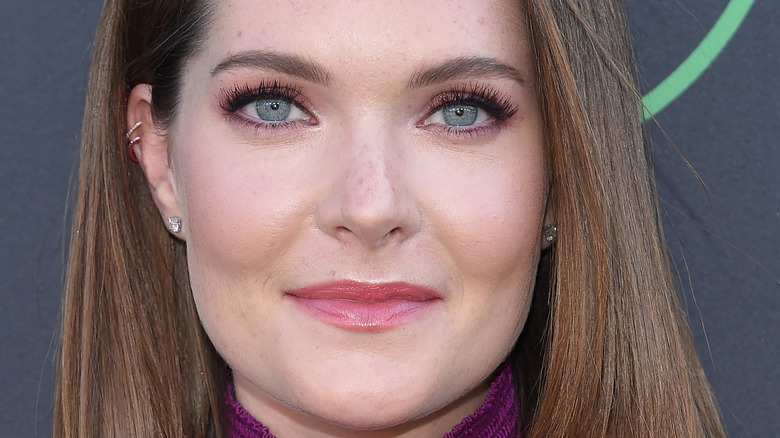 DFree/Shutterstock
In what can only be described as a short time in the industry, Meghann Fahy has come a long way. The actor was propelled into the limelight after appearing on ABC's "One Life to Live" where she played the role of Hannah O'Connor, per IMDb. The years that followed saw the 32-year-old gaining more ground, with credits in shows like "Gossip Girl," "Political Animals," and most recently, Freeform's popular series "The Bold Type." In the latter, Fahy played the lovable Sutton Brady, one of three friends working at Scarlet, a leading women's magazine. 
Similarly, Billy Magnussen has earned impressive accolades in the industry, with credits in films like "Twelve," "Aladdin" and "No Time to Die" under his belt, according to his IMDb page. And while Magnussen is no doubt successful in his own right, his decision to become an actor was not premeditated — it was accidental. "I found out I could go to college for acting and was like, 'I'll try that,'" he revealed in an interview with DuJour. "I surprise myself every day, with every opportunity I've gotten. It's really wild. My mom is always like, 'I can't believe what you've done.'" Outside of their successful careers, many people might not know that Magnussen and Fahy have a loving relationship which they have managed to keep out of the public eye for many years.
Meghann Fahy and Billy Magnussesn met on a movie set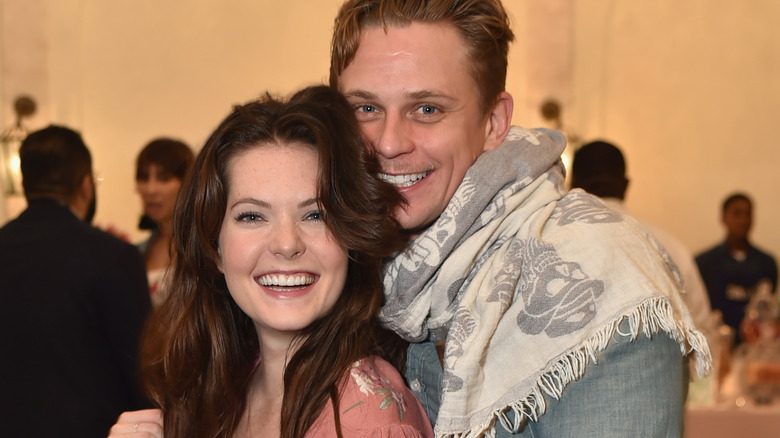 Mike Coppola/Getty Images
According to Express, Meghann Fahy and Billy Magnussen first met while on the set of the 2011 romantic drama "The Lost Valentine." In the movie, Fahy — who recently joined the Season 2 cast of HBO's "White Lotus" — portrayed a younger version of the lead character Caroline Robinson Thomas. Magnussen — who starred in the cast of Disney's live-action "Aladdin" — played her husband, war hero Neil Thomas. Though it is unclear how exactly Magnussen and Fahy's romance took off, Express dates their relationship back to 2017.
Given that Hollywood is no stranger to couples who met on set and stayed together, it's no surprise that Fahy and Magnussen fell in love filming a movie. That, and of course, the fact that Fahy has no problem with the idea of dating someone she works with. "My experience in the world is that you never really know who you're gonna meet, when you're gonna meet them, and how they're gonna make you feel," she told Cosmopolitan in 2017.
Not only did the two appear in the same movie prior to their romantic relationship, but in 2018, Magnussen also joined the list of celebrities who had cameos in their partner's television show. According to BuzzFeed, the 37-year-old played Fahy's ex-boyfriend in a few episodes of "The Bold Type."
Meghann Fahy and Billy Magnussen are notoriously private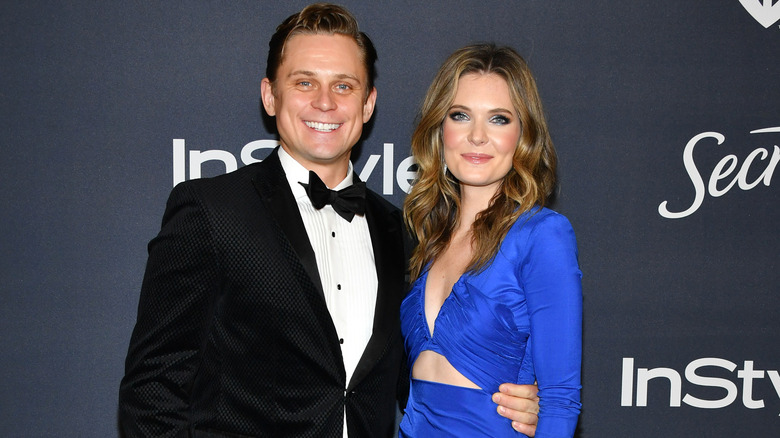 Amy Sussman/Getty Images
Like many couples in Hollywood, Meghann Fahy and Billy Magnussen keep their relationship private, save for the occasional loved-up posts on Instagram. To celebrate Fahy's birthday in April 2020, the "No Time to Die" actor shared an adorable social media post of the couple snuggled up in a flower field. "Happy birthday Mook," Magnussen captioned the Instagram snapshot.
When they're not sharing photos of each other on social media, Magnussen and Fahy serve couple goals on the red carpet, as they sometimes attend events together. In January 2020, JustJared reported that the couple was one of the many attendees of the "InStyle And Warner Bros. Golden Globe Awards Post-Party" where they graced the red carpet together. Despite their private life, however, the pair has seemingly won the hearts of fans who are clearly rooting for their love story. "#TheBoldType the best part of this episode is to see billy Magnussen and Meghann Fahy "reunite" on my screen. I just LOVEEE their irl relationship sooo muchhh," one fan on Twitter wrote. "Can someone please tell me if Meghann Fahy and billy Magnussen are still together I need to know," a second user tweeted back in 2019.