Dean McDermott Concerned About Wife Tori Spelling, Calls 911
Getty Images
Is the Beverly Hills, 90210 star okay?
TMZ reports that Dean McDermott called 911 out of concern for his wife, Tori Spelling, on Wednesday, March 7, 2018. According to the gossip rag's police sources, McDermott had apparently started to worry about Spelling when she left their home with at least one of their five children, but it's not clear why exactly he was afraid for her and their kids' well-being.
As a result of McDermott's call to the cops, police reportedly showed up at Spelling's doctor's office in Thousand Oaks, Calif. In photos taken by TMZ, McDermott stood outside of the office holding his and Spelling's 1-year-old baby while authorities spoke with his wife. Because both she and the couple's children were fine and because no crime had actually taken place, police soon left.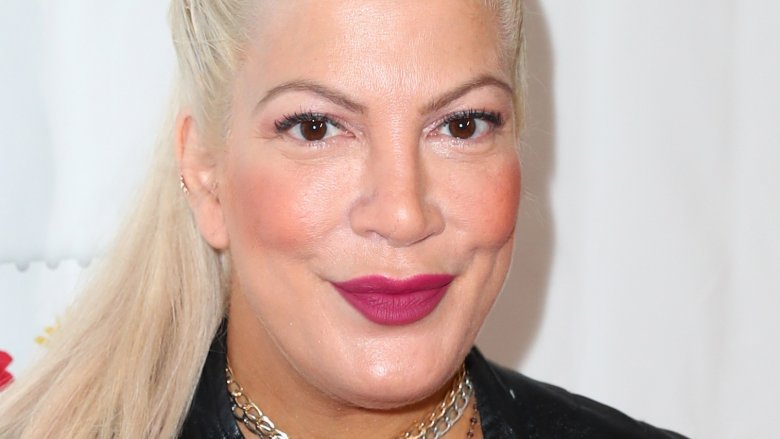 As Nicki Swift previously reported, someone had dialed 911 on March 1, alleging that Spelling had been exhibiting strange behavior. The caller claimed that the actress was being aggressive and appeared to have suffered a nervous breakdown. According to Us Weekly, there had been a verbal dispute between two people at Spelling's home. Regarding the incident, the Los Angeles Police Department PIO told the magazine at the time, "Officers are not on the scene any longer, but we did get confirmation that the investigation revealed that it was a domestic incident in which there was no crime, no arrest, and no transport."
The night before, Spelling had called the cops herself after she thought someone was breaking into her home. The alleged intruder wound up just being her husband.
A source told People magazine that Spelling "is in a tough place." Another insider noted, "The last year has been really tough on Tori," adding, "She has a ton of pressure and stress, with the kids, work and her marriage. She internalizes a lot of her anxiety and she knows it's not healthy for her. Of course she's going to get to a breaking point eventually."