How Hugh Jackman Helped Zendaya On The Set Of The Greatest Showman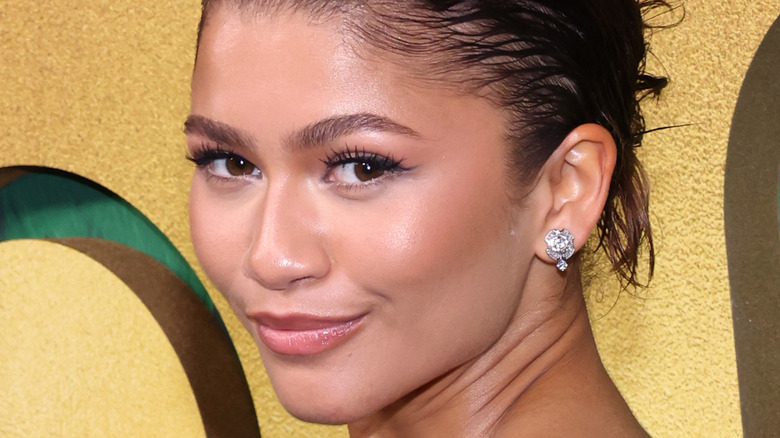 David Livingston/Getty Images
Zendaya seems to have it all: a killer acting career, a supportive boyfriend, and great hair. Like other Hollywood A-listers, the Emmy winner rose to fame on the Disney Channel, where fans first knew her as Rocky Blue from "Shake It Up." After graduating from the family-friendly sitcom, Zendaya took on genre-spanning roles — from the warrior Chani in 2021's sci-fi thriller "Dune," to the fan-favorite MJ in "Spider-Man: Homecoming" and "Spider-Man: Far From Home," via IMDb. 
Clearly, Zendaya has never been afraid of a challenge — which was evident when she took on the role of a drug addict named Rue in HBO's gritty teen drama, "Euphoria."  In July 2022, Zendaya shared with Vogue Italy, "Sometimes, being an actress makes me feel a bit ridiculous ... But then I think about the stories we are telling and why those stories are important (via Hypebae). She added: "In the case of 'Euphoria' ... there have been so many people who wrote to let me know that they recognized themselves in the way the series deals with issues such as the sense of loss, addiction, pain, mental illness, and the fight against all of them."
Likewise, another important story was portrayed in the film, "The Greatest Showman," which tackles themes of racism, poverty, individuality, and the importance of dreams. In the movie, Zendaya stars as a trapeze artist named Anne Wheeler alongside Hugh Jackman's P.T. Barnum. Per CinemaBlend, she admitted to being "a little star-struck" when working with the acting legend, who gave her some valuable words of affirmation.
How Hugh Jackman complimented Zendaya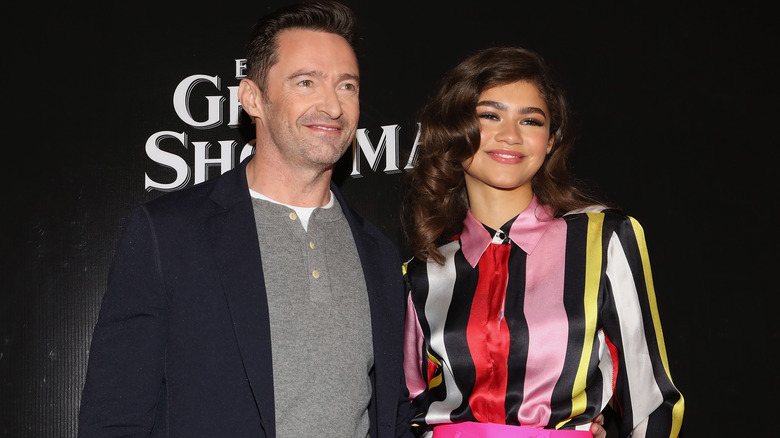 Victor Chavez/Getty Images
Just Jared Jr. reported that Hugh Jackman didn't know who Zendaya was when they first began working together on "The Greatest Showman." However, Zendaya quickly impressed her co-star. Despite her fear of heights, she literally rose to the occasion when it came time to do her own trapeze-flying stunts. But because "the rig was 15 to 20 feet taller [than the practice rig] and there was no net," as she told Jimmy Fallon on "The Tonight Show," it took a few words from Jackman to boost Zendaya's confidence. "Right when I was about to go up ... Hugh Jackman walked by, and he goes, 'Zendaya, you're a bada**.' And I was like, 'Take me up,'" she joked.
Jackman is best known as the invincible Wolverine in the "X-Men" series, and the action star knows a thing or two about doing stunts. We get the feeling he doesn't just dish out compliments on the regular — but he did about Zendaya! "She's what I call a unicorn. I don't know if there has been anyone like Zendaya or [there] will be anyone [like her] ever again. That girl makes it all look absolutely effortless," Jackman gushed to Entertainment Weekly. As for Zendaya, she's just savoring the fact Wolverine called her a "bada**" — and that she now knows her way around a trapeze swing. "I got to ... try a new skill I never thought I'd do in my whole life," she told EW. "Scratch that off the bucket list."
Acting out emotional scenes takes a toll on Zendaya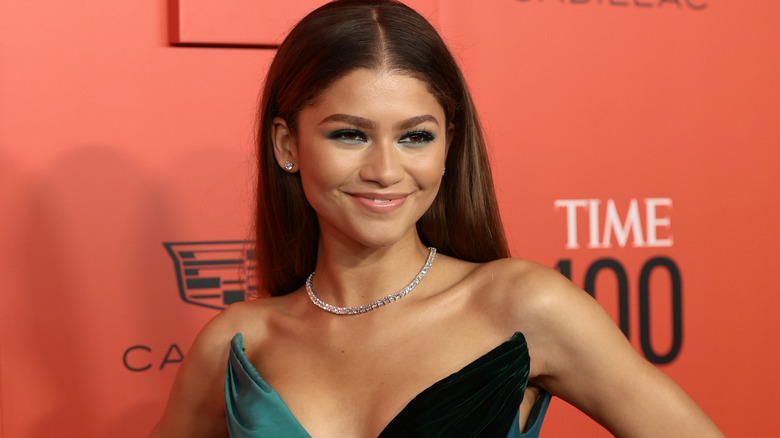 Dimitrios Kambouris/Getty Images
After getting Hugh Jackman's stamp of approval for her work in "The Greatest Showman," Zendaya followed up her high-flying trapeze act with more gravity-defying stunts. In 2021, she told BBC Radio 1 how psyched she was to "finally" do her own stunts in "Spider-Man: No Way Home." Of her character's big fall, Zendaya shared, "It was fun. It's very unnatural to like, go, 'Okay, well this is something, and I'm just gonna have to fall off it, just gonna throw myself off it."
Her loud and flashy action work might get more credit on the big screen, but it's not the hardest part of Zendaya's job. For example, filming emotional scenes can take even more of a toll, as the star explained in a Vogue Q&A. "'Euphoria,' because I feel sometimes the emotional stuff is almost as hard as the physical stuff," she responded when asked about her most difficult role. This tracks with how Zendaya has previously described playing Rue, which requires her to go to dark places. "Your body is a person — it doesn't know that what you're doing is not real," she explained, per PopSugar. "My brain can say, 'Okay, I'm pretending,' but when I'm doing it, my body and my heart don't know that it's not real. [Acting] can be exhausting in that way."