How Days Of Our Lives' Arianne Zucker Impacted The 2016 Donald Trump Campaign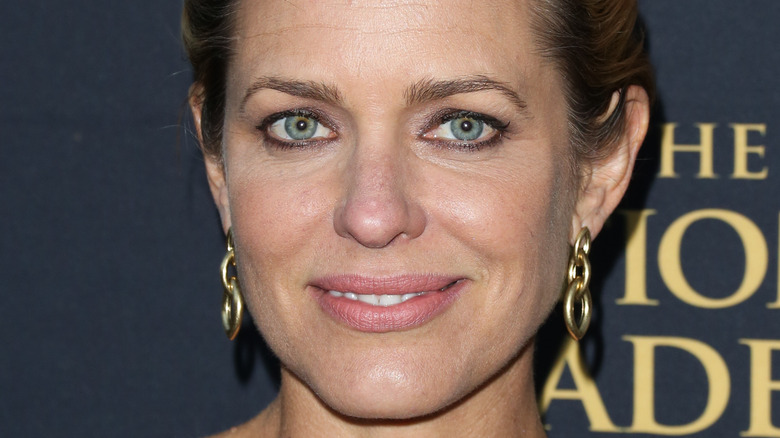 Paul Archuleta/Getty Images
Before 2016, Arianne Zucker was best known as the actor who played the role of Nicole Walker on "Days of Our Lives." Zucker had become a fan-favorite on the sudser after originating the role in 1998. Nicole quickly became one of Salem's bad girls, as she schemed and left a trail of broken hearts behind her (via Soaps in Depth). Over the years, viewers have watched Nicole marry men like Lucas Horton (Bryan Dattilo), EJ DiMera (then James Scott), Victor Kiriakis (John Aniston), Rafe Hernandez (Galen Gering), and Eric Brady (Greg Vaughan). She's also been in serious romances with Brady Black (Eric Martsolf) and Daniel Jonas (Shawn Christian) during her run in Salem.
Nicole has caused some major chaos, as she's attempted to murder Victor, blackmailed Anna DiMera, framed Arianna Hernandez, drugged Brady, and stole Sami Brady's newborn baby. She's also been involved in kidnapping, bribery, and many other shocking moments in the past, per Soap Central.
However, in 2016 during the height of the presidential election, Zucker became a huge topic of conversation outside of the soap opera world. A video of her meeting candidate Donald Trump leaked to the press and caused a huge uproar in the media.
Donald Trump's 2005 comments about Arianne Zucker made headlines during the election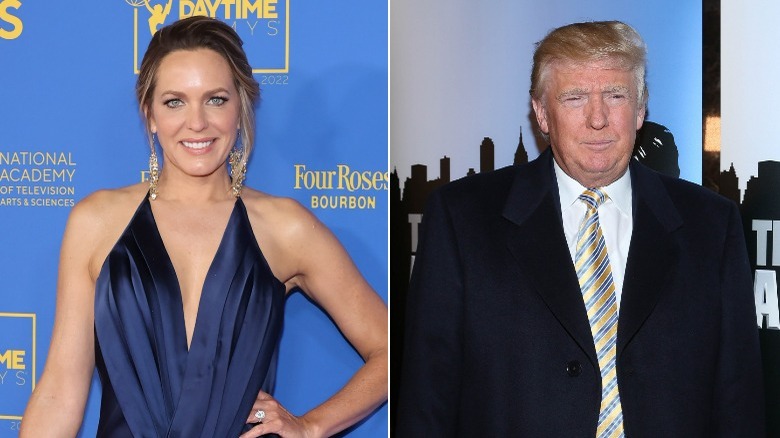 Rob Kim/Getty & Amy Sussman/Getty Images
Donald Trump was a polarizing candidate during the 2016 election, but things went from bad to worse when a video of him making lewd comments about "Days of Our Lives" star Arianne Zucker was released in the media (via Today). In the video, Trump is seen and heard with "Access Hollywood" host Billy Bush on the bus taking them to the "Days of Our Lives" set. During their conversation, Trump made vulgar comments about women, and then began to talk about Zucker when she came into sight.
Trump is heard saying that he needs to "use some Tic Tacs, just in case I start kissing her." He added, "You know I'm automatically attracted to beautiful — I just start kissing them. It's like a magnet. Just kiss. I don't even wait," per The Washington Post. He also commented on Zucker's legs and made a controversial statement about grabbing women, which sent many Americans into an uproar.
After the conversation was leaked, Trump issued a public apology. "This was locker room banter, a private conversation that took place many years ago," he told Entertainment Weekly. "Bill Clinton has said far worse to me on the golf course — not even close. I apologize if anyone was offended," he added. While Trump may have wanted people to forget about the incident, it became a huge scandal during the election.
Arianne Zucker responded to the leaked Donald Trump video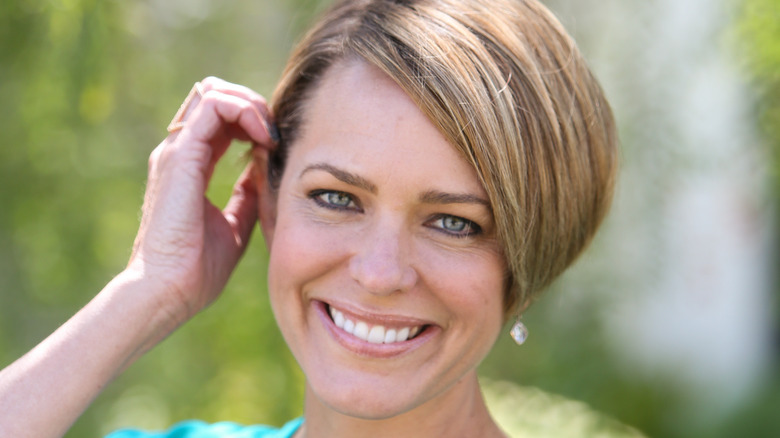 Paul Archuleta/Getty Images
After the video of Donald Trump and Billy Bush's lewd conversation leaked in 2016, Arianne Zucker shared her thoughts about the situation. On "Today," the actor said, "It feels very surreal to be in it. I'm not quite sure I believe it yet." When asked about Trump's public apology, where he called his comments "locker room talk," the "Days of Our Lives" star simply said, "That was an interesting apology."
Zucker also went on to reveal that she planned to use the situation as a teaching moment for her then-6-year-old daughter. "I want to teach my daughter that if she ever gets put in a situation like mommy is right now that she will hold her head high," Zucker told The Today Show. "And if she's learned anything from it, [it's] how can she share this with other women or young girls or whoever is around her, young boys even," she continued. "I think young men can learn from this, of how not to be in front of women or when they're speaking about women."
Zucker also admitted that she planned to use the controversy and attention in a positive way, and hoped that other women would be inspired to take a stand as well. According to Vulture, Trump was elected President, and Bush was fired from "Access Hollywood" following the controversy.