The Tragic Death Of Tina Turner's Son Ronnie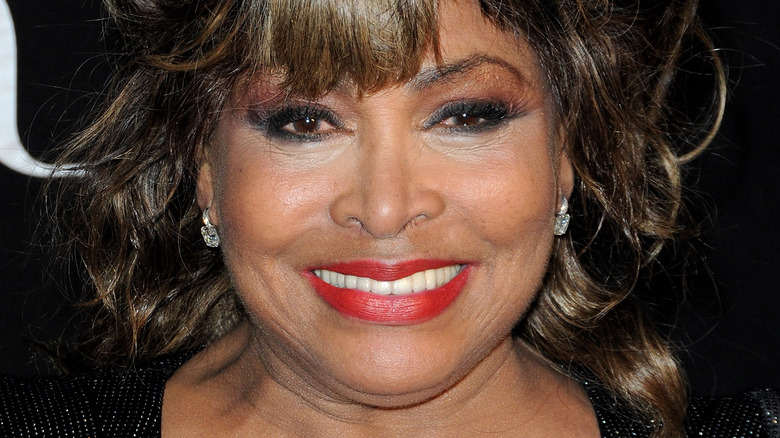 Pascal Le Segretain/Getty Images
Ronnie Turner, the son of legendary entertainer Tina Turner and her late ex-husband, fellow musician Ike Turner, has tragically died at 62. According to TMZ, a San Fernando Valley resident called 911 on December 8, 2022, and said that Ronnie was outside and having difficulty breathing. Eyewitnesses attempted to help him by performing CPR but to no avail. Paramedics pronounced him dead at the scene. His cause of death has not been revealed at the time of writing.
Ronnie had previously been diagnosed with cancer, and according to a 2016 Radar Online report, his health had deteriorated further due to dementia. He's also struggled with drug addiction and financial difficulties over the years. His wife, French performer Afida Turner, shared a tribute to her late husband on Instagram, writing in part, "I did the best to the end. This time I was not able to save you." She also expressed anger over the latest tragedy to befall the Turner family, which comes four years after the suicide of Ronnie's half-brother, Craig Turner.
According to The U.S. Sun, Ronnie decided to follow in his parents' musical footsteps — he was a bass guitarist in his mother's band at one point in time, and he also performed with his father. But sadly, he and Tina did not have a close relationship.
Tina Turner reportedly refused to help her son
According to Radar Online, Afida Turner told one of her friends that she had reached out to Tina Turner for financial help when Ronnie Turner's health took a turn for the worse in 2016. However, the "What's Love Got to Do with It" hitmaker reportedly refused and advised Afida to place Ronnie in a nursing home. "I can't understand why, woman to woman, Tina doesn't care about her son and his health!" Afida purportedly told her pal. "I am very sad about this."
In a 1985 interview with Spin (via The Daily Beast), Ike Turner spoke about Tina's estrangement from their son. "She's saying she never wanted him, that she didn't want to mother him. That hurt me, man," he claimed at the time. And in a 1989 TV Week interview, Tina confessed to distancing herself from Ronnie and cutting him off financially. "I'm not going to be a bank for a nearly 30-year-old man," she said.
Ronnie was reportedly distraught over being left out of the 2021 HBO Max documentary about his mother, entitled "Tina." A family insider told Fox News, "He's the only [biological] son of Ike and Tina ... It was very sad that Ronnie was not interviewed and not shown playing with his mother." The source also said that Tina, who has been experiencing her own share of health issues, was still not speaking to Ronnie or her two other living sons when the documentary premiered.