What Steven Tyler's Relationship With His Daughter Liv Is Really Like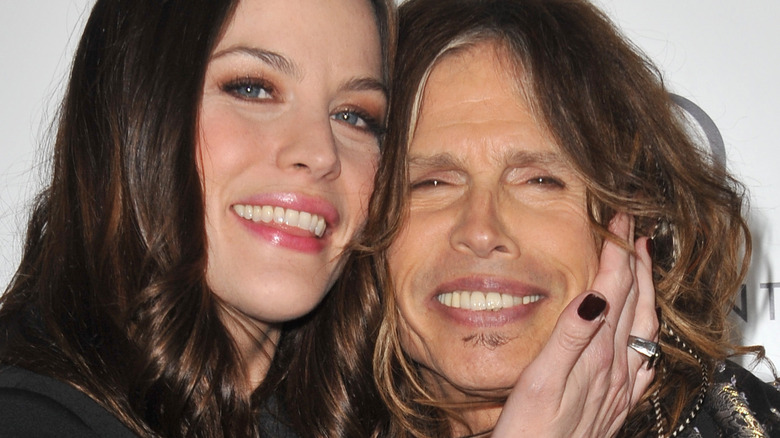 Featureflash Photo Agency/Shutterstock
When it comes to Hollywood, there are plenty of talented families. Many stars pass on their love for acting, singing, or entertaining to their children. In fact, many famous actresses have celebrity fathers. Jennifer Aniston is the daughter of late "Days of Our Lives" star John Aniston, while Jamie Lee Curtis is the offspring of acting icon Tony Curtis. Miley Cyrus gets her singing ability from her country music star dad, Billy Ray Cyrus, and Oscar winner Jane Fonda is the daughter of Hollywood legend Henry Fonda. 
While there seems to be no shortage of father-and-daughter duos in Hollywood, one pairing stands out for the fascinating story of their relationship. Aerosmith frontman Steven Tyler and his daughter Liv Tyler have overcome significant obstacles to get where they stand today. Let's take a closer look at where they started to get a better idea of how they arrived at their current relationship.
Liv didn't find out Steven was her father until age 11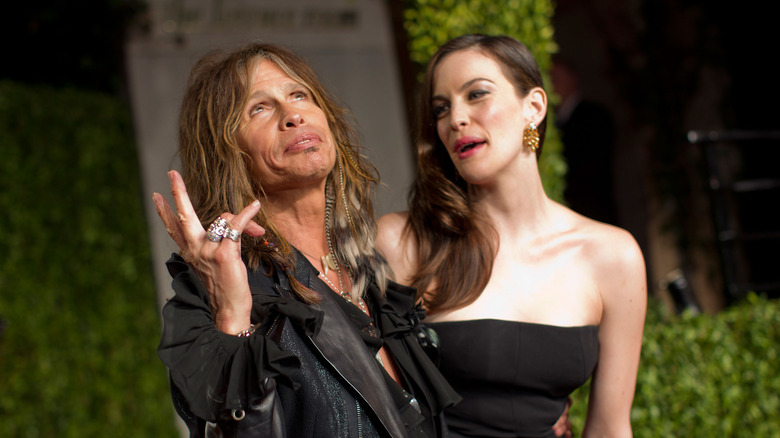 Christopher Polk/vf11/Getty Images
Liv Tyler is known for her roles in movies like "Empire Records," "The Lord of The Rings," "Jersey Girl," "Armageddon," and more (via IMDb). The actress was born in 1977 to model Bebe Buell. At the time, Buell was coming off of a brief fling with singer Steven Tyler, the frontman of Aerosmith. When Liv was born, her mother was living with singer Todd Rundgren, who stepped up to become a father to the little girl. "Todd basically decided when I was born that I needed a father, so he signed my birth certificate. He knew that there was a chance that I might not be his but ..." Liv told Wonderland in 2011.
At age 8, Liv finally met Steven when he showed up at one of Rundgren's concerts. "He bought me a Shirley Temple. I fell madly in love with him. I had no idea who he was," she recalled. Years afterward, when she was 11, Liv remembers having Steven's poster on her wall and wondering if they were related, per Interview Magazine.
At the time, Buell opted to keep the truth of her daughter's paternity quiet because Steven was reportedly dealing with a serious drug addiction. After Steven completed a stint in rehab, he and Liv were able to spend time together and develop a relationship. They became close and even worked together on a music video as she was establishing her acting career.
The father and daughter have formed a strong bond over the years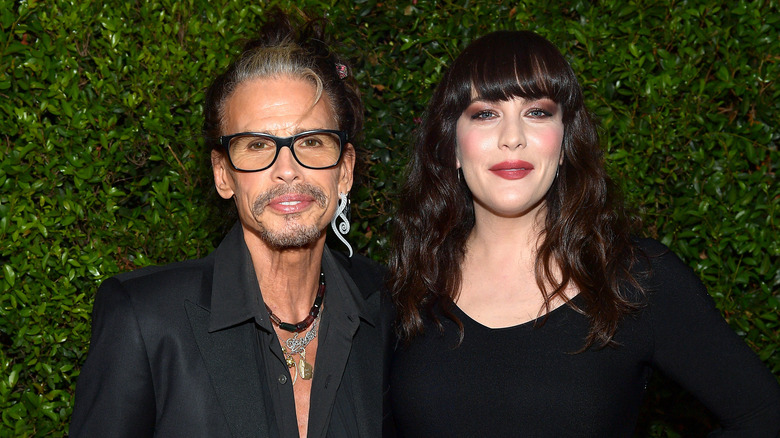 Matt Winkelmeyer/Getty Images
As Steven Tyler's relationship with his daughter, Liv Tyler, began to grow stronger, the pair solidified their Hollywood bond by working together. When Liv was just 16 years old, she starred in the music video for Aerosmith's song "Crazy" with fellow actress Alicia Silverstone. Meanwhile, Liv didn't just gain a father when she learned about her paternity; she also gained a sister: Steven's other daughter, Mia. Liv and Mia met and formed an instant bond as siblings. The family got so close that when Liv gave birth to her son, Sailor, both Steven and Mia were in the room for support while her partner was on a flight rushing home to her (via The Guardian). Liv even revealed that her father cut the umbilical cord.
In 2020, Liv revealed that Steven is active in her life and the lives of her children. "It's interesting. He's a different kind of grandfather," the actress said during an appearance on "The Ellen DeGeneres Show" She added, "Well, granddad wears nail polish ... And more makeup than me. He's very sweet."
Despite their rocky history, Steven and Liv have seemingly built a beautiful relationship full of love and respect for one another.