What We Know About Hallmark Star Luke Macfarlane's Love Life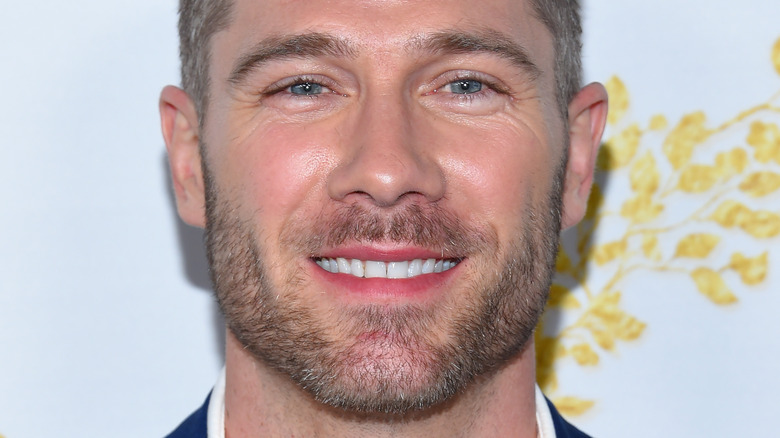 DFree/Shutterstock
Luke Macfarlane has been extremely private about his dating life, despite being openly gay. The Hallmark Channel star came out publicly in 2008, after much speculation surrounding his sexuality. Speaking to Toronto's The Globe and Mail, he said (via Advocate), "I don't know what will happen professionally, but I guess I can't really be concerned about what will happen, because it's my truth. There is this desire in L.A. to wonder who you are, and what's been blaring for me for the last three years is how can I be most authentic to myself — so this is the first time I am speaking about it in this way." 
Macfarlane, who hails from Ontario and is a Julliard graduate, has played numerous roles on television, including Scotty on "Brothers & Sisters" and recurring character Rick on "The Night Shift." He's starred in several Hallmark movies, including "The Memory Book" and "Just Add Romance," and feature films, like Netflix's "Single All The Way." However, his big break came in 2022, after playing the lead role in "Bros" opposite comedian Billy Eichner. And while Macfarlane refuses to talk about his romantic relationships for the most part, the actor has been linked to several recognizable names over the years.
Luke Macfarlane was linked to these Prison Break and Grey's Anatomy stars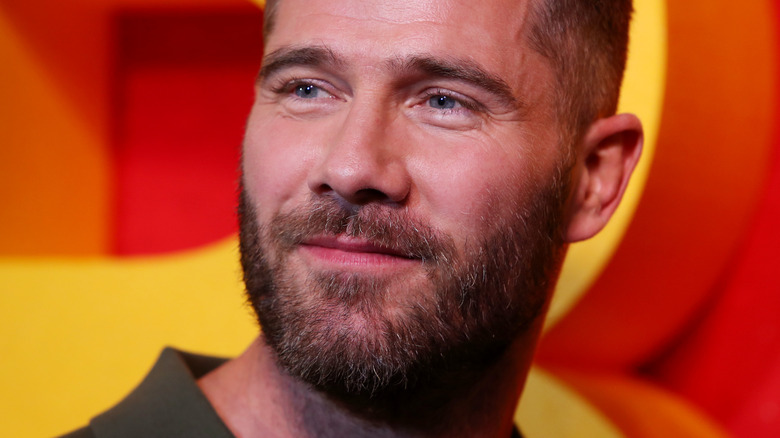 Lisa Maree Williams/Getty Images
Luke Macfarlane was rumored to be dating "Prison Break" lead Wentworth Miller after the two were spotted out together in 2007, per Just Jared. Although they never confirmed being an item, the two reportedly dated from June 2007 to February 2008, according to Who's Dated Who. This came years before Miller himself publicly came out as gay in an open letter published in 2013 in which he declined to attend the St. Petersburg Film Festival in Russia. He wrote in part (via CNN), "As a gay man, I must decline. I am deeply troubled by the current attitude toward and treatment of gay men and women by the Russian government. The situation is in no way acceptable, and I cannot in good conscience participate in a celebratory occasion hosted by a country where people like myself are being systematically denied their basic right to live and love openly."
Before Miller, Macfarlane was also romantically linked to former "Grey's Anatomy" actor T.R. Knight. He and Knight — who left "Grey's" after five seasons in 2009 — had been seen together several times in public, and were rumored to have dated from 2005 to 2006. Not much is known about their apparent romance, however. Per People, Knight has since tied the knot with ballet dancer and writer Patrick Leahy. Macfarlane, meanwhile, was rumored to have moved on with fellow Canadian actor and producer Charlie David, although they, too, never addressed the rumors.
Luke Macfarlane remains evasive about his love life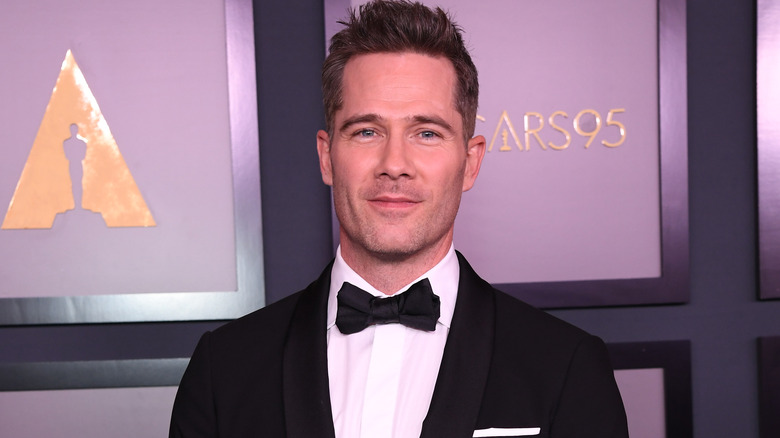 Jon Kopaloff/Getty Images
To date, Luke Macfarlane remains evasive when addressing questions about his personal life from the media, having recently shot down a question from Page Six whether he is seeing someone currently. He told the outlet, "I'm not going to talk about that at all. I give you my performance and you give me my privacy!" Previously, the actor also declined to talk about his relationship status in a 2017 cover story interview for Canada's In Magazine. "Yeah, I'd rather not," he said. "I don't like to talk about my personal life in interviews."
In a separate interview for The Julliard Journal in 2008, Macfarlane explained his desire to keep his personal life private despite being so open about his sexual orientation. "I feel strongly that there is a distinction between revealing my sexual preference and my most private thoughts. My sexual preference is one irrefutable aspect of me, like the color of my skin," he said. "I've never been interested in revealing intimate details about my life. [My] concern with engaging with the media has to do with trying to make sure they will understand this difference." He also noted that opening up about his personal life as an actor and public figure can be "frightening."