The Bizarre Comment Dwayne Johnson Once Made About Megan Thee Stallion
Tinseltown/Shutterstock
Dwayne "The Rock" Johnson is kind of a big deal, however the road to stardom wasn't necessarily easy. Many aren't aware that the Rock initially had a short run in professional football before reaching stardom during his wrestling days. During his initial run with the then-World Wrestling Federation (and now WWE), the multi-talented star became a fan-favorite and is thought of as one of the most successful wrestlers. Fans worldwide were drawn to his outgoing stage presence and ability to connect with fans. It's safe to say that his wrestling career indirectly made him one of the most popular names in the entertainment industry.
The Rock typically takes a comedic approach to acting and has had roles in highly successful films such as "Fast and the Furious," "Jumanji," and his long-awaited inclusion in "Black Adam." Throughout the trajectory of his success, the actor remains humble about his beginnings, although he is worth $800 million as of this writing, per Celebrity Net Worth. "There wasn't a blueprint of the half-black, half-Samoan former football player-wrestler, who then made his way to Hollywood," Johnson revealed to Variety (via Yahoo!). "I was willing to take the risk, and then I became myself — it sounds funny to say that."
Undoubtedly, the Rock has a way of keeping people on their toes and full of laughter with speaking his mind. However, one comment in particular about Megan Thee Stallion went viral and had fans asking for additional clarification.
Dwayne 'The Rock' Johnson had a strange confession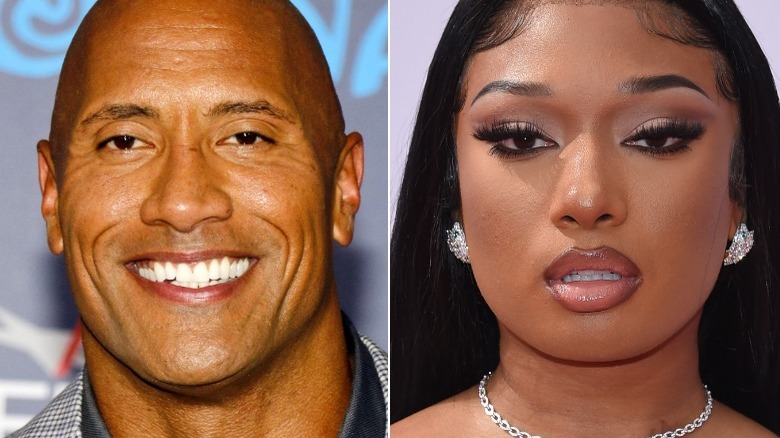 Tinseltown & DFree/Shutterstock
Dwayne 'The Rock' Johnson is known for putting a smile on people's faces throughout the course of his career. However, while promoting "DC League of Super-Pets," the "Red Notice" actor left fans confused more than anything.
In an interview with reporters (via Instagram) the "Moana" actor was asked if he were to be a pet, whose celebrity pet would he be? Without missing a beat, the actor quipped "Megan Thee Stallion." The question itself may have been absurd, however, it was his quick reply that set social media ablaze."I mean, let the man finish asking the question Rock, damn! He said that mess FASSST," one user jokingly said. Another said, "He said that s*** with no hesitation! I concur! I like The Rock a little more every day." Although the actor was quick in his answer he was reserved when asked why. "Oh, we don't need to talk about that," he coyly responded.
In an interview with SiriusXM's "The Morning Mash Up" in August 2022, the "Sweetest Pie" rapper was asked her thoughts on the viral conversation. "I mean, that's kind of legendary," Megan said of the "epic" moment. "I used to watch wrestling all the time. Being from Houston and watching The Rock and how famous he is, how much of a mega-star he is and he wanna be my pet? Like, period. Like, we made it. We might be a little famous."
He often sends fans into a frenzy online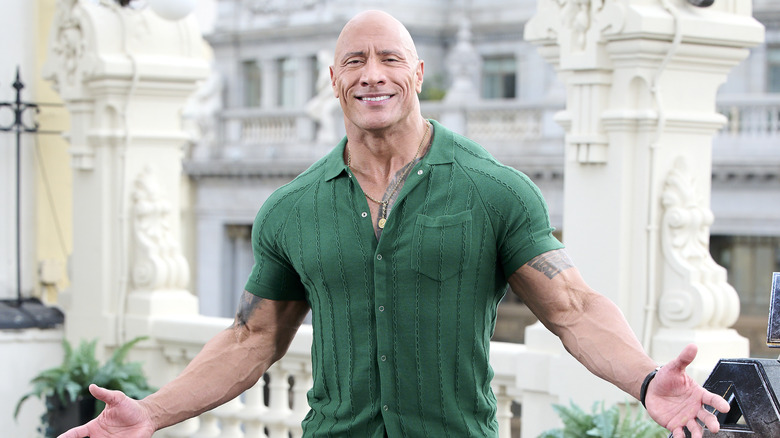 Carlos Alvarez/Getty Images
Being in entertainment often means being in the limelight and having your social media overanalyzed and under scrutiny, just ask Dwayne 'The Rock' Johnson. Although he did win People's Sexiest Man Alive for 2016, nothing goes unnoticed with the actor and his Megan Thee Stallion comments aren't isn't the first time the "Rampage" actor has said something questionable on social media.
All in all, the beloved actor has had his fair share of lovable social media moments including moments with his daughter like when he shared a photo of his daughter that had to make a last-minute decision to answer nature's calling in January 2021. However, nothing quite demands attention such as his ongoing prank war with Kevin Hart. The pair have worked together in several roles and the social media trolling between the two remains unmatched. For example, the time he tried to "kill" Hart on the set of "Jumanji" in January 2018 or the time when Johnson held baby Hart on his pec meat in April 2018. Despite the antics, it's all love between them.
"Since working with him, I can honestly tell you that I've never had this type of brotherly chemistry with anyone that I've worked with, and it's a cool thing," Johnson told The Hollywood Reporter in June 2016 while promoting their film "Central Intelligence." Whether it's bizarre comments, oversharing, or motivational speaking, we can be sure his 343 million followers will hear about it on social media.