How Old Were Prince William And Prince Harry When Princess Diana Died?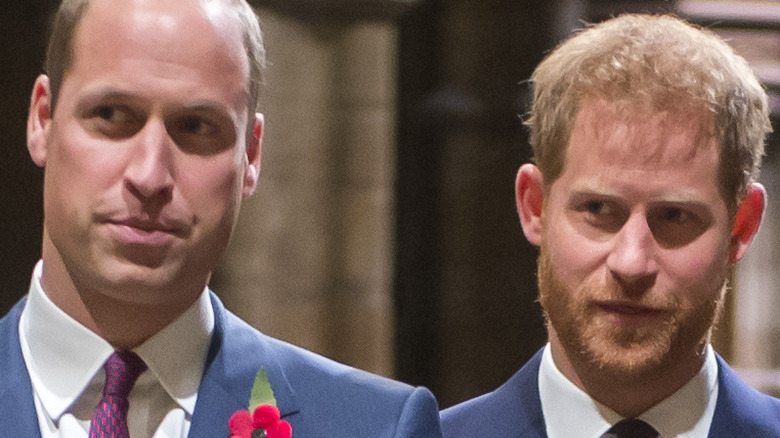 Paul Grover - WPA Pool/Getty Images
Princess Diana's death was one of the most shocking moments in history. The former Princess of Wales was a beloved figure with fans across the globe — mainly in part to her style and grace and, of course, the charity work that she seemed to love so much, per Time. However, her life was also full of tragedy and heartbreak due to being in the spotlight and her split from her husband King Charles III —who was then Prince Charles (via The Los Angeles Times). Diana was killed as a result of a car accident in Paris on August 31, 1997. She was just 36 years old at the time.
According to Oprah Daily, the circumstances surrounding Diana's death continued to be debated and speculated about to this day. However, it's reported that she and her friend Dodi Fayed were being driven through Paris by a man named Henri Paul. The group was being followed by paparazzi and ultimately crushed into a pillar in the Alma Tunnel. Diana, Fayed, and Paul all died in the accident.
At the time of her death, Diana left behind millions of fans, friends, and family members who mourned her death. Of course, it's likely that no one felt the sting of Diana's death more than her two young sons, Prince William, Prince of Wales, and Prince Harry, Duke of Sussex.
William and Harry were just kids when Princess Diana died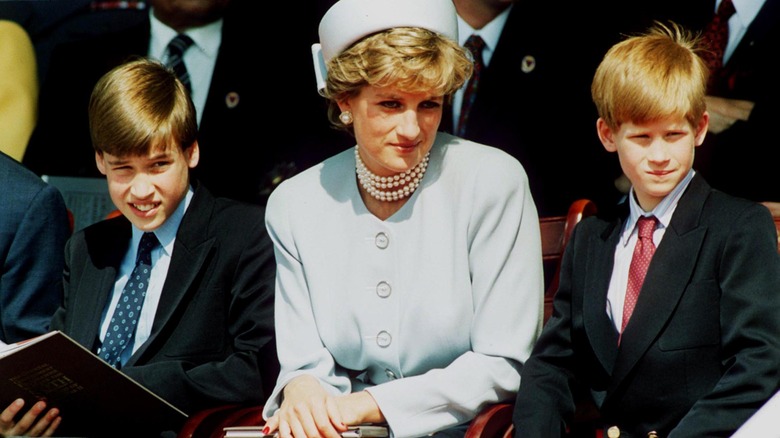 Anwar Hussein/Getty Images
Princess Diana's death was tragic for so many reasons. The beloved royal was still so young and full of life, but leaving behind her two sons was the real heartbreak of her death. Prince William, Prince of Wales, was just 15 years old at the time of his mother's passing. His younger brother, Prince Harry, Duke of Sussex, was only 12. According to Harry, it was King Charles III who broke the heartbreaking news to his sons. "He was there for us. He was the one out of two left, and he tried to do his best and to make sure that we were protected and looked after," Harry said during the BBC documentary "Diana, 7 Days" (via Today).
For his part, William recalled the emotions that he felt upon learning of his mother's death during the TV special "Diana, Our Mother: Her Life and Legacy." "There's nothing like it in the world," William said (via Yahoo!). "There really isn't. It's like an earthquake has just run through the house and through your life and everything. Your mind is completely split. And it took me a while for it to actually sink in."
Sadly, Diana's untimely death left her sons without their mother for many important events in their lives, such as their wedding days and the births of their children. However, the princes continue to add to their mother's legacy.
William and Harry honored Diana on what would have been her 60th birthday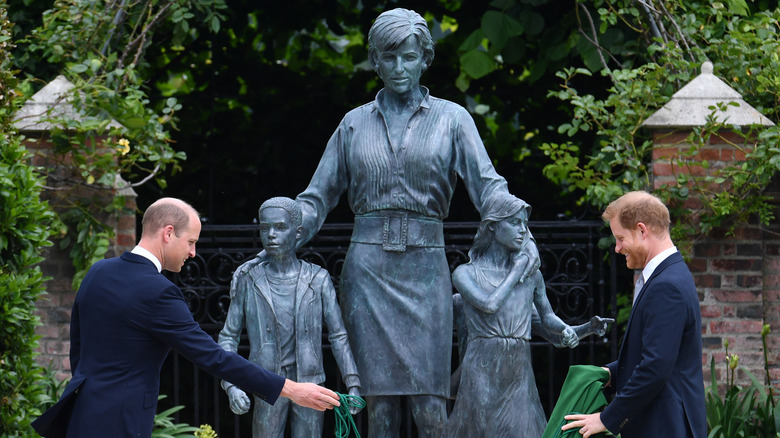 Dominic Lipinski - WPA Pool/Getty Images
In July 2021, on what would have been Princess Diana's 60th birthday, Prince William, Prince of Wales and Prince Harry, Duke of Sussex honored their late mother, per E! News. The brothers had commissioned a statue of Diana, which was completed and dedicated on her milestone birthday and placed in the garden at Kensington Palace. "We remember her love, strength and character — qualities that made her a force for good around the world, changing countless lives for the better," the princes said in a joint statement at the time. "Every day, we wish she were still with us, and our hope is that this statue will be seen forever as a symbol of her life and her legacy," the statement continued.
Both William and Harry have also honored their mother through their children (via Us Weekly). William and his wife Kate Middleton named their daughter Charlotte Elizabeth Diana after both Queen Elizabeth and Princess Diana. Years later, Harry and his wife Meghan Markle named their daughter Lilibet Diana Mountbatten-Windsor, again after Elizabeth and Diana.
William and Harry have seemingly made it a priority to carry on Diana's memory however they can, and the Princess of Wales would likely be proud of her two sons today.