Jose Canseco's Many Run-Ins With The Law Explained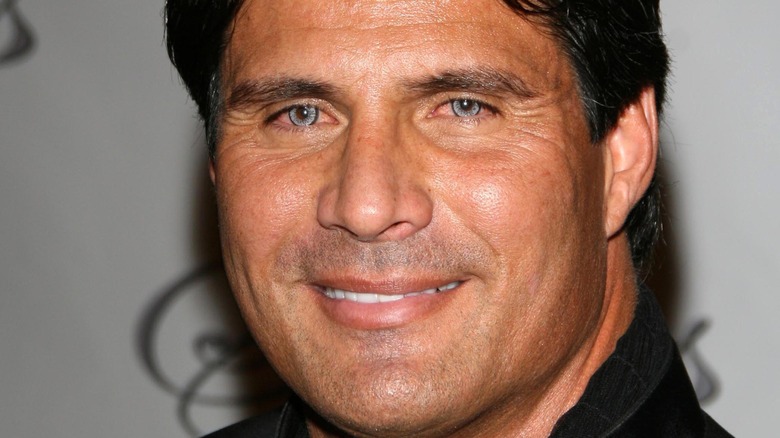 s_bukley/Shutterstock
Jose Canseco has made headlines for decades and very few of them have had to do with his legendary career as an MLB power hitter. His Twitter account is famously chaotic. When he was a professional baseball player, Canseco hit for the Boston Red Sox, the New York Yankees, and the Chicago White Sox. He also won two World Series, per ESPN. Canseco was the first player in baseball history to steal 40 bases and the first to hit 40 home runs in a season, per Bleacher Report. 
However, his off-field behavior has been erratic at best, cruel and allegedly violent at worst. Jose Canseco's steroid use in the 90s was infamous, and made some of the worst post-retirement career moves of any famous athlete when he revealed too much information about his former teammates in his memoir, "Juiced."
Canseco has also become known for his vicious social media meltdowns. Canseco decided to take to Twitter to trash his ex-girlfriend, Leila Shennib after they parted ways in 2011. He tweeted several messages about Shennib and then released her private information by posting her phone number, the Daily Mail wrote. Yikes! Canseco hasn't just had run-ins with ex-girlfriends; he's had a long history of run-ins with the law for many different reasons.
Jose Canseco's early run-ins with the law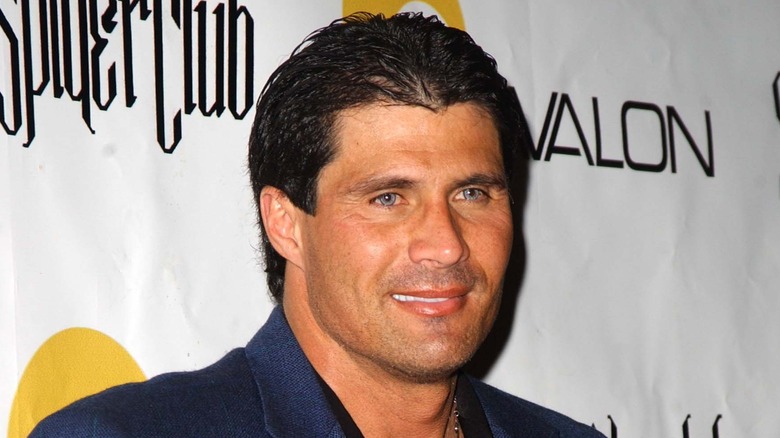 s_bukley/Shutterstock
Jose Canseco first had problems with the law back in 1989. According to the South Florida Sun-Sentinel, Canseco was driving recklessly and refused to stop when an officer tried to pull him over. He proceeded to drive for 15 miles without pulling over and as punishment, he was fined $500. Shortly after, in April 1989, Canseco was on the University of California-San Francisco campus to have a wrist injury examined when police discovered a loaded gun in his car, The New York Times writes. He had no permit and because he was on a state university campus made it a felony. As the Los Angeles Times later reported, he pleaded no contest to the gun charges.
Sometime after, Canseco was fighting with his wife, Esther Canseco, and hit her BMW the Porsche he was driving, according to a later publication by The New York Times. He was charged with a third-degree felony of aggravated assault. He pleaded not guilty. Then in November 1997, Canseco hit his then-wife of one year, Jessica Canseco, and pleaded no contest a later publication by The New York Times noted. He was sentenced to one year of probation and had to participate in counseling.
Jose Canseco was accused of rape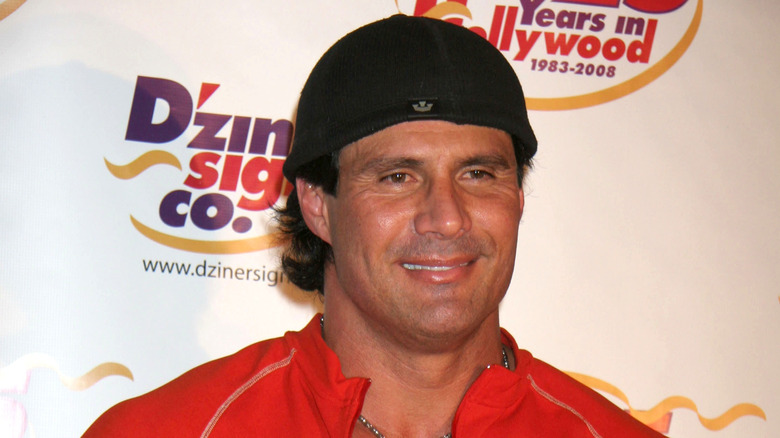 s_bukley/Shutterstock
Jose Canseco had several other run-ins with the law over the years but a major event came in 2008 when he was held at the border after he was caught smuggling a fertility drug into the United States from Mexico, according to NBC Philadelphia. He claimed that he needed the human chorionic gonadotropin (HCG) because of his low testosterone after taking steroids for decades. He pleaded guilty.
Canseco had another event occur in 2013, where he was accused by an individual, who claimed that he raped her in Las Vegas, according to HuffPost. Canseco broke the news himself on Twitter, saying: "Breaking news this is a first folks las vegas police was just at my house i have been charged with rape by a **** from las vegas," (via HuffPost). He then wrote the alleged victim's name (which was redacted online) and tweeted, "All media welcome to this drama filled event. Did i rape **** or is she lieing [sic]. Stay tuned to another day in the life of jose canseco." 
However, the case was later closed and Canseco was not charged, Las Vegas' Fox 5 reported (via The Atlantic). Canseco also posted her photograph on Twitter. He later deleted these messages.