What Kasey Cohen From Below Deck Med Is Doing Today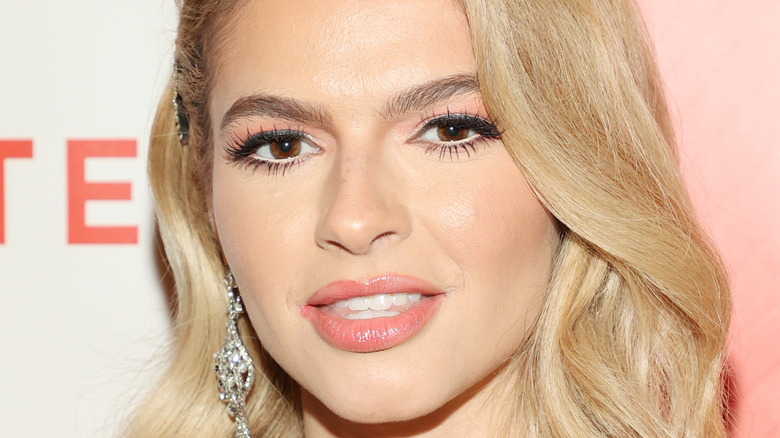 Amy Sussman/Getty Images
Kasey Cohen had a brief but memorable stint on "Below Deck Mediterranean," where she made her first and only appearance in Season 3. Cohen came aboard as the third stew, although she was relatively new to the yachting industry. Her season started out rocky after she was hit with a serious bout of seasickness that initially prevented her from doing her job. According to Showbiz Cheatsheet, it took a strong dose of Dramamine to get her back on her feet and ready to tackle the seas.
While she was still trying to get her sea legs, deckhand João Franco took care of Cohen, and the two had a bit of a flirtation going back and fourth. However, Screen Rant notes that Franco was torn between her and the second stew, Brooke Laughton. After going back and forth between the two women, he chose Laughton.
Cohen faced another hiccup on the yacht when the chief stew, Hannah Ferrier, found out she had fudged her resumé a bit. According to Bravo, Ferrier thought Cohen had experience as a stew but became suspicious when the green yachtie didn't know how to do basic tasks. Although Ferrier was initially furious, the two managed to work things out, and Cohen finished the season. However, she must have decided that the yachting industry wasn't for her, as she followed her passions elsewhere after the season concluded.
Kasey Cohen now works as an influencer and model
Since her season on "Below Deck Mediterranean" concluded, Kasey Cohen has used her fame to become an influencer and model. According to her Instagram account, she has worked with brands such as Teamiblends, Dose of Roses, and Sweet Drop. Cohen is signed with MMG, a talent agency, and is seen flaunting her curves in a red Tommy Hilfiger bathing suit in one of her portfolio shoots. Cohen appears to have found success with her modeling career, as her Instagram shows the ex-yachtie strutting down the runway for New York Fashion Week as part of the Jus10H show, donning a beige pantsuit over a denim shirt. In an older Instagram post, Cohen is seen walking the ONYX show during the February New York Fashion Week.
Cohen looks to get her stunning looks and blond hair from her mother. The model recently shared a picture of the two on Instagram, and the resemblance couldn't be more clear (via Bravo). According to her Bravo profile, Cohen's mom is from Bogota, Colombia. The former "Below Deck Mediterranean" star was raised in New York and remains based in the city today. 
Kasey Cohen has a girlfriend
Kasey Cohen debuted her girlfriend, Liron Revivo, on Instagram in April 2021. Although she didn't initially reveal the two were an item, the former yachtie later shared a shot where she is ogling Revivo, captioning the pic, "I like da view." Revivo is based in New York and San Diego and has listed herself as a blogger on her Instagram page. Like Cohen, Revivo appears to be a model, having recently shared an ad she did for Parq nightclub. In another picture, she poses alongside Cohen donning purple bodysuits to promote the same club. 
From the outside looking in, it appears like Cohen and Revivo are smitten with one another and aren't afraid to let the world know it. In Revivo's latest Instagram post, she shared a few snaps, including one of the two embracing. "You are the hottest thing to grace the planet since the Yucatan meteor destroyed those dinosaurs," Cohen commented, later adding, "MY GAHHHH" and "Wowwww" to the comments underneath. Fans appear to be here for it, with one commenting, "I'm thankful for you it's cause of you that I'm free I came out too [sic] my mom i thank God for you."
Cohen's time on "Below Deck Mediterranean" was a bit choppy, and her seasickness will likely prevent her from returning to the show. However, the ex-yachtie appears to be doing just fine on land.