Are Donald Trump Jr. And Wife Vanessa Headed For Divorce?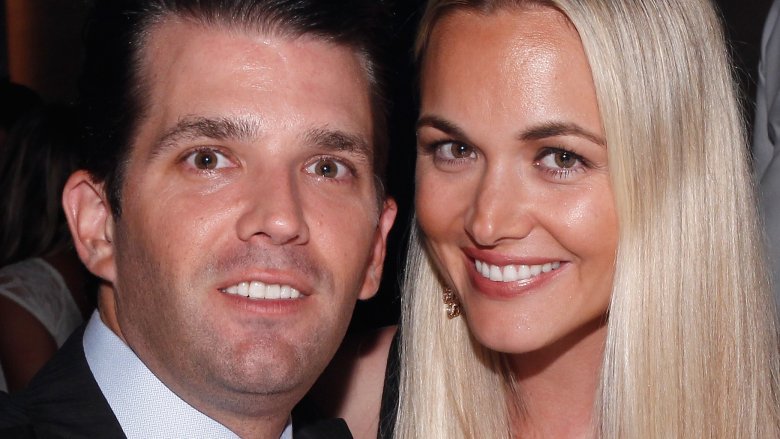 Getty Images
The longtime couple may be separating.
Page Six reports that Donald Trump, Jr. and his wife, Vanessa Trump, are experiencing some serious marital issues and could be heading for divorce. Friends of the couple allegedly told the publication that President Donald Trump's eldest son and his model wife have been living separate lives, though they have not legally filed for separation.
While the two have yet to take steps toward divorce, sources told Page Six that Donald Jr. and Vanessa, who married in 2005 and share five children together, will likely file the paperwork sometime in the near future. One insider said, "The problems have been there for a long time, the couple had hoped to stay together during the president's time in office, but it is getting harder to resolve their issues. He's never there."
One reason for the couple's reported marital problems may be Donald Jr.'s busy schedule. A source revealed to Page Six, "Don Jr. has been busy traveling, which has contributed to their problems. Vanessa is a devoted mother, but she is increasingly lonely and alone in the house with the children." Other sources report that Vanessa is uncomfortable with the newfound attention her family has received since her father-in-law took office.
An insider noted, "She is also worried for her kids, particularly after she received the threatening letter containing the white powder." As Time reported, Donald Jr. and Vanessa received a letter in the mail with suspicious white powder inside. While the powder was later determined to be cornstarch, Vanessa had been transported to the hospital as a precaution.
However, a change in Donald Jr.'s behavior could also be the cause for the pair's allegedly strained relationship, as insiders apparently expressed worry after the president's son liked a tweet attempting to link mass murders to antidepressant usage.
It's important to note that Donald Jr. and Vanessa have not confirmed that they've separated. One source indicated that the couple may be working through their issues. "While they are not legally separated, I cannot deny there are issues, there are a lot of intricate things that go on in a marriage," the insider shared. "Don and Vanessa are focused on their family, they are trying to do this quietly and privately, and when they have something to say on the record, they will do so. This has nothing to do with politics, this is a personal matter between two people."