The Tragic Real-Life Story Of Little Hercules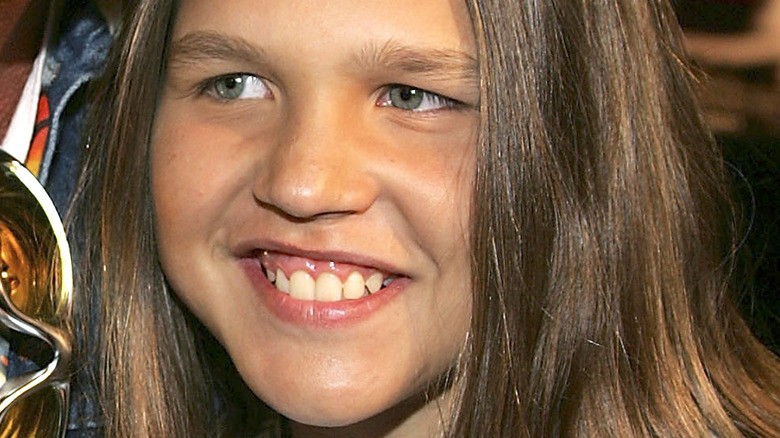 Frazer Harrison/Getty Images
Richard Sandrak, who was commonly known as Little Hercules, rose to prominence in the early aughts thanks to his mighty muscles. While shredded bodies are everywhere in Hollywood, they tend to belong to fully grown men. When those same muscles are attached to the figure of a pre-pubescent boy, they're bound to make headlines. In 2000, at just eight years old, Sandrak was deemed the world's strongest human — if you measured his weightlifting in proportion to his size, according to ABC News in 2005. Sandrak's jaw-dropping physique was no accident, though. The child was an actual bodybuilder.
Back then, Sandrak shocked veteran professionals in the field when he showed that he could benchpress upward of 160 pounds while he himself weighed less than half of that. His strength made him the subject of a documentary titled "The World's Strongest Boy" in 2004, when Sandrak was making bank in endorsements, according to The Guardian. Sandrak's bodybuilding career was short-lived, but it led to his starring in a few small films, including "Little Hercules in 3-D" in 2009 and "The Legends of Nethiah" in 2012," according to IMDb.
All in all, Celebrity Net Worth estimated that Sandrak made about $400,000 throughout his childhood and adolescence. As impressive as Sandrak's strength and physique were, his unusual career drew plenty of criticism, with many raising questions regarding the boy's grueling routine and lifestyle, (per The Guardian). Experts even theorized that Sandrak likely used dangerous steroids. The truth is, though, his fame was the result of a sad childhood. 
Richard Sandrak's parents isolated him
Born in rural Ukraine in 1992, Richard Sandrak is the son of martial artist champion Pavel Sandrak, who cultivated in the boy an interest in exercising early on, as noted by the Mirror. When Richard was two years old, the Sandraks moved to Pennsylvania, where Pavel started training him with support and help from Richard's mother, Lena, according to The Guardian. The family later relocated to California in hopes of profiting off of Richard's bodybuilding.
To achieve their goal, the Sandraks put him on a strict diet that reportedly put his body fat under 1%, a percentage that falls below healthy levels. Richard trained up to seven hours a day before he turned 10, per The Sun. Frank Giardina, Richard's manager, told The Guardian in 2007 that the boy's upbringing often crossed the line of abuse. At the time, Richard didn't see it that way. "I've never been forced to train or do anything against my will," he said.
However, ABC News reported that Richard later admitted that his parents controlled every aspect of his life. The boy's parents opted to homeschool him to maintain better control of his life, according to The Sun. Pavel kept his son on tight reins until 2003 when he was arrested for allegedly attacking his wife, per The Guardian. Richard and Lena broke all ties with Pavel in the aftermath. Despite the isolation, Richard holds no grudges. "I'm very proud of my past," he said on "Inside Edition" in 2015.
Richard Sandrak has a very different life now
According to The Guardian, Richard Sandrak's father, Pavel Sandrak, had a history of displaying violent tendencies. Richard's former manager and trainer, Frank Giardina, reportedly stated that Pavel had "threatened to kill him" at one point, leading Giardina to cut ties with Pavel altogether. Not long after, young Richard called the police on Pavel after his father allegedly attacked his mother, Lena. It's unclear as of writing whether Pavel remains imprisoned for this violent offense.
Following the arrest of his father, Richard put an end to his bodybuilding work, and he even stopped training altogether. "I don't lift weights. If anything it just got boring," he said on "Inside Edition." Sandrak's life actually took a rather sharp turn after he stepped away from the world of bodybuilding. Instead, Little Hercules started working as a stuntman at Universal Studios Hollywood. "I set myself on fire," he stated during his 2015 interview. Recently, though, Richard has largely remained out of the spotlight, choosing instead to post small glimpses into his life on his Instagram page.
In one post, the 30-year-old shared photos from his 2020 Thanksgiving celebration and tagged numerous people in the snapshots. Another post features a photo of Richard during his Little Hercules days, though the former bodybuilder uploaded the picture without a caption. Despite experiencing an unconventional and tumultuous upbringing, Richard appears to be doing well for himself following his days of fame in the early 2000s.
If you or someone you know is dealing with domestic abuse, you can call the National Domestic Violence Hotline at 1−800−799−7233. You can also find more information, resources, and support at their website.