Robert Griffin III Tries To Clear The Air After Fielding Backlash For His ESPN Commentary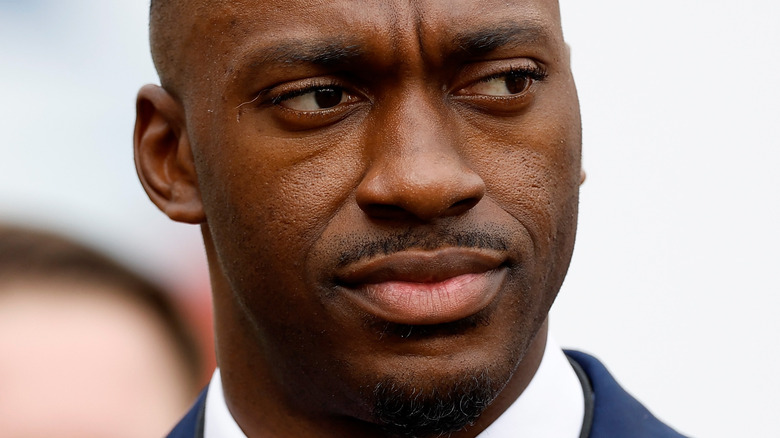 Tim Warner/Getty Images
The following article includes references to racism and sexual assault.
Robert Griffin III is drawing some serious flak after using an anti-black slur during live coverage on ESPN's "Monday Night Countdown" on December 13. As reported by the Mirror, the former NFL quarterback and current ESPN analyst used the racist term while providing commentary on the clash between the New England Patriots and Arizona Cardinals. When talking about Philadelphia Eagles quarterback Jalen Hurts, Griffin said, "People said that Jalen Hurts couldn't get it done, he could not break from the pocket, he's not the quarterback of the future. I think he proved all those jig***** wrong."
The said racial slur has been around for centuries and has often been used to mock and ridicule African-American features. Of course, Griffin's use of the term — on live television, no less — quickly elicited a wave of criticism against the sports star on social media. "See, this is why Black people have to be able to cancel Black people for anti-black talk. Totally unacceptable I don't care what shade you are," wrote one fan on Twitter. "Robert Griffin III said exactly what he meant to say, no doubt he has used that word & probability other words when he is with his buddies, so it just slipped out," another said, adding, "If it were another commentator their TV career would be over."
Griffin has since taken to Twitter to address the controversy and attempt to clear the air about his controversial remark.
RGIII apologizes, said he meant to say 'Bug-A-boos'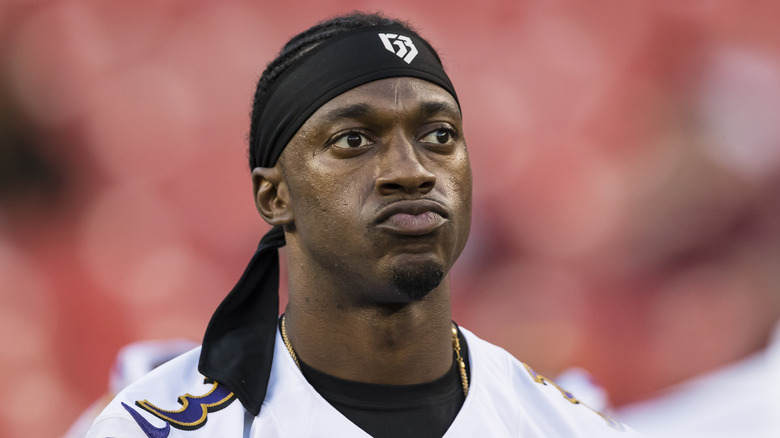 Scott Taetsch/Getty Images
Robert Griffin III is sorry for accidentally blurting out a racial slur during ESPN's "Monday Night Countdown" pre-game program. In his statement on Twitter, the former Heisman Trophy winner clarified his comment and explained that he did not intend to use the racist term when talking about Jalen Hurts' critics. "Yooooo, Definitely need to clarify this," he said. "THIS IS NOT WHAT I MEANT TO SAY. Was trying to say 'those Bug-A-Boos' in reference to haters and doubters." Griffin nonetheless said he regrets what happened. "Regardless of my intention, I understand the historical context of the term that came out of my mouth and I apologize," he wrote.
This is not the first time Griffin has caught the internet's attention for his controversial remarks. In October, he also raised some eyebrows after making an ill-advised joke about former Buccaneers and Steelers player Antonio Brown, who has been accused of sexual assault and was caught on video exposing himself to a woman at an outdoor hotel pool in Dubai. Referring to the wide receiver, Griffin said (via The Big Lead), "AB showed more D than the (Seattle) Seahawks and (Detroit) Lions did today." He later took down the tweet after receiving backlash on Twitter, saying in response to the criticism (via The Philadelphia Inquirer), "I do not condone his behavior or sexual harassment."