Inside Piers Morgan's Messy Divorce From His First Wife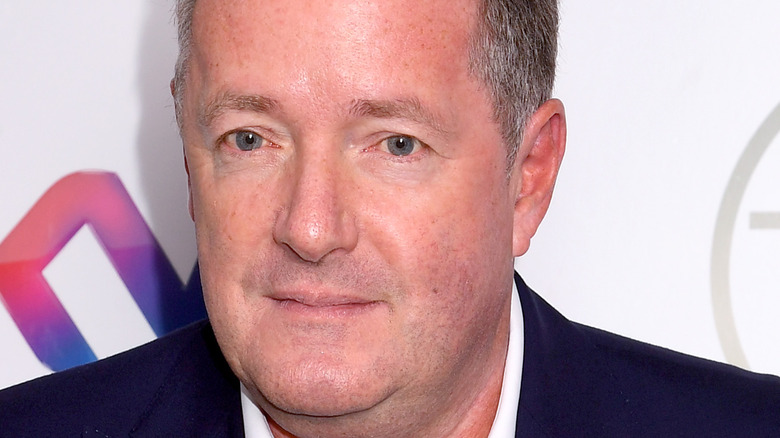 Dave J Hogan/Getty Images
Piers Morgan has openly gushed over his wife, Celia Walden, in interviews and through social media posts. To celebrate their 10-year wedding anniversary, the former "Good Morning Britain" host posted a throwback photo to Instagram from their big day, along with a cheeky caption. "I made an honest woman of Celia. And her lawyers hoped it would never last!" he wrote in 2020. Unlike his union with Walden, Morgan was previously in a marriage that did not last.
The British journalist married his first wife, Marion Shalloe, in 1991 before he was famous. Early on in their marriage, Shalloe worked as a nurse. "She helps save people's lives, and like all nurses, she'll hate me saying that," Morgan told The Telegraph in 1994 (via the Mirror). The former couple had their first child together in 1993, and briefly separated not long after, in 1994. Morgan and Shalloe then reconciled and had two more children together. Eventually, they divorced in 2008, but were allegedly separated for some time before finalizing the end of their marriage, which was mired in controversy.
Years before the divorce papers were signed, Morgan raised eyebrows when he wrote a piece for British GQ in 2006 about his future second wife. The former "News of the World" editor was also spotted cozying up with Walden around that time, but both parties denied they were in a romantic relationship, per the Daily Mail. Despite this, it was controversy with another woman that reportedly ended Morgan's first marriage.
Piers Morgan's alleged affair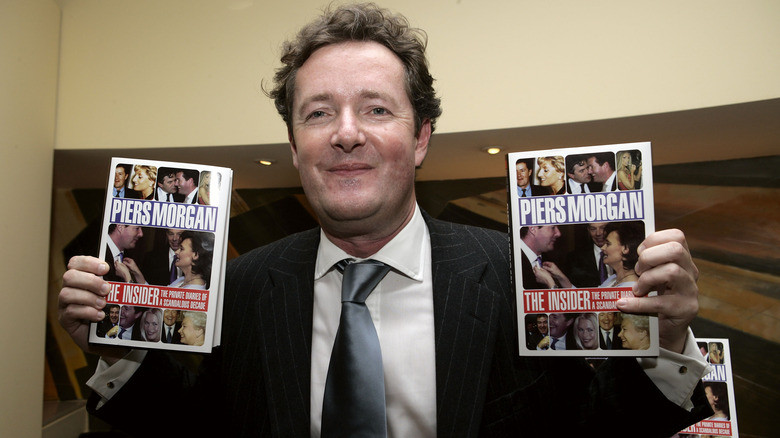 Dave Hogan/Getty Images
In 2000, while Piers Morgan was still married to Marion Shalloe, reports circulated that he was having an affair with another journalist. At the time, David Yelland — the editor of The Sun — claimed to have "explosive" emails between Morgan and Sun writer Marina Hyde that would "destroy" Morgan, per the Mirror. According to the "Piers Morgan Live" host, Yelland was simply using correspondence between him and Hyde as leverage. "They delighted in embarrassing me and in being quite destructive to a friend, and to my personal life," Morgan told the Press Gazette in 2002. Those allegedly salacious emails were reportedly the cause of Morgan's first marriage falling apart.
Both Morgan and Hyde denied the affair, but multiple British outlets ran with the rumor. "[P]ossibly because he had left his wife for the Guardian journalist Marina Hyde," The Guardian wrote about Morgan in 2005. The Spectator's Sam Leith offered some insight while reviewing a memoir by Morgan. "I know Marina a little, and she has always resolutely denied it to me; I don't call her a liar," he wrote.
Although the rumored affair was never confirmed, Morgan later stated that his divorce from Shalloe was indeed a mess. In 2009, the "Britain's Got Talent" judge, who was then dating Celia Walden, said he was not in rush to get married again. "The divorce was a pretty horrendous experience — all divorces are deeply unpleasant," Morgan told the Daily Mail. He has also opened up about his and Shalloe's post-divorce relationship.
Piers Morgan bashed Ben Affleck while discussing divorce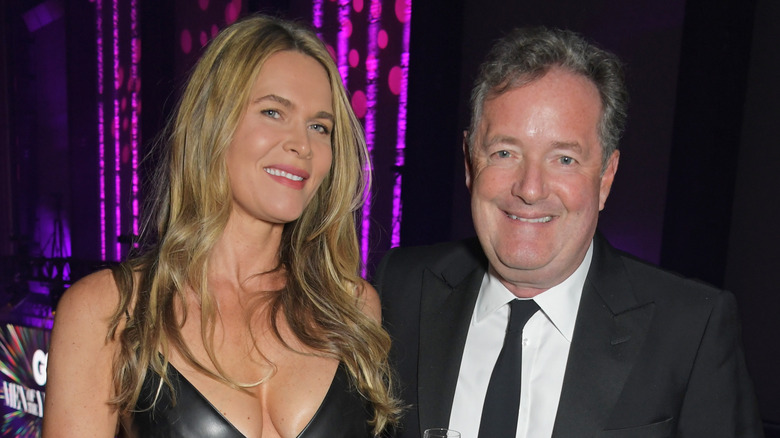 David M. Benett/Getty Images
Even though the divorce of Piers Morgan and Marion Shalloe appeared contentious amid a cheating scandal, the two remained on relatively amicable grounds. They also decided to keep their feelings for each other private. "I don't regret it because these things happen, but I'm pleased that we've stayed good friends, because it's important for your kids," Morgan told the Daily Mail in 2009. In fact, he used his good standing with Shalloe as an example of post-divorce decorum. 
While writing a 2021 article lambasting Ben Affleck for bashing Jennifer Garner in an interview, Morgan referenced his own break-up. "I say this as someone who's been through a divorce myself and who has never said a bad word in public about my ex, and never will," Morgan wrote for the Daily Mail in 2021. "Partly out of respect for her — we've remained good friends, and she's never dissed me in public either," he added.
Following the COVID-19 pandemic, Morgan's relationship with his second wife, Celia Walden, hit a bit of a rough patch. After being cooped up together for so long during lockdowns, the couple decided to take some time apart. "He enjoyed it too, it wasn't just me. It was very good for both of us," Walden explained on the "Lorraine" talk show in September, via Metro. However, the pair avoided anything disastrous in their relationship. "We didn't have problems before ... but it's been a long pandemic," Walden added.