Has SSSniperwolf Ever Been Arrested?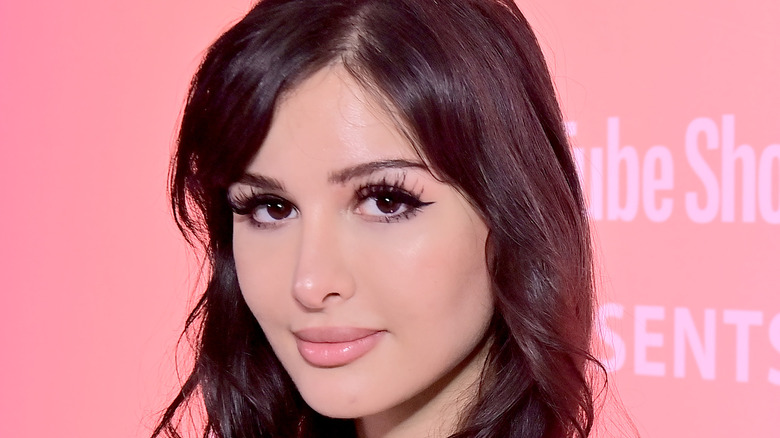 Stefanie Keenan/Getty Images
Gaming YouTuber Alia "Lia" Shelesh is better known to the world by her username and online alias, SSSniperwolf. While much of her life has been made public online, and especially on social media outlets, SSSniperwolf has been more guarded about some elements of her personal life. Nevertheless, she has been in an on-again, off-again relationship with her boyfriend, fellow YouTuber Evan Sausage, since sometime in 2013 (as SSSniperwolf discussed in a 2015 YouTube video), and she has documented their break-ups and make-ups on YouTube over the years.
Apart from the fact that they haven't always seen eye-to-eye about their relationship, SSSniperwolf and Sausage have also faced their fair share of difficulties in the offline world. Although SSSniperwolf appears to have tried to downplay these by deleting the related content that she had previously posted (via SVG), police records and even her own videos reveal that SSSniperwolf and Sausage have had prior run-ins with the law.
SSSniperwolf has been arrested before
YouTuber SSSniperwolf has been arrested on at least two occasions that she has made public. The first of these two arrests occurred in 2013, when she was arrested on armed robbery charges. In a record posted to the website Mugshots.com, SSSniperwolf can be seen as having been booked under her real name, Alia Shelesh. SSSniperwolf also discussed this incident in a YouTube video in which she was shown responding to questions fans had sent her via Twitter. A fan asked why she and Evan Sausage had been arrested for armed robbery, and SSSniperwolf responded with an explanation. She said that she had not tried to hide her arrest, but that she saw no point in bringing it up anymore because it had happened years prior.
TheGamerFromMars, another YouTuber, retold the story as SSSniperwolf had told it previously in a separate YouTube video. He explained that the arrests came after SSSniperwolf and Sausage were involved in an altercation with an undercover police officer at a mall who believed that they had shoplifted. In that video, TheGamerFromMars describes SSSniperwolf's charge as an assault charge, although it is not clear if this is accurate.
SSSniperwolf and Evan Sausage were arrested again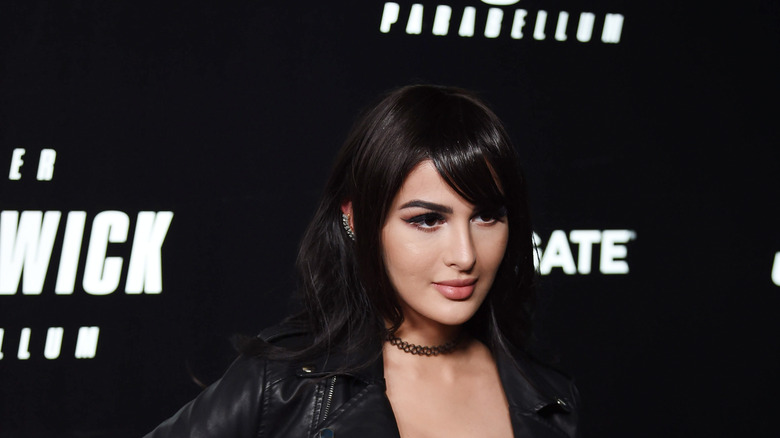 Dimitrios Kambouris/Getty Images
In 2016, SSSniperwolf and Evan Sausage were arrested for a second time, and SSSniperwolf has been more forthcoming about this incident. As shown on Mugshots.com, SSSniperwolf was booked under her real name, Alia Shelesh, and was charged with disorderly conduct for fighting. SSSniperwolf clarified what happened from her perspective in a 2016 YouTube video, saying that she and Sausage were both arrested because their neighbors had overheard her screaming in relation to an argument that they were having and called the police on them. As she discussed how she and Sausage were transported to jail, SSSniperwolf said, "We were just talking about how stupid and unlucky and unfortunate this whole situation was, because we just wanted to get frozen yogurt."
Luckily, their arrests don't seem to have affected SSSniperwolf and Sausage in the long term. Per the Arizona Republic in April 2022, SSSniperwolf and Sausage purchased a plot of vacant land in Arizona for $6,990,000, suggesting that the two are still in a relationship and making a considerable amount of money together.