Chicago Med's Jessy Schram Has Another Career On The Hallmark Channel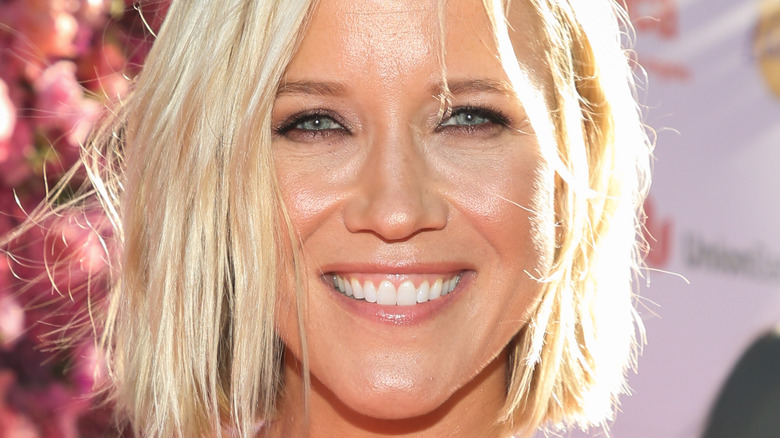 Paul Archuleta/Getty Images
As popular as Hallmark Channel movies are, they don't always have the best reputation. Naturally "Saturday Night Live" took its shot, and they get typical critiques of cheesiness and predictability — all true, and that's ok. "I don't think [cheesy is] a negative," Hallmark's VP of programming Michelle Vicary told Indiewire. "We embrace it ... because people want more of it." She knows these movies make viewers feel better about themselves and the (increasingly terrible) world around them. Though some people consider Hallmark movies an opportunity for formerly popular actors, it can be a great source of employment for many performers — often with tons of other credits under their belt.
Take for example, "One Chicago" franchise star Jessy Schram. The former "Falling Skies" star currently plays Dr. Hannah Asher on "Chicago Med." The actress first appeared in the series in Season 5, Episode 12 ("Leave the Choice to Solomon"). Dr. Asher is a talented Ob-Gyn who struggles with a severe drug addiction. She meets her love interest, Dr. Will Halstead (Nick Gehlfuss), while overdosing at a safe injection site, and the two eventually develop a romantic relationship. Thanks to Halstead's help and care, she is given a second chance at life and a career.
Notably, the success of Schram's career with "Chicago Med" and many other projects can be traced back to the Hallmark Channel — a wholesome place where she has a whole other career playing opposites to Dr. Asher.
Jessy Schram started her career with Hallmark's Jane Doe movies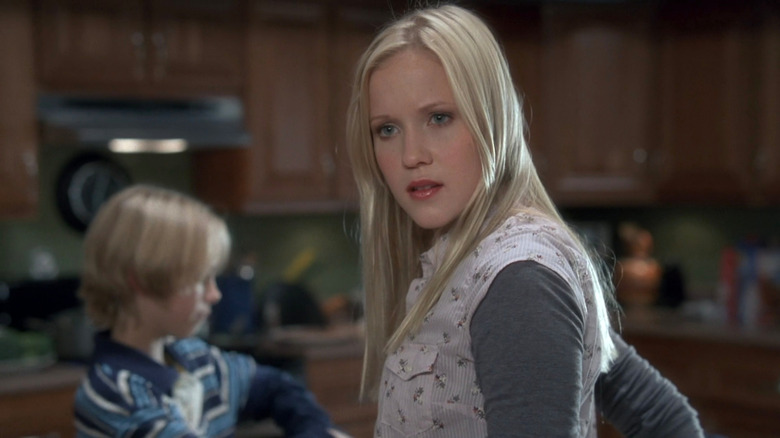 Hallmark Channel
While Dr. Hannah Asher struggles with addiction in "Chicago Med," actress Jessy Schram has played a number of Hallmark roles that are decidedly different. In fact, she started her screen acting career on the beloved network, in a series of films called "Jane Doe." 
The mystery series stars Lea Thompson of "Back to the Future" fame as a woman trying to balance her two lives, one as soccer mom Cathy Davis, the other as secretive mystery-solving federal agent Jane Doe. In the film series, Schram played Cathy/Jane's daughter Susan, a wholesome teen dealing with typical issues like trying out for cheerleading and staying out all night, clueless about her mom's secret identity. Schram appeared in all nine "Jane Doe" movies, from its first one, "Vanishing Act," in 2005, up until the last, "Eye of the Beholder," in 2008.
After such a successful collaboration, it probably shouldn't come as a huge surprise that the end of the series didn't mark the end of Schram's relationship with the Hallmark Channel. Schram also appeared in nine more original Hallmark movies, Christmas-themed and not. She starred opposite John Corbett as a teacher helping special education students get to space camp in 2012's "A Smile as Big as the Moon," then focused (intentionally or not) on romance movies with many of Hallmark's coterie of leading men. These included "Harvest Moon" with Jesse Hutch, "The Birthday Wish" opposite Luke Macfarlane, "Royal New Year's Eve" costarring Sam Page, "Road to Christmas" with Chad Michael Murray, and "Country at Heart" with Niall Matter.
Jessy Schram is also a talented singer-songwriter
While Jessy Schram started in Hallmark Channel movies, she has since played many other non-Hallmark-related roles. The Illinois-born star began acting in commercials, per Wide Open Country, before landing a role on the Nickelodeon series "Drake & Josh" in 2004, immediately before the first "Jane Doe" movie. 
According to her IMDb profile, Schram's first post-"Jane" role was as Hannah Griffith in "Veronica Mars," and she played small parts in "House," "Medium," and "Boston Legal," among others. She starred as Rachel Seybolt in "Life," and as Pete Campbell's girlfriend Bonnie Whiteside in "Mad Men." She also played Ashley Boyd, otherwise known as Cinderella, in the long-running ABC series "Once Upon a Time." One of her favorite roles, as she told Survived the Show, was as Nance O'Keefe in the Christina Ricci-starring "The Lizzie Borden Chronicles" on Lifetime. "It was 1904 and she was this actress and singer-dancer, playing in the corsets and all of the period pieces," Schram explained. "I loved that role because I got to learn about the culture then."
That 2015 role wasn't Schram's first time singing and dancing. Schram is a talented singer who played in musical theatre productions before her screen career took off. She also began writing songs at age 9. This talent was useful in a few of her other roles, such as songwriter Cash Gray on the ABC hit "Nashville." She also brought her vocal talents back to Hallmark in the films "A Nashville Christmas Carol," which featured many other country stars, and "Country at Heart."